ICYMI
Apparently we're a pretty big deal in Enid
2:13 PM EST on February 17, 2014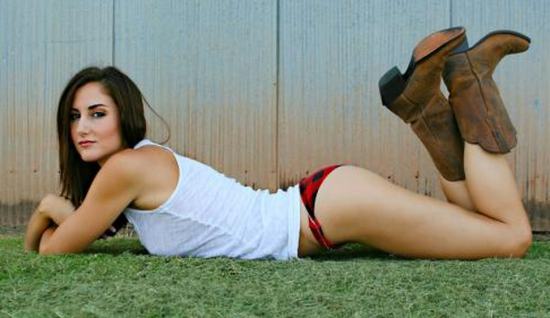 The girl pictured above is Erin from Enid. She was a Maxim Hometown Hottie in 2013. After googling "Enid" for pics, I learned the town is home to several attractive women. Who knew?!
Now that I have your attention, the Enid News and Eagle published an editorial about Gary James. He's that racist, homophobic, restaurant owner from Enid who's been in the news.
From the editorial, we learned a couple of things about Enid.
1. They're ashamed and embarrassed by James's classic 1950s southern values.
2. They're pretty big fans of The Lost Ogle.
Here's the editorial:
Black eye for Enid: We're embarrassed, ashamed Enid's getting this kind of publicity

It's human nature to look away instead of confronting a problem.

That brings us to the frenzy of attention regarding Gary James of the Chicaro Club. When he was running for Enid City Commission in 2009, we reported about James refusing to serve certain customers and allegations of racism.

"I have one rule that does away with 95 percent of the trash," James said five years ago. "If they are rude enough to wear a hat inside a building, I don't want them here. Most of those little f-----s have their hats on backwards."

Thankfully, James never got elected.
I often like to poke a little fun of Enid on this site. It's not that hard. But let's give credit to the city's voters for not electing this nut to the city council. If he were to run for Sally Kern's house seat in Bethany, he'd probably win.
The editorial continues: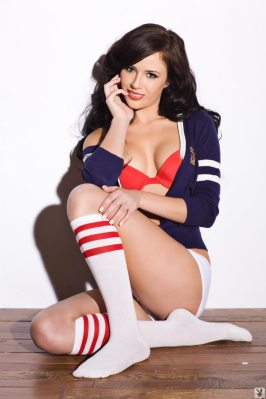 Oops. That's some Playboy model from Enid name Bre Marie Wolf. You can find better photos by googling her name or visiting her probably NSFW website.
Here's the rest of the editorial:
Further, we weren't surprised when social media blew up with more allegations of discrimination.
Were we hoping this situation would go away? James' unacceptable, racist views were not breaking news. This was a glorified "he said/he said" playing out on Facebook.

Recently, KFOR reported James said he'd been in business 44 years and "can spot a freak or a f----t." Matt Gard, a club regular for years, told the Oklahoma City TV station that James "tried to find a weak excuse not to let me in with my wheelchair or the weak excuse of having loud people with me."

Facebook was a primary source on this broadcast TV story. As far as we know, an official complaint has not been filed. Please let us know if we are wrong.

We are a paper of record, not a paper of rumor. That means we report on documented complaints, not subjective conjecture. When some readers try to wield the media's power before following proper recourse or official chain of command, that's what we tell them.
Well, it's good to know at least one media organization in the state has some sort of core journalistic standards. It's a shame that the news organization is located in Enid. I bet they've won many awards for their coverage of the wheat harvest.
The subject added another dimension when a petition appeared online requesting a civil rights investigation by Oklahoma Attorney General Scott Pruitt. Then prank reviews of the establishment started showing up on the business website Yelp.com. A fake Facebook site fired up.

When James' worldview resurfaced on the obscure Oklahoma City blog The Lost Ogle, Ward 3 Commissioner Ben Ezzell commented how news coverage of the Chicaro Club makes him cringe.

We know the feeling. Frankly, we're ashamed that this chatter is garnering so much media attention. It's embarrassing for Enid to be defined by the crass remarks of a rogue restaurateur.
Holy shit, The Enid News and Eagle referred to us as an "obscure" Oklahoma City blog. I know they left off "local social" part or "the state's most trusted-trusted news," but I'll take it. That means the paper's staff are either fans of the site or sarcastic assholes. It's probably both.
Also, we have an Enid City Councilman reading and leaving comments on the site. Although that's a notch below a councilman from Hooker or Beaver, or one of the girls above, it's still pretty cool. I didn't even think they have broadband Internet in Enid. I wonder how long it took the site to load on his dial-up?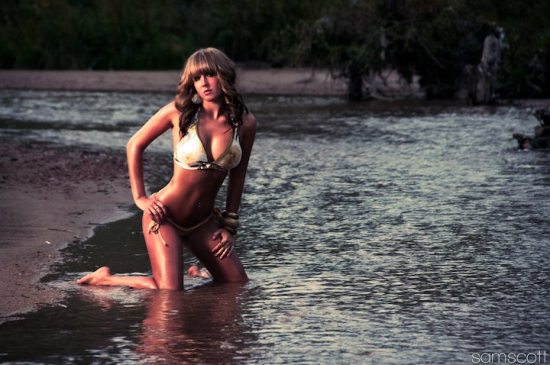 Dangit. Another attractive girl from Enid. Her name is Lauren Chroneos. Where were all these girls in that awful Enid Chamber video?
Here's the councilman's comments:
Every time something about Chicaros pops up in the news I cringe. I live in Enid, we really have a great town, the majority of us also think Gary James is a piece of trash. I just wish the news would point out that Chicaros is just a shady little bar on the outskirts of town next to a cemetery. It is far from our booming retail corridor.

Enid's reputation isn't helped by this clown, or the fact that the last time Enid got national news coverage was when the anti-discrimination ordinance narrowly failed at the City Commission.
1. Uhm, Gary's Chicaro is next door to a cemetery? If local gay rights organizations do not organize the first ever "Enid Gay Zombies Bash," I'll be more disappointed than a teenager living in Enid.
2. Enid has a booming retail corridor? Let's be honest. Who has not driven to Enid on a Saturday afternoon for a fun-filled day of shopping in the city's "booming" retail corridor. There's just something about spending money at a Hastings, Dollar General or Ross "Dress For Less" in a small town that can't be duplicated in the big city.
Seriously, I applaud the Councilman for distancing his town and people from the insane thoughts of a bigoted whacko, but let's keep things real. "Booming Retail Corridor" and "Enid" go together like "Wheat Harvest" and "Erection."
Anyway, I guess it's cool that people in Enid read our website. If things don't work out in OKC, we could always just relocate there. It would put us closer to Seiling and they have several hot chicks. Those are good things. Plus, The Lost Price does have a nice ring to it.
Stay in touch
Sign up for our free newsletter