Everything Else
Breaking News: There was not a shooting at OU yesterday…
8:30 AM EST on January 23, 2014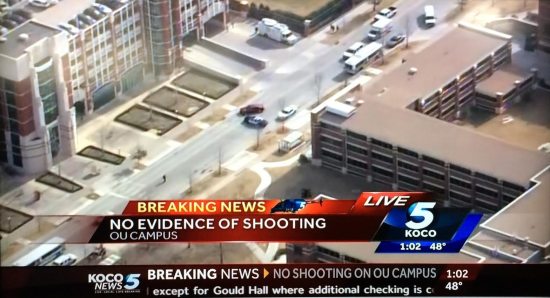 False alarm.
Thankfully, that's what everyone across Oklahoma was talking about yesterday when reports of a campus shooting at OU turned out to be nothing but a big misunderstanding.
Apparently, some faculty member confused the sounds of shitty construction equipment for that of a shotgun. She called 911. At that point, OU followed proper safety protocol, locked down the campus and warned students of the emergency via text messaging. They then issued this scary tweet and an expected and reasonable level of panic spread across the Internet:
Shooting on campus. Avoid Gould Hall. Seek immediate shelter in place.

— OU Sooners (@UofOklahoma) January 22, 2014
After about 30 minutes of general hysteria and the formation of a #Pray4OU hashtag, the University announced there was no evidence of a shooting and opened up the campus. Basically, it was a "nothing to see here, time to go home" event.
Well, unless you work in the local media.
Because it's what they do, the TV news channels let out a collective WTF and decided to treat the event as the non-shooting of the century. You would have thought there was suspicious package caught in a tornado causing a wildfire in the South Oval. At 1pm, nearly an hour after OU gave the all clear, the Big 3 were still interrupting regularly scheduled programming to provide live news coverage. It was sad and it was desperate. Two of the channels, 5 and 9, even had helicopters hovering over the campus. Worst of all, some jackass for News 9 parked their SUV in a handicap spot like there was some urgent, breaking news to report.
Here's a pic:
In addition to blocking handicap spots, News 9 was driven to make this story a bigger deal than it was. Instead of just cutting their losses and going back to the newsroom to find something different to report, they got stubborn and dug in their heels. They weren't going to let the non-shooting keep them away from turning it into a non polarizing wedge issue:
My favorite story was this one:
Reported Shooting At OU Calls 'Guns On Campus' Into Question

Wednesday had people thinking of Virginia Tech, most recently Purdue from Tuesday, but thankfully, there were no shots here at the University of Oklahoma...

Now, four hours after the official 'all clear' was given, the university is still trying to determine exactly where that noise came from. Even though there was never a real threat, the university has no regrets in alerting the campus of shots fired.

Boren is now saying loud and clear, people who support the idea of allowing guns on campus should look at today as a reason why they should change their minds.

"I think the most unwise thing in the world we can do is put guns in the hands of all people on campus," Boren said.

"How do the police have a way of identifying who's trying to be a vigilante or not? So I think the most dangerous thing is that those people might be waving weapons and get shot."

Everything is back to normal. Classes were not canceled this evening.
Hey now, isn't it a little bit too soon to bring up the debate about allowing guns on college campuses? It hasn't even been 24-hours since the non-shooting occurred. Let's not get emotional and make rash decisions. Out of respect to the victims, this discussion should wait until a more appropriate time. I can't believe they brought this up.
Anyway, here are a few more thoughts that I shared yesterday on Twitter. It sums up our coverage of this non shooting:
I remember being at the OU game the day some guy blew himself up on bench. This non-shooting is getting more coverage than that.

— The Lost Ogle (@TheLostOgle) January 22, 2014
-
I can't wait to see the TV News Media promos for this: "When the shooting didn't happen at OU, we were there first!"

— The Lost Ogle (@TheLostOgle) January 22, 2014
-
I wonder if the local media will treat reports of "shots fired" in northeast OKC or Del City with the same enthusiasm...

— The Lost Ogle (@TheLostOgle) January 22, 2014
Stay in touch
Sign up for our free newsletter