OKC Media
107.7 The Franchise has hired some new co-host for Tony Casillas…
12:53 PM EST on January 17, 2014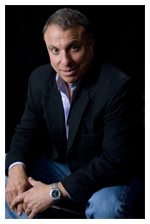 Earlier this week, I received a couple of questions on Twitter asking what happened to Dave Garrett. No, not the one who "knew what to do to." I'm talking about the guy from the 107.7 The Franchise.
In case you're wondering who the hell that is, Dave Garrett is a local sports radio personality and the Norv Turner of the Oklahoma City sports media. He's talented, hardworking, and respected, and because of that, gets shot after shot to be a sports radio host in this market. For some reason, though, it never seems to work out for him. He's even been hired and fired by Jerry Jones. Since that's the case, maybe comparing him to Wade Phillips would be more appropriate.
All bad sports analogies aside, Garrett was a co-host for the Franchise's drive-time show "Casilla and Company." He's now leaving that show to man the dreaded 7pm - 9pm spot. He will also provide pre- and post-game coverage of Oklahoma City Thunder games. He'll probably keep this gig until some other sports radio station opens up shop and hires him.
Garrett is being replaced on "Casillas and Company" by some used car salesman from St. Louis named Zach McCrite. We know all this because Tyler Media issued a press release about it. Here's his photo and press release:
Tyler Media is proud to welcome Zach McCrite to The Franchise on-air team starting January 22, 2014.

McCrite will be joining Tony Casillas as co-host of The Franchise afternoon show, Casillas & Company. McCrite brings his experience as the voice of 101 ESPN/ St. Louis, where he co-hosted middays with former NFL coach, Rick Venturi, to compliment Casillas's expertise.

McCrite has over 18 years of TV and radio experience. For the past six years he has hosted top rating radio shows in Missouri and Kentucky, and for the past two years he has been on the Talkers Magazine Top 100 Sports Talk Show Hosts in America. McCrite has also made recurring appearances on ESPN's Outside The Lines and the SportsCenter.

"I cannot begin to tell you how excited I am to join The Franchise. They've already built a foundation for winning. To be able to align myself with names that have resonated with me from afar for years was part of the appeal. The challenge of winning with a group like The Franchise and Tyler Media has me fired up," said McCrite.

McCrite is a graduate of the Indiana University Southeast. He spends his spare time going to games as a fan, trying out new restaurants, and acting like he knows how to play golf.

The current co-host of Casillas & Company, David Garrett, will be expanding his role with The Franchise to be the primary show host of the 7p- 9p programming. Garrett will also be the point-man for The Franchise's Pre and Post-game Oklahoma City Thunder coverage.
Sure, the guy looks like he should be on Pawn Stars, but then again, Pawn Stars is probably a popular show for sports radio listeners.
Back when the sports radio shake up was happening, I was looking forward to hearing "fresh voices" on the air. The results have been mixed. Eric G. and Kelly Greg are pretty good and have a decent chemistry, and are even better when Kelly is drunk. You can tell the new morning show has revitalized Mike Steeley's act, but now he still has to deal with John "Buzzkill" Rohde. I'm not a super OSU homer, so I don't listen to Sam Mayes, but I'm sure he does a good job spinning everything related to OSU into a positive thing.
So far, my only real complaint about the Franchise has been "Casillas and Company." Tony and Dave lacked any chemistry, and in all honesty, I'm not really convinced it was David's fault. Casillas has the personality of a Terminator and virtually all of his opinions came from the book of "Ex-Jock Football Clichés." And when they talked, it sounded like a southern dandy interviewing one of the Hanson brothers from Slap Shot:
"Tell me you former marauder of the middle, what was it like playing the Eagles in playoffs?"
"Tough game. Got to stay focused and physical."
"You took the turf in some battles of the bedlam boys. What was that experience like you heaving hulk of a man?"
"Tough game. Got to stay focused and physical."
"Prediction for the Thunder game tonight? Can KDs gang squash those pesky Pacers?"
"Tough game. Got to stay focused and physical."
Anyway, good luck to the new guy. He better stay focused and physical. Hopefully he does better in Oklahoma City than Al Eschbach did in KC.
Stay in touch
Sign up for our free newsletter