ICYMI
Satanists want to build a monument at the Oklahoma State Capitol…
12:45 PM EST on December 6, 2013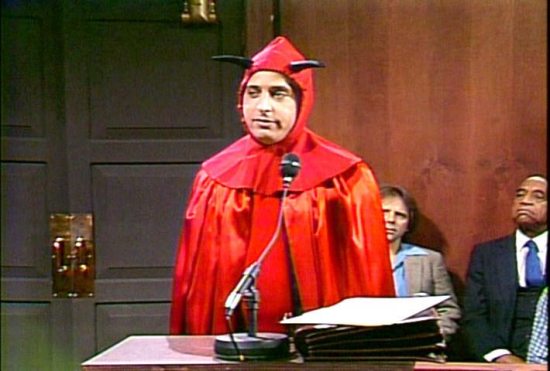 Let's hope the devil's monument engraver uses spellcheck.
Earlier this week, The Satanic Temple offered to build and fund a monument at the Oklahoma State Capitol honoring Satan. Their proposal, which was submitted to the Capitol Preservation Commission, comes nearly a year after a monument displaying the 10 Commandments was installed on the north steps of the capitol.
From a Satanic Temple press release:
The Satanic Temple, an established New York City-based religious organization, has offered to donate a public monument to Oklahoma's Capitol Preservation Commission for display upon Oklahoma City's capitol grounds. Described as an "homage" to Satan, the purpose of the monument is to complement and contrast the Ten Commandments monument that already resides on the North side of the building. The donation offer has been submitted and is currently awaiting the commission's reply.

The Ten Commandments monument, donated to the Capitol Preservation Commission in 2009 by Mike Ritze, a representative of the Oklahoma State Legislature and ordained Southern Baptist Deacon, has raised the ire of the American Civil Liberties Union (ACLU) who filed suit in August of 2013, noting that, "the monument stands alone, with no other monuments or memorials in the immediate vicinity." Also of concern to the ACLU is the "self-evidently exclusive" religious message "that supports and endorses the faiths and creeds of some churches and sects." The Satanic Temple believes that in being allowed to place their monument within the proximity of the Ten Commandments monument, they can appease the ACLU's concerns.
That's funny. I'm not a fan of any religious monument being displayed on public grounds, and think that something glorifying Satan and all his vices is just as unconstitutional as one that promotes ancient religious laws. That being said, I like the idea of fighting absurdity with even more absurdity. If you're going to let the Southern Baptist's install a monument honoring their 10 commandments, you might as well let the satan worshippers build something that honors their religion and laws, too. Otherwise, it looks like the state of Oklahoma is endorsing or promoting one religion over another. That's illegal right?
Anything else we need to know?
According to the temple's spokesperson, Lucien Greaves, "by accepting our offer, the good people of Oklahoma City will have the opportunity to show that they espouse the basic freedoms spelled out in the Constitution. We imagine that the ACLU would also embrace such a response. Allowing us to donate a monument would show that the Oklahoma City Council does not discriminate, and both the religious and non-religious should be happy with such an outcome. Our mission is to bring people together by finding common sentiments that create solutions that everyone can appreciate and enjoy."
Uhm, can someone tell the demon lovers that there's a difference between Oklahoma and Oklahoma City? You see, Oklahoma City is the capital of Oklahoma, but our city council and residents don't really get a say in what's displayed on the capitol grounds. If you're going to use our city and state as a battleground in the fight for a separation of church and state, at least read our Wikipedia entry.
Anyway, what's this monument going to look like:
In addition to conveying the message they hope to bring with the monument installation, The Satanic Temple is keenly attune to the need for a public-friendly design and seeks out resident ideas in order to encourage acceptance from the public and render the monument an object of play. If permission is granted by Oklahoma's Capitol Preservation Commission, the temple will allow for submissions from the public and likely have people vote on which design they like best.
That's pretty cool. If this is approved (HAHAHAHAHA), I'd suggest they go with one of our monument ideas from over a year ago. You have to admit that having a full-sized granite replica of Han Solo frozen in carbonite would be pretty bad ass. Who wouldn't want to take a photo in front of that? The laser quest players code would be good, too.
Then again, those things don't have anything to do with the Devil. I'm sure a popular choice will be a statue of a bemused devil listening to Johnny play the fiddle. They could even include the lyrics to the song. That would be okay, but it's set in Georgia. Save that monument for Atlanta. I think a better idea would be an engraving that recreates the classic SNL sketch of Mephistopheles, played by Jon Lovitz, appearing as a defendant on the People's Court. Not only does it have a classic tie-in to law and government, but maybe we can get Lovitz, Judge Wapner or even Doug Llewelyn to come out for the unveiling. I'd go to that for sure.
Stay in touch
Sign up for our free newsletter