Everything Else
College Football Musings from the Train: Oklahoma State is Good, Oklahoma is Whatever
9:30 AM EST on November 18, 2013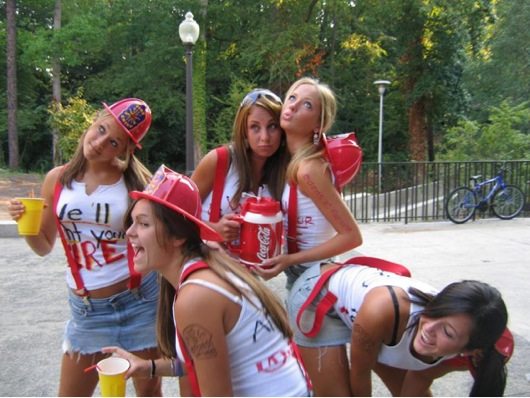 10) Oklahoma State hammers Texas
Oklahoma State trounced Texas Saturday afternoon 38-13 in workman-like fashion. Despite running 24 less plays, and despite not having it's best playmaker, the total yards amassed by OSU nearly mirrored that gained by Texas, which goes to show that the offense is an efficient, if not spectacular aspect of this OSU team. Which is all Gundy needs from his offense, as this defense continues to make big play after big play.
Leading 21-10 in the final minute of the first half, Case McCoy attempted a pass he physically cannot complete, and was intercepted by Justin Gilbert, who took the pick to the house, effectively ending the game. Gilbert's oskie was one of three given up by McCoy on the evening. And even without the turnovers, OSU played well on defense, allowing 3.4 yards a carry to a team that has enjoyed significant success running the ball since the end of September.
It seems like I say this every week, but the country going find out how good this veteran defense really is in five days.
-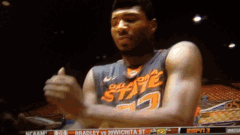 9) So is OSU the best team in the big XII?
Well, no ... probably not. But the gap between Baylor and OSU isn't that wide. And the gap shrinks exponentially with Baylor playing in Stillwater this weekend.
Oklahoma State is in the top 15 nationally in both scoring offense and scoring defense. The bane of my criticism, Clint Chelf, continues to improve as shown last week against Texas in Austin: 16 for 22 for 197 yards and two touchdowns, while exposing Texas' inability to stop a running quarterback with 95 yards on 10 runs. You see that, dipshit? When a team can't do something well on defense, you expose that weakness. FML.
In any event ... Oklahoma State is at worst the second best team in the conference. They have adjusted well to their quarterback woes with simple yet effective offensive game plans centered on running the ball and play action. They have relied on a senior laden defense who's strength is in the middle and at corner. They will give Baylor all they can handle this weekend.
-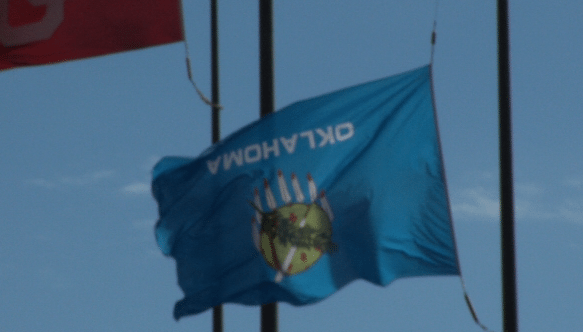 8) Oklahoma/ISU, Part I
Iowa State was up 10-3 with 2 minutes remaining in the first half when I wrote the following: "Is this the end? Will we look back on this game as the end of the Bob Stoops era?" I am sitting there on the west side of the stadium with the big cigars commenting that, in 3 years, we might look back on this game as having witnessed the end of the Bob Stoops era.
The Sooners amassed a paltry 25 yards in the first quarter with one first down. The first 30 minutes of the game Saturday morning, Oklahoma was outgained 110 to 191, with ISU grabbing 14 first downs to OU's 6. The Sooner offense was abysmal. No identity whatsoever. OU could do nothing when they had the ball. They couldn't stop the Cyclones on defense. It was one of the those halves where you truly question the direction of the program.
Then Jalen Saunders happened ...
-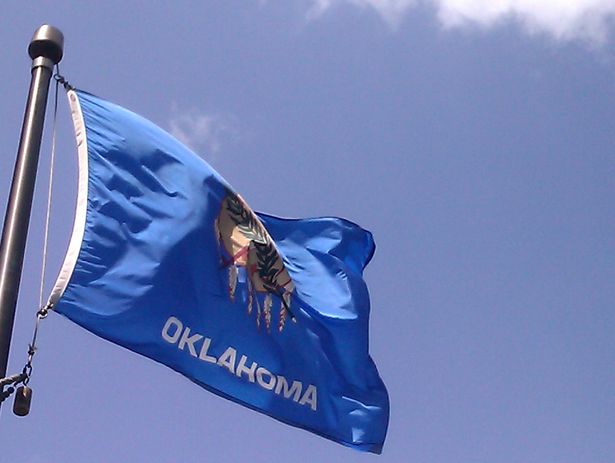 6) Oklahoma/ISU, Part II
And the Sooners went from a 10-3 deficit to a 48-10 victory.
In the second half, the new look Trevor Knight led Sooners held ISU to 100 total yards while garnering 413 of its own en route to a resounding victory against hapless ISU that probably doesn't mean a whole lot should the Sooners piss down their legs at Manhattan on Saturday. But ... for one day, OU ran the offense OU fan hoped they could run, rushing for 405 yards on 44 carries, which was the most rushing yards the Sooners have managed in the Bob Stoops era. Trevor Knight proved that although he isn't much of an improvement over Bell in the passing game, he is significantly better at gaining positive yardage on the ground than Mr. 5.3 forty that some people think is capable of playing tight end.
The defense was equally impressive despite Aaron Colvin and Charles Tapper playing a combined one half of football. After dicking around with ISU for a half, Mike Stoops elected to play real defense in the second half, limiting ISU to six first downs and no points. No, the defense hasn't been elite this year, but they have played well at times even without it's two (or three or four) best players. The Sooners need to have a full game's worth of excellent defense to have a chance to win another game this season. Which means selling out completely to stop the run the final two games of the regular season.
-
5) Where do the Sooners go from here
I don't know if there is a guy on campus that can complete a forward pass. But I know that Blake Bell's zero to sixty isn't getting it done. I would like someone ... anyone ... to explain to me how this guy can dominate Notre Dame in South Bend and Tech at home, and look completely lost against such defensive powerhouses as Iowa State and Kansas.
But I digress ...
About the only guy who I have any confidence in completing a pass over 5 yards has a grand total of 10 plays under his belt, and has a hitch in his throw that makes Kerry Collins blush. The fact remains that Bell has had 3 plus years in this program and looks terrible more often than simply mediocre. Knight isn't JFF, but recently he has shown an ability to move the ball with this offense no one knows how to run. He can break long runs, in stark contrast to the yeti who, despite what OU fan thought going into the season, hasn't proven an ability to break open a running play longer than minus 2.
Both Knight and Kendal Thompson are, at worst, equal to Bell despite having 2 and 3 years less experience respectively in the program. Bell is done. His future at the school is probably limited to being the answer to an Aflac trivia question when the Sooners play Notre Dame in 2028. Good kid. Great family. Blah blah blah. The future is now.
-
4) Turns out the Big XII is a bit more difficult than other shit conferences
Yes, I know. It's a topic I have covered before. But since the season is winding down and Kansas actually won a game this weekend ...
TCU and West Virginia continue to suck complete shit in the Big XII, with the Mountaineers highlighting yet another terrible performance by the conference newbies, getting undressed by previously God awful Kansas 31-19, a game which included the Jayhawks rushing for 315 yards. Both TCU and West Virginia are going end the season with losing records.
It wasn't that long ago when the national media pimped TCU as a power program capable of running roughshod over the soft Big XII. I said this before, and I will say it again - teams like Northern Illinois and Louisville and Fresno State and Boise State need to enjoy the fifteen minutes of fame they get when they rattle off undefeated seasons or find lightning in a bottle for 60 minutes in a meaningless bowl game against a three loss SEC squad. Yes, teams from non-AQ conferences will continue to win a BCS bowl game here and there. But Boise State would be nothing more than a .500 team in the Pac 12. Ask Utah how playing in that conference is working out.
Louisville in the Big XII? Think TCU without the recruiting base of Texas.
-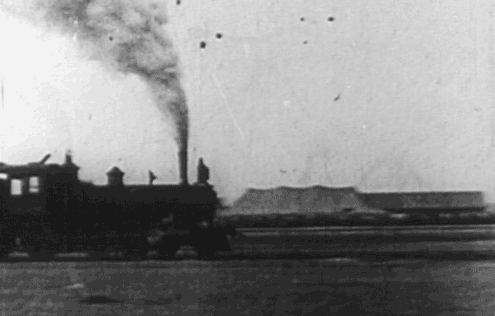 4) Tulsa's Implosion Continues
No one in this state saw this coming.
Tulsa is 102nd in scoring offense. Which is terrible considering where this offense has been for most of the past decade. 87th in passing offense, 75th in rushing. 93rd in total offense. Not to be outdone, the defense is 106th in scoring and 87th in total defense. They can't throw the ball for shit, hitting on 12 touchdowns to 14 interceptions. Tulsa has a total of 24 touchdowns in 10 games - only two players have more than 2 touchdowns. The Golden Hurricane is going to lose it's last two games and finish a stunning 2-10.
I lived in Tulsa for 27 years. My wife and I both have degrees from TU, the school that afforded me the opportunity to meet the mother of my children. My parents have degrees from TU. I have been going to TU football games since I could walk. I remember Dan Bitson and Chris Hughley and Ron Jackson. And Steve Largent.
Bill Blankenship is a 56 year old high school coach whose college coaching experience prior to 2011 was as a special teams, wide receiver, and running backs coach. Yes, Tulsa had a good season in 2011 and a great season in 2012. And yes, you could argue that Blankenship had a hand in recruiting the players on those teams. But those teams were loaded with Todd Graham's guys. Those kids came to Tulsa because of the success of Graham and Steve Kragthorpe. Instead of hiring another hot assistant or mid major head coach, Tulsa went all Tulsa and hired a guy they knew wouldn't take another job - a coach that wanted to stay at Tulsa until he retired or was fired.
So a Tulsa area high school coach and unknown college assistant gets hometown head coaching job at emerging college football program because administration is arrogant and stupid. How is that working out now? John Phillips can answer that for Coach Blankenship. Tulsa basketball has to yet recover from that abortion of a hire. Welcome to your future, Tulsa football fan.
-
3) College basketball tipped off
If a tree falls in the forest, and no one is around, does it make a sound?
-
2) Auburn/Georgia 
And from the "how in the hell did THAT happen", I bring you the Marshall Miracle in gif form: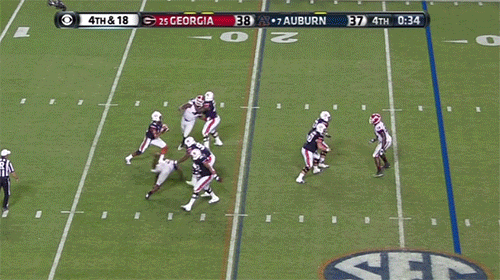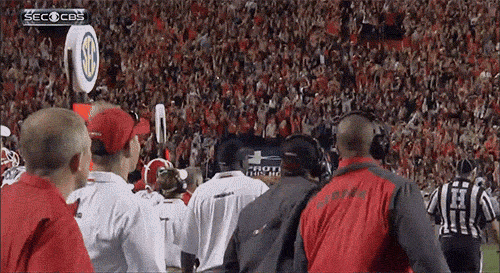 -
1) Predictions
Right now, Kansas State is the third best team in the conference. Oklahoma won its last game a little less than 48 hours ago.
Kansas State: 38
Oklahoma: 24
-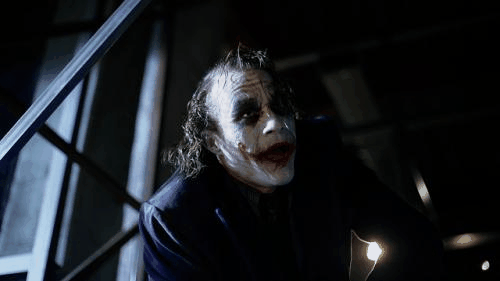 Oklahoma State: 48
Baylor: 47
Stay in touch
Sign up for our free newsletter