Everything Else
We suck at breaking new stories about indecent exposers and wife beaters…
11:00 AM EDT on October 17, 2013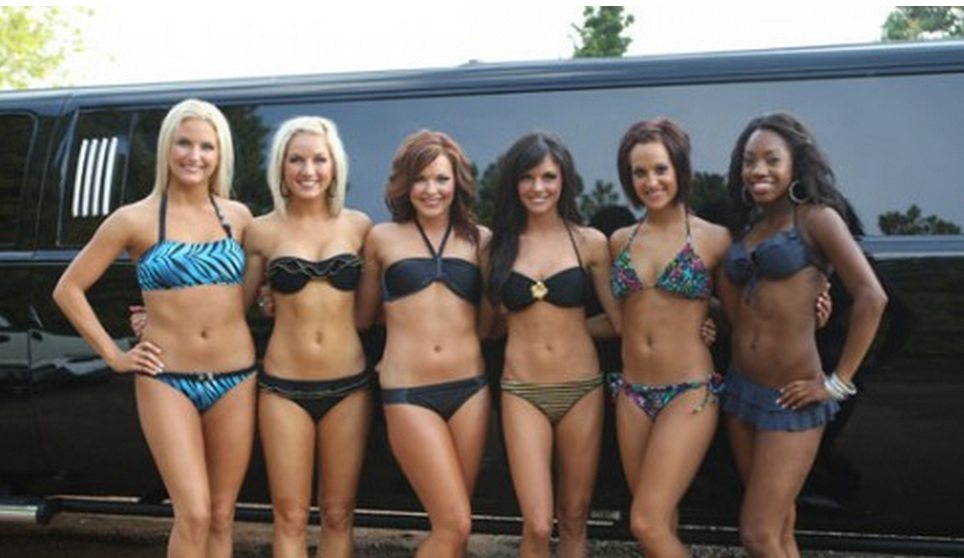 Every now and then, we like to break an occasional news story or two at The Lost Ogle. We do this for several reasons:
1. It's fun to pretend to be real journalists. 
2. We get to call out the local media on Twitter after they pick up the story and not give us any credit.
3. Pageviews. Pageviews. Pageviews.
In all honesty, Number 3 is probably the most important reason. We need pageviews to survive, and when you break a juicy story, that's exactly what you get. The only problem is that some people then forget we're still an obscure local social blog and start taking us a little too seriously. Then they get mad at us (or me) for reverting back to our typical form and posting pics of bikini-clad Thunder Girls in front of limos.
Anyway, we blew an opportunity to break a couple of notable local news stories this week. The first one arrived in the TLO in-box late on Monday night: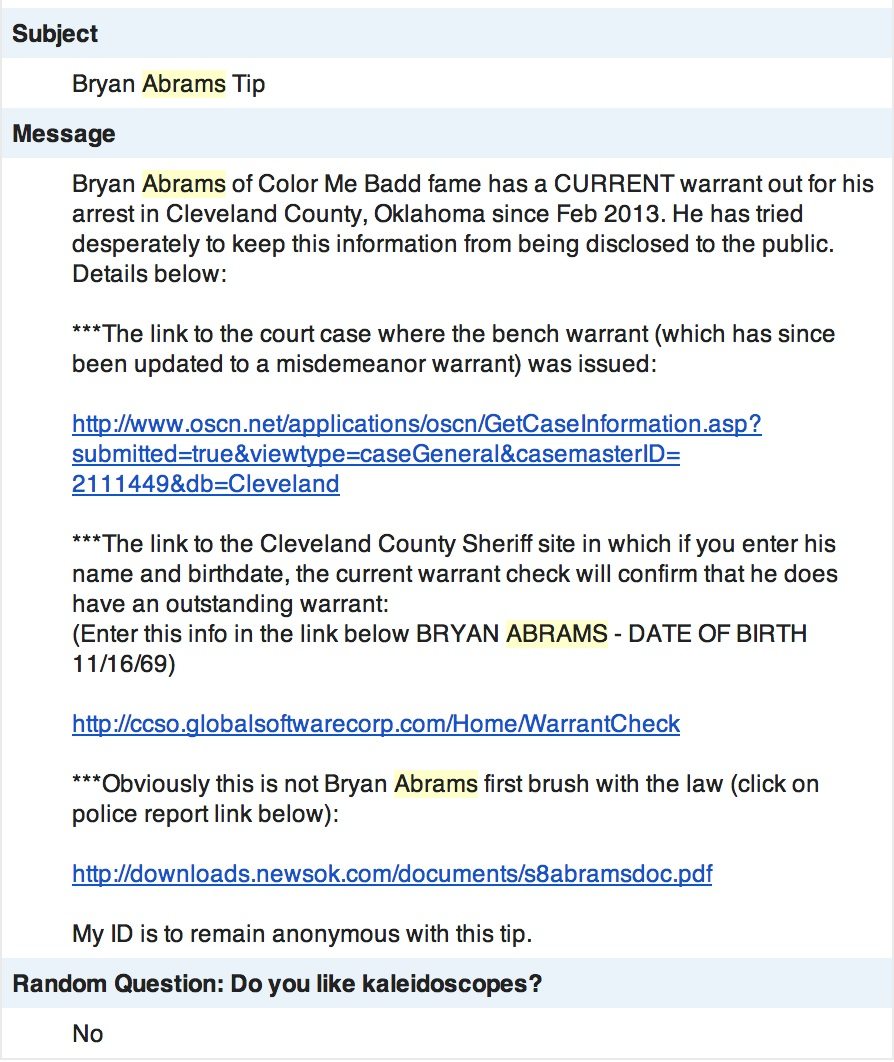 Normally, I would have been all over that like Bryan Abrams at a Vegas buffet, but there was a problem. I had a post scheduled for Tuesday morning about Thabo Sefolosha's domestic violence tweet. We can't have two domestic violence stories up on the same day, can we? I know it's national awareness month and everything, but even Tina Turner would admit that, uhm, we missed an opportunity to help educate the public about a serious issue that should never be joked about. Stay classy, OKC.
I decided to sit on the Bryan Abrams scoop until Thursday. That seemed like a good buffer. Plus, it's not that big of a deal. Bryan Abrams gets charged with domestic abuse every couple of years, right?
Well, it looks like sitting on the story was a mistake. The Oklahoman broke it last night:
Color Me Badd singer sought in Cleveland County

A singer with the '90s group Color Me Badd is wanted on an arrest warrant in Cleveland County, where he pleaded guilty last year to domestic violence charges.

NORMAN — A singer with the 1990s rhythm and blues group Color Me Badd is wanted on an arrest warrant in Cleveland County, where he pleaded guilty last year to domestic violence charges following an October 2011 incident involving his wife.

Bryan Abrams, 43, an Oklahoma City native, has a history of domestic violence and his third divorce is pending in Cleveland County District Court, records show.

Abrams pleaded guilty to one count of domestic abuse in April 2012. He was placed on probation for a year and ordered to get counseling for domestic violence and substance abuse issues.

Records show Abrams has not complied with the terms of his probation by failing to pay fees and report to his probation officer. A warrant was issued for his arrest in February and remains open.

A probable cause affidavit filed in January 2012 shows Abrams punched his wife in the face during an argument. The woman, identified as Kimberly Frazier in court records, said she was "also hit in several places that caused injuries to her neck and thigh."

The affidavit states the Oklahoma City Police Department had evidence and records to back up the allegations.
As you know, Color Me Badd recently broke up for the 500th time. I don't know if it had to do with the arrest warrant or not, but I would not want to be in a 1990s rhythm and blues group with an alleged wife beater.
On Twitter last night, Abrams seemed shocked:
Know what else Sweet Brown doesn't have time for? Wife beating alcoholics. I doubt she'd give Bryan a cold pop.
The Bryan Abrams arrest wasn't the only story we missed out on this week. As I was preparing to host TLO Trivia Night at The Speakeasy on Tuesday, this email came through: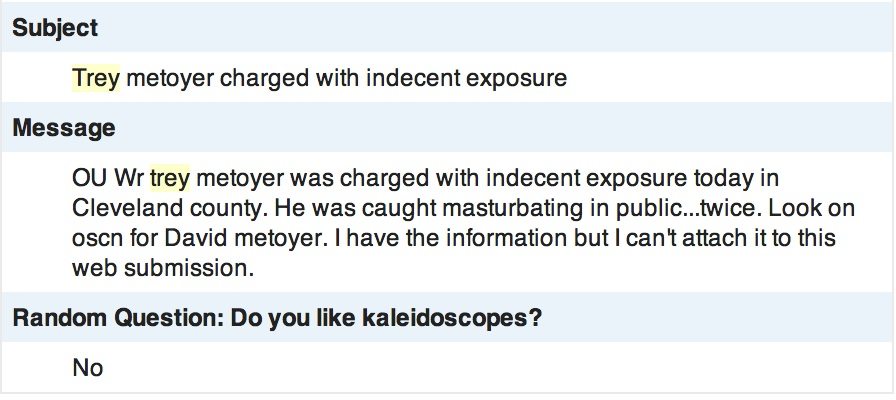 By the way, let me explain the silly "Do You Like Kaleidoscopes" question you may have noticed in the two emails. Last spring, we were having an issue with emails from our contact form being sent directly to our Gmail spam folder. To fix this, I set "Do You Like Kaleidoscopes?" as a mandatory question on the "Contact Us" page. I then created a filter in Gmail to move all emails that contained the word "Kaleidoscope" directly to the inbox.
So far, it's been one of the smartest things I've ever done. Not only are we getting more emails, but I've become the world's foremost expert in the field of what people think about kaleidoscopes. It's fascinating. Some person can write me the meanest email in the world, but then take the time to seriously address the question. It usually goes like this:
"You all suck! Move out of your mom's basement. Dickwad sissies. Street Outlawzzzz is the BEST damn show on TV. Big Chief is a GOOD person. You all don't have a clue. This website is TERRIBLE and the WRITING is terrible. Jealous losers. Get a life!
Do you like kaleidoscopes?
"Sometimes they can be okay. I haven't seen one in years."
But enough about kaleidoscopes. About an hour after I received the Metoyer email, SoonerScoop reported the story. It eventually hit the news wire and was everywhere. In case you missed it:
Sophomore wide receiver Trey Metoyer was charged with two felony counts of indecent exposure according to documents filed at the Cleveland County Courthouse on Tuesday. Metoyer is currently not with the Oklahoma football team as both Bob Stoops and Jay Norvell said recently Metoyer was taking care of personal issues.

"He's going through some things right now," said Norvell Oct. 1. "He's trying to get his hands around it. And so we just wish him the best as he works his way through that."
Really? He's trying to get his hands around it??? Jay Norvell is either the world's funniest or dumbest human being.
It continues:
Metoyer did not suit up with the team the following week for OU's game against TCU Oct. 5, which prompted Norvell to comment further on his status.

"He's taking a little break from football." he said Oct. 8.

According to the probable cause affidavit obtained by SoonerScoop.com, Metoyer exposed himself to two different victims in Norman. After initially denying both allegations, Metoyer later admitted to each incident.

The first count took place on Aug. 29.

"The victim advised she was on a balcony smoking a cigarette when she observed the black male driving through the parking lot ? in a red Grand Am," states the affidavit of the Aug. 29 incident. "The black male backed up and pulled into a parking spot. The victim noticed a short time later that the black male had his (genitals) exposed while sitting in the car (performing a lewd act)."

The second count took place on Sept. 17 in Norman where Metoyer approached the victim inquiring about an ink pen.

"It was learned that the victim was walking her dog when she was approached by a black male who asked her if he could borrow a pen," states the affidavit of the Sept. 17 incident. "The victim went into her apartment to get an ink pen and when she came back outside, the black male was (performing a lewd act) in front of her apartment. The black male then asked the victim if she would want the pen back."
Move over Byron Houston, it looks like there's a new masturbating sheriff in town! Actually, the word "alleged" should be included somewhere in that sentence. I'm not 100% sure where. Couple of quick thoughts:
• Attention women of the world: If you're ever walking your dog in an apartment complex and a stranger walks up to you and asks for an ink pen, say "I'm sorry, I do not. Have a nice a day." Then clench your pepper spray, rape whistle and cell phone and continue on with your walk. Otherwise, there's a slight chance you may end up talking to a police detective or find yourself featured on an episode of Forensic Files.
• Attention all public masturbators:  You can keep the pens. All of them.
Anyway, I guess that's it for this week's edition of "News stories we didn't break." If you ever have a tip for us or want to share your thoughts on kaleidoscopes, visit our Contact Us page. When you do, remember that we're lazy and host bar trivia and may need a day or two to write about it. Thanks.
Stay in touch
Sign up for our free newsletter