ICYMI
Did David Slane go to Peru with those guys who allegedly like underage prostitutes?
1:07 PM EDT on October 10, 2013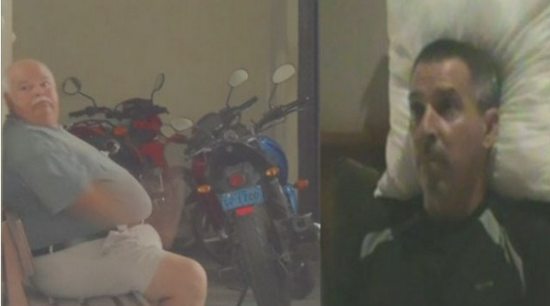 The Merves pictured above are Oklahoma City attorney Michael Billings and Ada bail bondsmen Robert Pierce. Earlier this week, a story dropped that Peruvian officials were investigating the men for allegedly participating in a child sex tourism ring in the Amazon rainforest town of Iquitos.
From News 9.com:
An Oklahoma City attorney and Ada bondsman are implicated in a child sex tourism scheme. Federal agents are accusing the men of traveling out of the country to have sex with children.

Michael Billings and Robert Pierce admitted they've been to Peru at least 30 times in the last 10 years, but only for vacation. A federal search warrant suggest otherwise.

The Peruvian Media captured agents busting in on Michael Billings and Robert Pierce at the El Dorado Plaza Hotel in Iquitos, Peru. The city is a known child sex tourism destination.

Billings and Pierce are accused of having sex with children during their many trips to Iquitos. On Sept. 22, 2013, both were detained by Peruvian authorities after agents allegedly found two girls, ages 13 and 17, inside Pierce's room...
That seems pretty incriminating. How did they respond to the charges?
Michael Billings said in an interview off camera, the city is also nice to visit for fishing and relaxation. Billings defended himself and Pierce saying they are innocent. Billings also released the following statement:

"Robert Pierce and I were in Peru for vacation. We did not commit any illegal or immoral acts while there. The Peruvian authorities thoroughly investigated our conduct and determined that we did not commit any of these acts."

Billings also explained he voluntarily allowed a search of his electronics while Pierce denied immediate access to his home and office. Agents seized three cell phones, cameras, and computers found in his possession.

Records show agents found pictures of a young Peruvian girl in underwear on Billings' electronic devices.

The search warrant also indicates there's more to the investigation including others who traveled to Peru with the two.

Billings and Pierce have not been charged in federal court.
First of all, who doesn't have pics of young Peruvian girls in underwear stored on their electronic devices? It's pretty common, right? Oh, you're telling me Adrianna Lima is 32 and from Brazil? Nevermind then.
Anyway, what's odd about this story is that it lacks any expert legal analysis from local criminal defense attorney David Slane. The guy always makes himself available to the media and specializes in defending sexual predators. I wonder why he's not quoted in the story? Did News 9 not contact him? That's plausible. Or, is he simply lying low because he has accompanied Billings and Pierce on some of their previous visits to Peru.
Wait. What?
Check out this totally bizarre 2007 article from something called the IquitosTimes.com. It was sent to me by an Ogle Mole late last night. Titled "Heros of the Amazon," it details the courageous actions of Billings, Pierce, Slane and some other guy as they saved a Peruvian village from gigantic snakes and deadly floods while repairing an orphanage.
And no, I'm not making that up.
We often wonder if heroes are born, or if they are a product of the times. Personally, I don't know the answer to that question, but we have had such men in our midst recently.

The men I am talking about are Michael Billings, David Slane, Darren Black, and Robert Pierce, all of Oklahoma in the United States. As you may recall, Billings and Pierce recently rescued a local village from a vicious giant snake that endangered many of the children of the area. Billings and Slane are prominant attorneys in Oklahoma City, Oklahoma, in the United States. Black and Pierce are successful investors in Oklahoma.

Recently, Billings, Slane and Black were donating their time and resources to repair a local village's orphanage, which had been damaged by neglect and storms. This type of charitable behavior is not unusual at all for these men, and they visit this area often looking for good deeds needing to be done.
While they were working on the orphanage, a sudden, violent storm hit the area, causing the river to rise suddenly and unexpectedly. A family was caught near the river, and swept away by the raging water. All who saw this tragedy knew that the unfortunate family was already dead, all but Billings, who immediately jumped into the raging river.
Before we continue, let me go over a few things:
1. Once again, I'm not making this up. It's not from the Onion. According to the Internet Way Back machine, the story has been on the Iquitos Times website since 2007.
2. Scroll to the top of the page and take a look at the Michael Billings photo. He's the one on the left. Doesn't he look like the type of guy who jumps into a raging river to save a drowning family? I'm sure he floats on the water, but I bet that's it.
Now back to the incredible 100% accurate and real and not fabricated tale of heroism and adventure.
Seeing this Black and Slane immediately jumped into action. Black dove into the water in support of Billings, who was already rendering aid to the hapless family. When the family was finally brought to safety by Billings and Black, the terrible reality came to light that the family's one year old son had not been rescued. Quickly assessing the situation, Billings returned his battered and nearly exhausted self to the raging river. Black, realizing that Billings was nearly at the end of his endurance began to run along the bank of the river, ignoring his many injuries that he suffered. Swimming down the river, Billings finally came upon the young, terrified child, and immediately grabbed him. Level-headed as ever, Slane had taken a small boat from along the river's shore and come up alongside Billings and his tiny charge.

Exhausted, Billings and Slane attempted to return to shore, and they would have failed, if not for the efforts of Black, who drug the small boat, his friends, and the tiny baby, who had been snatched from the jaws of death, back to shore.

Later, the village held a dinner for their heroes, and offered a reward to Billings, Black, and Slane, who all humbly refused any reward, except the sincere thanks of the villagers.

Black was overheard to say that "doing good is its own reward."
That's pretty awesome. They should sell the rights of this story to Michael Bay. It's right up his alley, although he may have to work on making the script more believable. For example, the one-year-old who bravely fought against the flood currents may need to be three or four years older. Also, I'd suggest he cast Selena Gomez as the attractive nun who runs the village orphanage. That will sell tickets.
Obviously this story sent my B.S. meter to DEFCON 5. This is all speculation and opinion, but the story is so over-the-top, far-fetched and generally unbelievable that it reads like it is planted. Wouldn't that make sense? If you're going to regularly travel to Peru to visit underage prostitutes, it would be nice to have story out there that backs up your claims that you simply visit the country to relax, rebuild orphanages and save villagers.
Okay, that's probably just a far-fetched conspiracy theory. These guy's don't appear to be that smart. Here are a few other thoughts:
• Just to clarify, none of the men above, including David Slane, have been charged with any crimes. I actually sent David Slane and his handler Andrew Speno a tweet to confirm or deny that he's vacationed in Peru with Billings and Pierce, but he never replied. Considering how eager he is to interact with the media, that's odd:
• If David Slane is involved in any of this, won't it be awkward when the local media asks him to provide legal analysis on his own sex case? I wonder what he'll say.
Anyway, we'll have more on this story if and when it develops. I'm sure the traditional media – the same one that depends on Slane to provide legal analysis for all their stories – will cover and pursue this with all their might and resources. Just kidding. We'll probably never hear about it.
Stay in touch
Sign up for our free newsletter