Everything Else
2013 Oklahoma State Fair Photo Contest: Semi-Finals, Part 1
3:29 PM EDT on October 2, 2013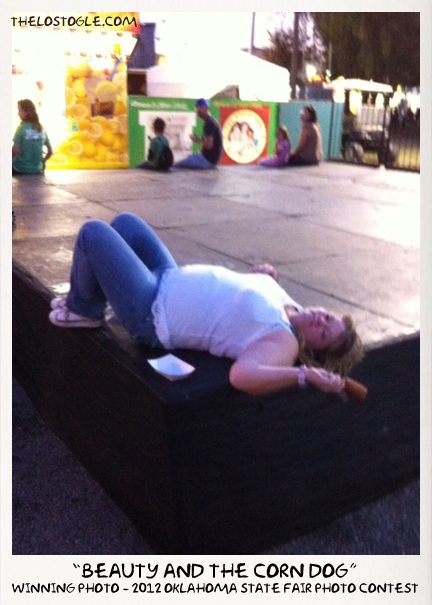 Welcome to our apparently now controversial 2013 Oklahoma State Fair Photo Contest! This is the sixth and perhaps final year we're doing this, so let's hope it it's a good one.
Before we get to the photos, let me go over three things:
1. How it works. The Ogle Mole Network submitted about 200 photos for this year's contest. After spending many hours reviewing and debating the merits of each pic, we selected 20 for the semi-finals. They are divided randomly into two groups. 10 go up today, and 10 more will be posted tomorrow are located here. You can vote for up to three photographs in each group. The three pics from each that get the most votes will advance to next week's finals.
2. What people win. Whoever submitted (and hopefully took) the winning photo will win a feast to Picasso Cafe in the Paseo. Oddly enough, Picasso's has its "fair" share of hipster-fusion fair cuisine. My favorite is the indian taco...that's topped with vegi chili and Ahi tuna. They also serve up fried risotto balls (a.k.a. risotto croquettes). That may be a fried food item you can't actually find at that fair.
3. Disclaimer. If you stumbled across this link on your niece's Facebook page, I should warn you that The Lost Ogle is an irreverent satirical news and entertainment website. It's not for everyone, especially if you're nice and kind-hearted. We started this contest six years ago as an absurd alternative to other State Fair Photo contests. If you take everything way too seriously, and poking fun at our state's fine people and Wal-Mart culture bothers you, stop reading now and head over to Post Secret. Like our fair contest, most of that site's content is also depressing. It's just nicer.
Anyway, if you're totally cool with laughing at those fair freaks that come out of hibernation for 10 days each fall, check out the photos and vote for your three favorites below. The second half will be up tomorrow: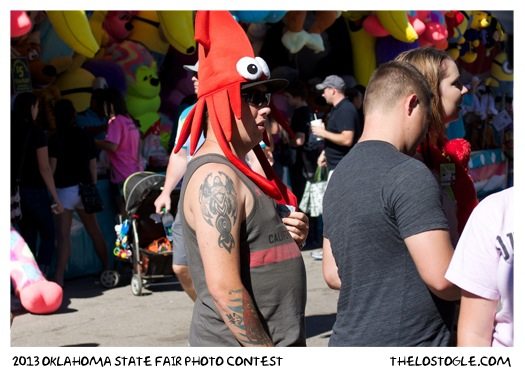 The Squid and the Fail
There's liking squid and then there's really liking squid. This man (or woman, I'm not 100% sure) is in the "really like squid" category. Not only is he roaming the fair in a red squid hat, but check out the giant red squid tattoo he's sporting on his lower right arm. I'm a fan of Jules Verne novels and Admiral Ackbar and even I think that's over the top. I bet the name of his dream girl is Cali-Mary.
-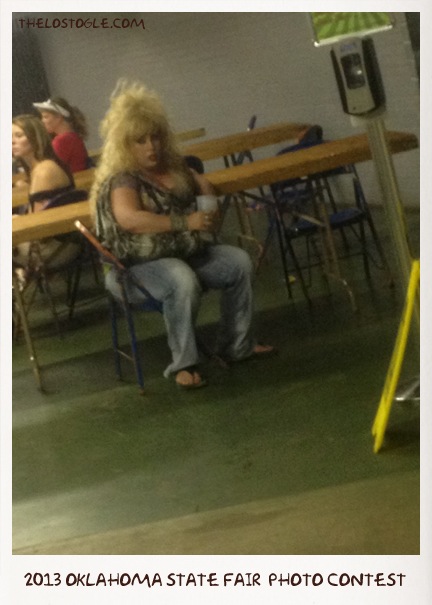 Wild Thing
Wow, David Bowie sure has gone downhill since he starred in Labyrinth. Actually, that's not David Bowie. I think it's just some other creation from the Jim Henson universe. After this pic was taken, we heard she tried to eat a couple of Fraggles.
-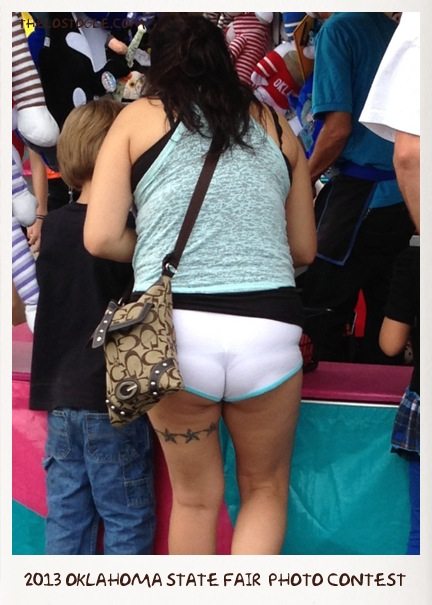 Baby Got Barf
I showed this pic to a very high-level girlfriend and the first thing she noticed was the fake Gucci bag. The second thing she noticed was the pile of vomit on my carpet. After that, things got as hazy as a pool of sweat near a butt crack.
Seriously, that's just disgusting. Thank God the technology to smell photographs doesn't exist. They should arrest that lady for indecent exposure and ban her from wearing clothes from Justice.
-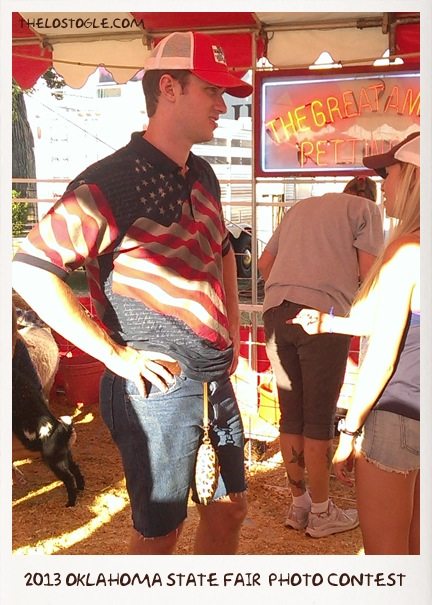 Pull My Purse
This pic was taken inside the Great American Petting Zoo. Part of the zoo's gimmick is that every half hour the animals all stand, salute this guy and recite the Pledge of Allegiance.
In addition to "How much does this guy fucking love America?," the obvious question here is "Why does he have a pouch hanging in front of his crotch?" I bet he uses it to either make change or hide the erection he gets when he sees corn. If you tug on it, there's a good chance he'll sing "My Country, 'Tis of Thee."
-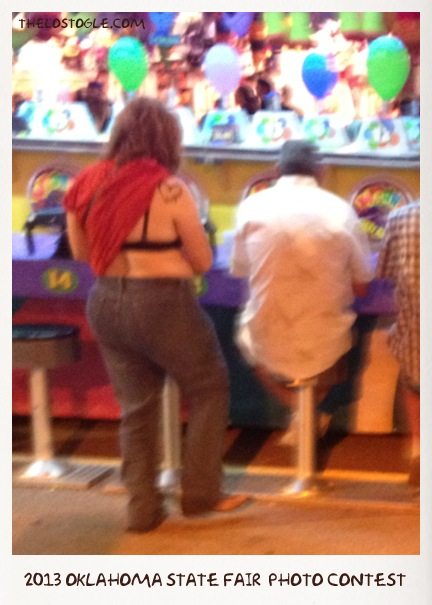 Hell yeah, it hurts...to look at.
We probably received 10 different pics of this women. All of them were blurry, taken from a distance, and scare small children. Basically, she was the Bigfoot of the Oklahoma State Fair. The only difference is that she actually exists.
-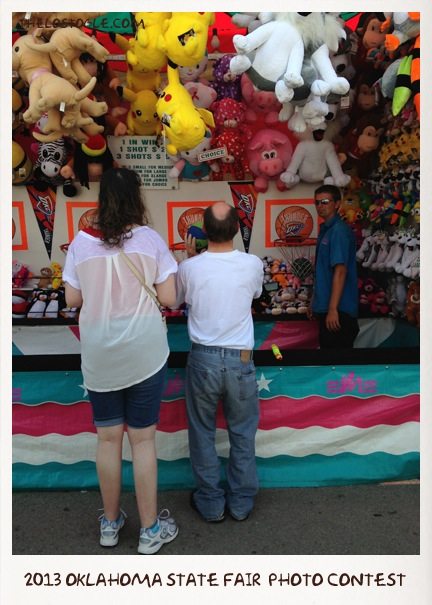 The Odd Couple
In you had to pick one person in that photo to not take a winning basketball shot, who would it be? Would you pick the 50-foot woman or the little bald man with the two-handed set shot? I'd say neither and go with the NASCAR carnie.
-
Bench Warmers
I'd like to trade places with a bunch of different things in life. A state fair bench is not one of them. That would be awful.
Also, can someone please explain how a person can sit on a bench, have a rod wedged between their ass, and not seem to care or notice? I'm asking for a friend.
-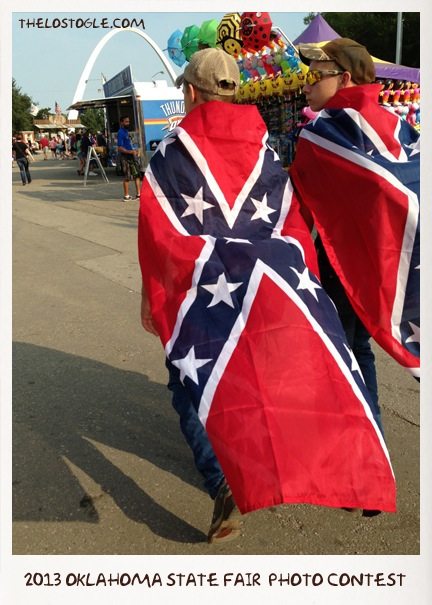 The Racists
If you're going to show off your inherent bigotry by turning a brand new Confederate battle flag into a super racism cape, at least have the decency to get rid of all the creases. Seriously, show some class and steam that thing.
p.s. – Remember folks, we have a black president. That means racism is dead and Oklahoma no longer needs affirmative action programs.
-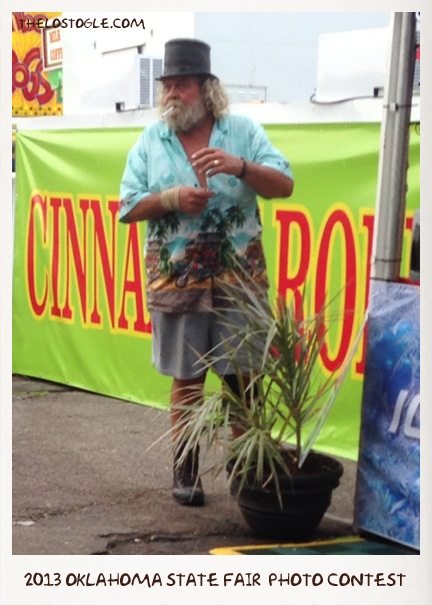 The Second Most Interesting Man in the World
He doesn't normally drink beer, but when he does, it's usually cheap and for breakfast.
Seriously, this guy looks like a bad ass. He probably has a lot of interesting stories to tell about Grateful Dead shows, Jimmy Buffet concerts and Mexican jails.
-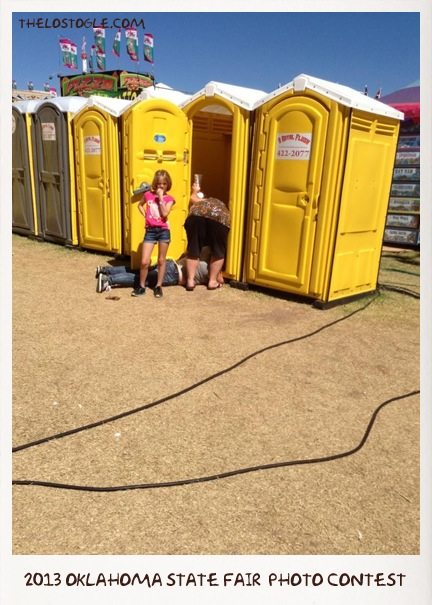 Too Many Corndogs
That kid is not impressed.
-
It's now voting time. You can choose up to three photos. Please vote only once. And remember, the results are not final until they are reviewed by the accounting firm of Clark Matthews and Associates.
Stay in touch
Sign up for our free newsletter