Everything Else
A couple more thoughts on "Chokie State" and the local media's response to the SI story
9:00 AM EDT on September 17, 2013
So, does anyone know of anything interesting that happened last week?
The internet was set afire with a five-part series from Sports Illustrated written by George Dohrmann and Thayer Evans. I thought that today I'd write a little bit about the reactions to it. I want to be clear here that I have no interest in defending SI's story. Even if every single allegation in the story is true, I don't really care. The NCAA's rules are dumb, and dinging OSU for breaking dumb rules strikes me as a waste of time, except to the extent that it gives me ammunition to needle my OSU fan friends.
Unfortunately for Sports Illustrated, their series was pretty sloppy, and most bafflingly they devoted half of what has been published so far to marijuana use and sex, both of which strike me more as telltale signs of everyday college life than of an out-of control football program.
Conceding that the SI report was really weak, though, I also didn't think the local media totally covered themselves in glory.
Before the story even dropped -- before we had any idea what would be in it -- KFOR, for instance, was already circling the wagons. Here's Channel 4's long-time news anchor Linda Cavanaugh:
Look, I would absolutely love it if KFOR's approach to the news was to warn viewers not to rush to judgment on stories, but it's just not the case. It's a practice only provided to prominent, influential institutions. Not to, say, normal everyday people accused of attacking elderly men at the lake.
That comment from Linda Cavanaugh wouldn't sound out of place in a piece of spin from the OSU PR department. In fact, it showed up in one: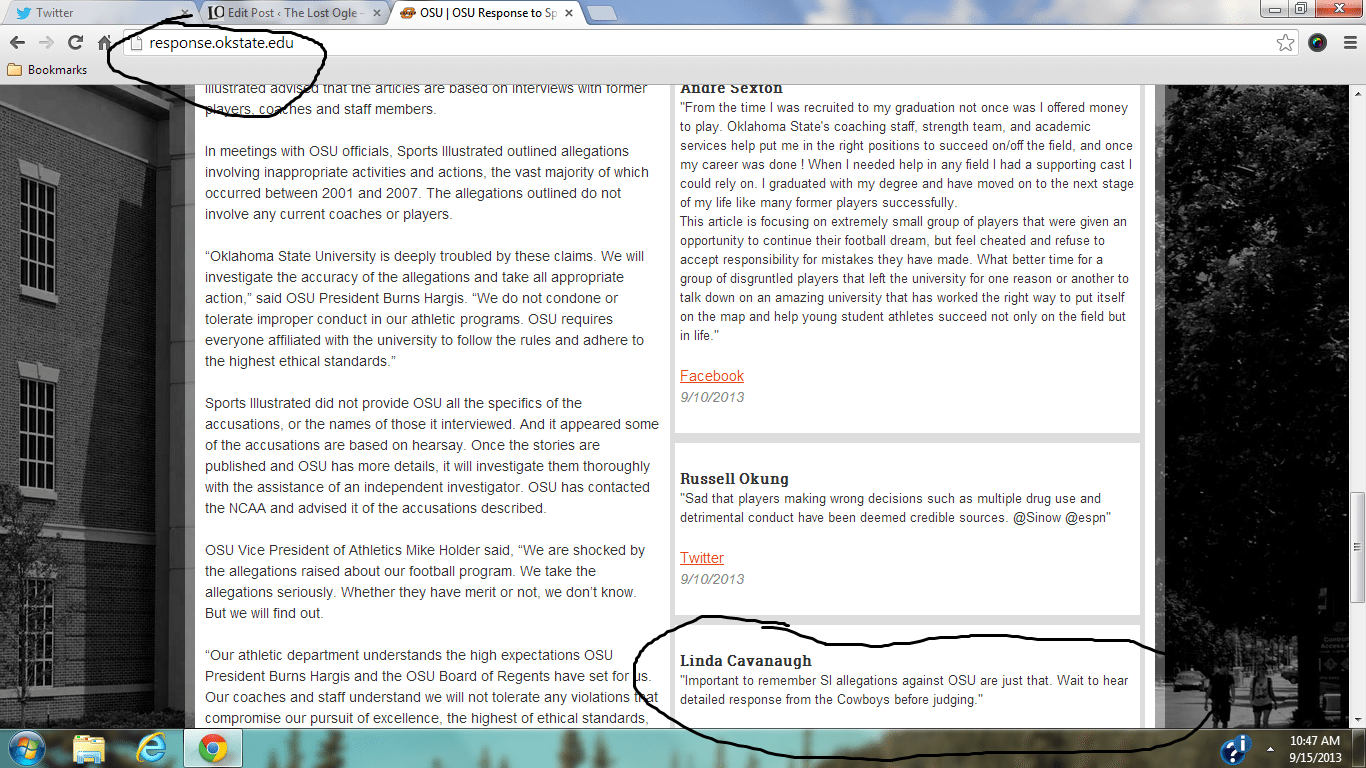 By far the most hysterical, over-the-top response to the news of SI's upcoming report was the reaction to Thayer Evans' name being associated with the story. I confess that I didn't realize the antipathy OSU fans have for Evans before last week, but it sure was illuminating. If they'd just waited a few days, they would have realized the story was a dud and could have easily taken it down on the merits. Instead, the gameplan was to absolutely lose their minds over a two-year-old quote hilariously calling OSU "Chokie State."
In a piece for FoxSports.com titled "Cowboys almost certain to self-destruct," Evans wrote:
Everyone is just waiting for Chokie State to once again live up to its nickname under Gundy.
To OSU fans and a weirdly large portion of the media, this was proof that Thayer Evans had an axe to grind against their favorite team. Left unmentioned, of course, was the fact that after that Thayer Evans was kind of right.  After his column was published, OSU did indeed go on to lose to Iowa State later in the season, despite being four touchdown favorites.
But being an astute columnist does not make you a good investigative reporter, and by the end of the week ESPN's Brett McMurphy uncovered some factual errors in SI's story, and even the national tide had turned on Sports Illustrated. What few seemed to mention was that Brett McMurphy is an OSU graduate (Pistols Firing's excellent Kyle Porter was a rare exception). I want to emphasize that I have no problem with an OSU graduate covering OSU football, but that is an actual way bigger conflict-of-interest than calling someone "Chokie State" in an opinion column.
And "Chokie State" is what people were really focused on. Not just OSU fans, either. The media was really troubled by it too:
Here's The Oklahoman's Gina Mizell:
Evans, who is perceived as having a bias because he has called the school "Chokie State" and written other anti-OSU pieces throughout his career, said that is not the case.
And here's Channel 4
Questions are being raised about one of the reporters behind the sports illustrated article, Thayer Evans who has been known to be extremely critical of OSU in the past, even referring to the university as "chokie-state."
Sports Editor Mike Sherman scolded Thayer Evans (twice) in a chat for using language like "Chokie State:"
Randy 12:24 p.m. Thayer Evans has published articles with the phrase "Chokie State" in them. Hardly objective, or professional.

Mike Sherman 12:25 p.m. Yes, he has. I was emailed that article yesterday and re-read it. It was unwise.
Like I said, the "Chokie State" line was ill advised
Pistols Firing actually titled a blogpost Looking back: Thayer Evans calls OSU 'Chokie State' That's how big a journalistic crime it is to call OSU "Chokie State." It's worth a headline!
Look, he can say or write whatever but this is pretty brazen language for somebody "with no axe to grind" as he claimed here.

You can be a realist without invoking the terms "chokie state" and calling Mike Gundy "bumbling."
And Channel 4's Bob Barry:
Even Berry Tramel got in on the act.
Evans has a track record of OSU-bashing – "Chokie State," he called the Cowboys 23 months ago.
They were really clutching their pearls about the fact that someone might use the phrase "Chokie State." To them, it's a sign of bias -- as opposed to the sort of pretty obvious wordplay that always happens in columns like this.
For instance, look at this other use of "Chokie State" that was written for CBS Sports a month after Thayer Evans' infamous 2011 column.
Actually, breathing hasn't been Oklahoma State's problem in the past -- but choking has.

Okie State? How about Chokie State.
Chokie State! Who was this biased columnist who should be banned from ever writing about OSU? That would be Brett McMurphy, current ESPN reporter and SI story-debunker.
OOF.
It was two years ago that Brian Phillips of Grantland wrote an entire piece dedicated to the concept of OSU being chokers, blaming the agony of OSU fans on an all-powerful force named "Squinky" who has nothing better with his amazing powers than to make OSU fans feel sad.
I guess what we can take away from all of this is that as long as it's OSU fans who point out OSU's tendency to choke on the football field, that's endearing. But if anyone else does it, it's a scandal.
Stay in touch
Sign up for our free newsletter