Everything Else
107.7 The Franchise launches Monday. Here's the station's lineup.
2:07 PM EDT on August 23, 2013
Back in July, we first told you the Oklahoma City sports radio landscape was about to change. Well, that change becomes a reality next week.
We have confirmed with Tyler Media that 107.7 The Franchise will take the air this Monday afternoon at about 2:00pm. On the following Tuesday, the station will launch its full weekday lineup of shows and hosts.
That lineup was released last week in a John Rohde blog post on the station's new website. Somehow we missed it. The post is classic John Rohde. It's long, boring, egotistical and uses a dated analogy to try to make a weak point. The only thing it was missing was a Vijay Singh slam:
In 1994, Billy Tubbs left Oklahoma to become the new men's basketball coach at TCU. To many people, myself included, Tubbs' decision to leave the Sooners to coach a bunch of Horned Frogs seemed inexplicable. For Tubbs, however, his reasoning was quite simple.

Tubbs believed coaches shouldn't stay at the same place for more than five or six years. "I always knew your honeymoon would be about a six-year stint," Tubbs recalled. "Because once you reached a certain level of success, if you didn't obtain that level every year, people started to think you weren't doing your job."

So after 14 years in Norman that included 13 straight post-season appearances, 12 straight 20-win seasons, four Big Eight titles, a national runner-up finish in 1988 and an overall record 333-132 (.716), Tubbs bolted for Fort Worth.

Tubbs lasted eight seasons at TCU (1994-2002) and then returned to Lamar, where he previously served as head coach (1976-1980) before heading to OU. Tubbs coached Lamar for three seasons (2003-06) and finished his 31-year coaching career with 641 victories.

Tubbs has since come full-circle. He never fell out of love with Oklahoma, which is why he and wife, Pat, returned to reside in Norman.

For Tubbs, there were no regrets. "I had almost reached a burn-out point at OU," said Tubbs, now 78. "If I had stayed, the next good year that I had I probably would have quit. You're so hung up in what you're doing, and you're so burned out while you're doing it, you fail to realize until it's over how much of a burden your job has become."

Tubbs' departure nearly 20 years ago was perplexing to me, but it became much clearer last month.

After working 30 years – 3½ years with the Colorado Springs Sun (1982-86) and 26½ years with The Oklahoman (1987-2013) – I decided to leave OPUBCO.

With the newspaper industry doing its damnedest to survive the Perfect Storm, Tyler Media president and general manager Ty Tyler threw me a life raft. Had I not climbed on board, I'm convinced I soon would have become another drowning victim in a sea of journalistic uncertainty.
Yeah, that's a totally natural and fair analogy. Billy Tubbs was a successful basketball coach that made the Final Four, turned OU into a title contender, and helped change the college basketball game. John Rohde was a bored newspaper columnist who toiled for 27 years at a mid-level newspaper. The comparisons are endless.
Also, I like how Rohde thinks that sports radio is an escape from "the perfect storm" hitting newspaper journalism. Uhm, I hate to tell him this, but radio isn't too far behind. Everything's changing. Maybe instead of waiting for people to throw him life rafts, he should learn how to swim and navigate the waters (a.k.a. adapt, change, work harder, don't mail in sports columns, etc.)
Here's the station's new line-up:
The daily lineup will be as follows:

"The Show" with Steely, Lump and Rohde (5:30-9 a.m.)

"The Mid-Day Mayes" with Sam Mayes (9-11 a.m.)

"The G-Men" with Kelly Gregg and Erik Gee (11 a.m.-3 p.m.)

"Casillas & Company" with Tony Casillas and David Garrett (3-7 p.m.)

Various local and NBC Sports programming (7 p.m.- 5:30 a.m.)
Hmmn. Here are some quick thoughts:
• "The Show." Obviously, I'm not the biggest John Rohde fan. I think putting him in the morning with Steely is mistake. That's way too much bitterness for a morning show. They should rename it "Grumpy Old Men and the Fart Joke."
• The Mid-Day Mayes. So my Sports Radio choices between 9-11am is a former OSU football player or a former OSU football coach. I think I'll try out the one that doesn't involve a Bob Barry Jr.
• The G-Men. In my other posts about this topic, I've mentioned a need for "fresh" voices. That's what I'm seeing here. I have no clue if these guys are any good, but I'll give them a chance. Erik Gee comes to OKC via the Sports Animal in New Mexico, so he'll hopefully use plenty of Breaking Bad references. Kelly Greg was the best football player at OU during the 1990s and had a decent pro career. I saw him at a Hawaiian Don's in Edmond back when there was a Hawaiian Don's in Edmond. I think his calves were the size of VW.
• Tony Casillas and David Garrett. So this is the group who will compete against Traber and Eschbach. I'm not sure what to think about this. Casillas has done some work for Fox Sports, and seemed to do a decent job. Hopefully he does his homework for Sport Radio and is more informed that the typical jock. David Garret comes to OKC after working on the "Bilbo and the Balrog Morning Show" on 94.9 K-RING in the Shire. Sorry, couldn't resist the hobbit joke. David Garrett has worked on and off in sports radio for about 20-years in this market. Here's his pic: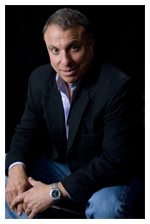 So basically, our alternative to the opinionated ex-jock and little man is another opinionated ex-jock and little man.
• Various local and NBC Sports programming. You know, at one time we had a radio show on the 105.3FM Spy. We played music and talked about stuff. That worked out well. Maybe we could have the Ogle Mole Show or something. Ashlynn Brook is a Packers fan. She could be on it.
Anyway, my thoughts are obviously mixed on the line-up, but it's a good start. I'd expect a lot of changes as they get things figured out.
Stay in touch
Sign up for our free newsletter