OKC Media
This "Real Housewives of Oklahoma City" thing looks really suspicious…
11:52 AM EDT on June 28, 2013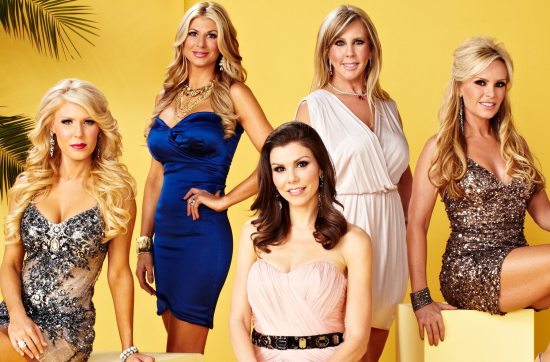 Yesterday, the two highest-rated news channels in the OKC metro - KWTV News 9 and KFOR News Channel 4 – aired reports claiming the reality trash hit "The Real Housewives" would be filming a season in Oklahoma City. The two stories are virtually identical. In fact, they're so similar I was able to mash them into one story:
Watch out America, because the next series of the popular "Real Housewives" reality TV shows could be happening right here in Oklahoma City.

Today was the by invitation only casting call for a new installment of "The Real Housewives". This time instead of New Jersey or Beverly Hills, It's right here in Oklahoma City.

A local production company is already in talks with producers at Bravo, which is the network that has launched six "Real Housewives" series since 2006 including Beverly Hills, New York and Atlanta. Thursday was the first day producers started screening potential housewives in Oklahoma.

"There have been so many times in my life I have said, 'Oh, my gosh. My life should be sitcom,'" said Eva Aranda, a potential 'Real Housewife.' "So when this came up, I said, 'You see, my life could be a sitcom.'"

And this may be Aranda's big break. She and several women met at the Gaillardia Country Club to be screened for the "Real Housewives of Oklahoma City" reality TV show.

One by one, women hand-picked from well-known families sat in the hot seat and showed the camera why they should be one of the next Real Housewives of Oklahoma City. Los Angeles producer Annette Colbert - Latham pitched the idea to Bravo.

"I think they're elegant. They're wonderful women. They're showing the best side of Oklahoma City," said Colbert-Latham, Executive Producer of the 'Real Housewives Of Oklahoma City.' "They're socially connected. They're very wealthy and more importantly, they have a lot of things on the ball and also own their own firms. Some are millionaires, multimillionaires and even billionaires."

Colbert-Latham's team plans to put together their video of the group in the next couple of weeks and send it off to Bravo to see if the show will be picked up. The second round of screen tests will take place Friday again at Gaillardia from 10 a.m. - 4 p.m.

Latham wants women who have made names for themselves.

"You can expect to see some real drama, we are very real here, and nobody puts up facades, and nobody tries to be something they're not," said Carol Hefner, a potential 'Real Housewife,' whose married to Robert Hefner IV and has five children.

Hefner's family is responsible for Lake Hefner and Hefner Parkway, and she once ran for the State Senate.
So there you have it. The Real Housewives of Oklahoma City is coming to town. There's no need to get a quote from Bravo or vet the mysterious "Los Angeles producer Annette Colbert – Latham." She has cameras, a couple of credits on IMDB, and wealthy local housewives at her disposal. Therefore, everything she said must be 100% legitimate and this is in no way an elaborate ruse or scam. Nothing to see here. Move along.
Well, not exactly.
We did a little research, and this whole thing smells as fishy as a bass from the lake Carol Hefner's family allegedly built, and instead of exposing the publicity stunt / possible scam for what it is, our two biggest news channels fell for it hook, line and sinker.
Here are two things that make us feel this way:
1. Bravo is denying any involvement in the show. Check out what Andy Cohen, the face of the network, tweeted last night:
Sorry to dash your hopes and dreams attention-mongering housewives of Oklahoma City. It looks like you're going to have to wait a little longer for national fame, fortune and the opportunity to disgrace your family's heritage. Tough break. I think you should all meet at Flip's, drink some flirtinis and cry about it.
Anyway, Bravo denying any involvement is just one thing that sets off the BS meter. Here's the other:
2. The lady behind the OKC auditions, "Los Angeles producer Annette Colbert – Latham," is mysterious and suspicious. After checking out "The Real Houswives of OKC" Facebook page and her personal bio, I get the vibe that she's some sort of modern-day snake oil salesman. Check out her first Facebook post about the project. It reads like something you'd get in an email from a Nigerian prince:
Give an entrepreneur a dream and a plan, you will get success every time. Annette Colbert-Latham pitched the idea to Bravo TV (NBC/Universal) with the assistance of an Entertainment Lawyer - Gary Laurie, Esq (NY/NJ). Putting the elements together brings Oklahoma more exposure into 7 wonderfully challenged families. Oklahoma City is known for its Energy-based and Agriculture-based community grows up. With a visionary Mayor Mick Cornett, the City now host a venue for world-class entertainment and a National Basketball Team - the Thunders. Timing is ripe to display the growth and integrity of its people. With a multicultural cast, the show brings a freshness and clarity about life in Oklahoma City. Visage Production, Inc. partnered with Tony Que Burroughs of Ark Studios for production.
Maybe I'm being too tough and cynical on these people. That one guy is an "Esquire" and they are fans of the National Basketball Team the Thunders. If only they could prove their legitimacy by meeting with advertisers in Beverly Hills: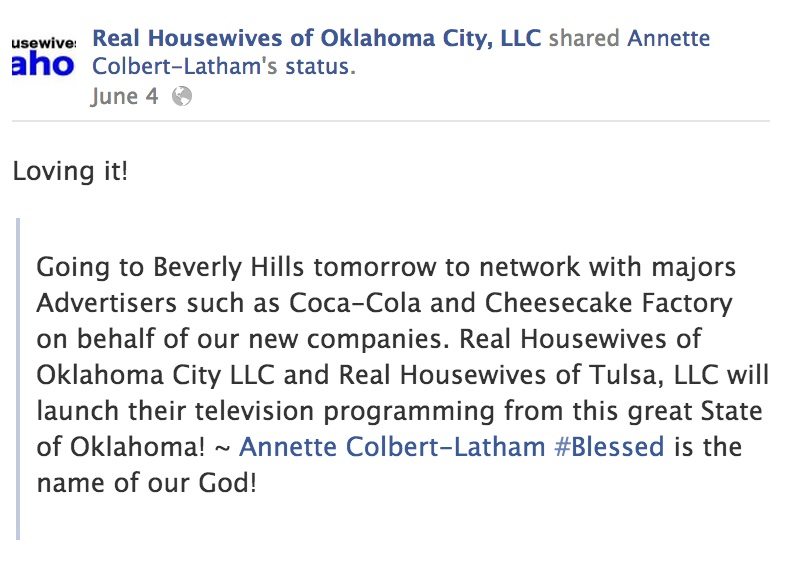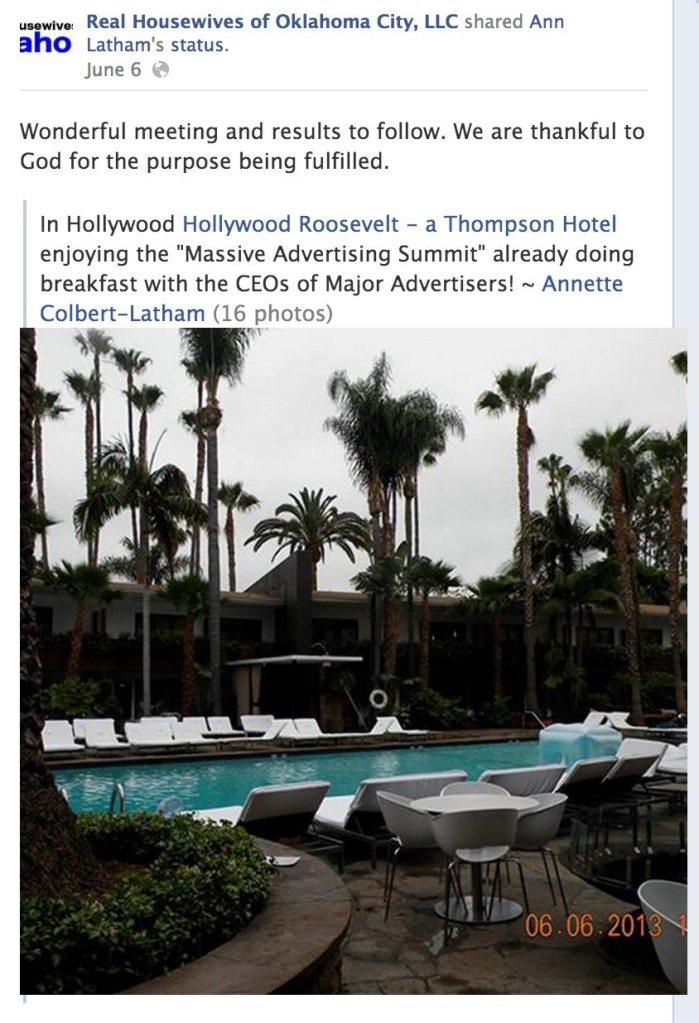 Ah, they met with "CEOs of Major Advertisers." How impressive! I bet they pulled a Don Draper on them, too. How do you cash in on this product placement bonanza? Audition to be on the show:
Oh, it's invite only. How exclusive! I wonder if any of the wealthy "invitees" are asked to become "producers" and kick in a little bit of money to help "cover initial costs" and then get a share of the money brought in from the "CEOS of advertising companies?" That makes perfect sense and would be totally normally.
Anyway, I could be wrong, but this whole thing looks about as legitimate as Manti Te'o's girlfriend. Proceed at your own risk. I'll close with two questions:
• Are the housewives featured in news reports (Carol Hefner and Eva Aranda) in on the act, or are they innocent victims? I lean towards the later. As the brilliant "Nathan for You" has shown, people seem to lose a lot of judgment went they are approached and followed around by people with modern-day Jedi Mind Tricks like cameras and microphones. Those things can make dumb housewives act even dumber.
• Is Channel 4 or 9 going to issue follow-up reports or retractions on this? Obviously, I think there's a good chance that this "Real Housewives" audition process is a charade and possible scam, and thanks to some terrible reporting, editing and vetting, Channel 4 & 9 helped promote it. Hopefully they take responsibility for their actions and warn the public.
Yeah right, like that will ever happen.
-
Update: Bravo's Andy Cohen also left this comment on the Real Housewives of OKC facebook page. Busted.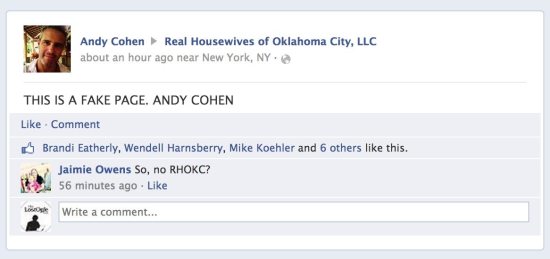 Stay in touch
Sign up for our free newsletter