Everything Else
The 18 greatest Gary England moments in TLO History…
1:16 PM EDT on May 24, 2013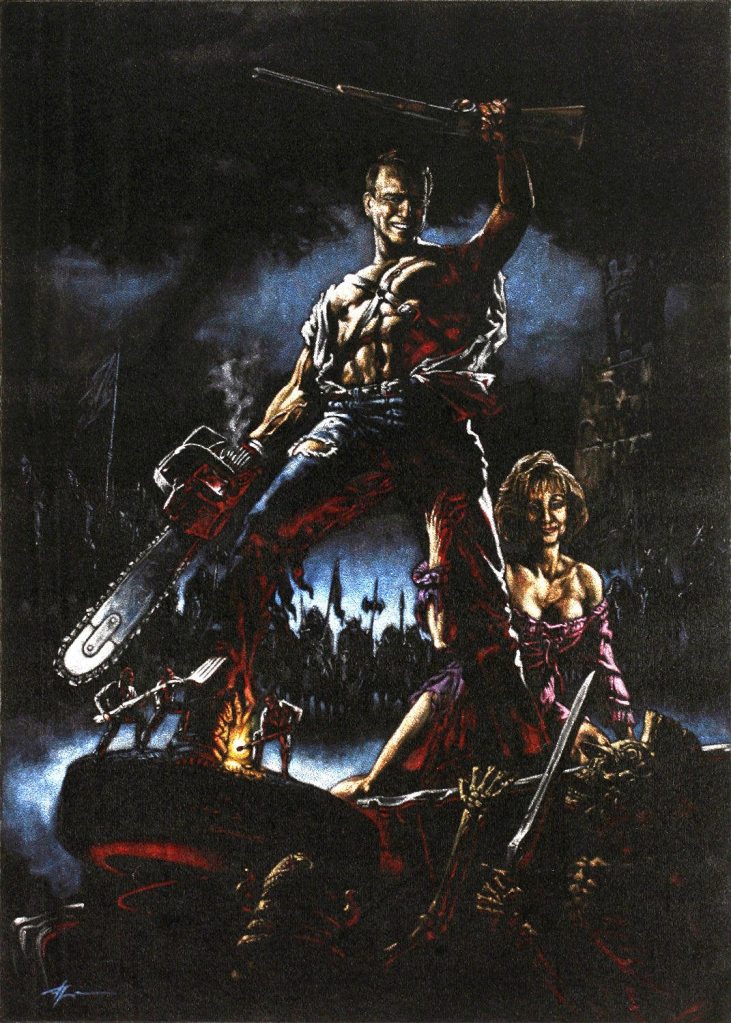 The LA Times features a lengthy profile on Gary England today. The article was written by Oklahoma-native Hailey Branson-Potts. It chronicles Gary's rise from a young rascal in Seiling to the life-saving severe weather deity he is today.
From the LA Times:
At 73, [Gary England] has chronicled some of Oklahoma's most devastating storms in this part of the nation, known as Tornado Alley.England got started in 1972, when he stood in front of cameras with chalkboards, not computer graphics, providing the visuals. He is credited with developing faster and more accurate methods of predicting tornadoes and often issues warnings before the National Weather Service."I've heard people say, 'Gary England saved my life,' " said Keli Pirtle, spokeswoman for the National Oceanic and Atmospheric Administration.
Wait for it...Wait for it...
A popular Oklahoma City blog recently voted England the most influential person in the state; Jesus came in second.
Yep, I guess we're that popular Oklahoma City blog. Cool, huh? In 2009 we did rank the 50 most powerful Oklahomans and Gary England did come in at number one. He ranked ahead of super humans such as Chuck Norris, Jesus Christ and Barry Switzer. Normally, we get all feisty and come after the local media when they refuse to mention us by name, but we'll let the LA Times exclusion slide. This is because a) it's the LA Fucking Times and b) we are not worthy enough to be mentioned in his presence.
In case you didn't know, we've worshipped and idolized Gary England since this site began in 2007, so I thought it would be fun to look back at some of his greater moments. This list excludes, of course, the time we sacrificed that lamb next to Channel 9's doppler radar. Apparently that's frowned upon by the OKCPD.
1. Gary England Making the Daily Show
Back in 2007, News 9 produced a super scary and now kind of chilling commercial about tornadoes. Around the same time, Jim Inhofe made comments that the Weather Channel was trying to scare people into believing some crazy conspiracy by scientists know as "Global Warming." Somehow, the Daily Show found out about the two and tied them together. If you're looking for a bit of levity, watch it. It's kind of hysterical:
-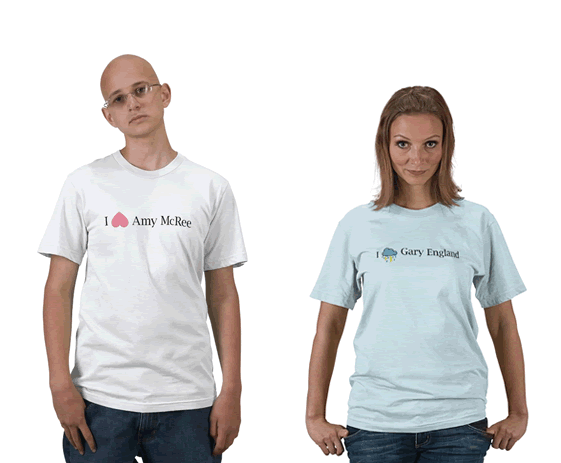 We've had a couple of different t-shirts pay homage to the chosen one. The one pictured above is the original.
-
A few years ago, an Ogle Mole sent us a box of clay tablets that were discovered at Robbers Cave State Park. Inscribed on them we found the following Gary England  Origin Story:
On this day in 1939, Gary England, our holy chief meteorologist and severe weather savior, was born in a small barn in Seiling, Oklahoma. Upon his birth, thunder rumbled and lightning struck throughout the Sooner state. Seeing this as a sign that the chosen meteorologist had entered our mortal world, three wise men traveled to Seiling on horseback, bringing with them a thermometer, small weather balloon and bag of ice melt as gifts for the young weather deity.At the age of only seven, Gary England forecast his first twister during the famed Tinker Air Force Base Tornado Outbreak of 1948. His advanced notification system saved several hundred lives. In 1952, Gary performed the first of what would be known as the "Kay County Miracles" by accurately predicting the summer time high temperatures and dew points for 24 consecutive days in Blackwell, Oklahoma. During the 1957 prairie blizzard that struck the midwest, Gary rescued hundreds of stranded motorists while wearing only gardening clogs.By the time 1963 rolled around, Gary was known throughout underground (and outlawed) meteorological sects as the "chosen one." He would travel from small town to small town, teaching people the art of tornado "per'cautions" in late-night, bonfire revivals. At the Carnegie State Fair in 1971, Gary fought off a large squall line with only a sword and shield. This heroic act of bravery was noticed by the powers that be at KWTV Channel 9, and by early 1972, Gary was brought in as a meteorologist.
-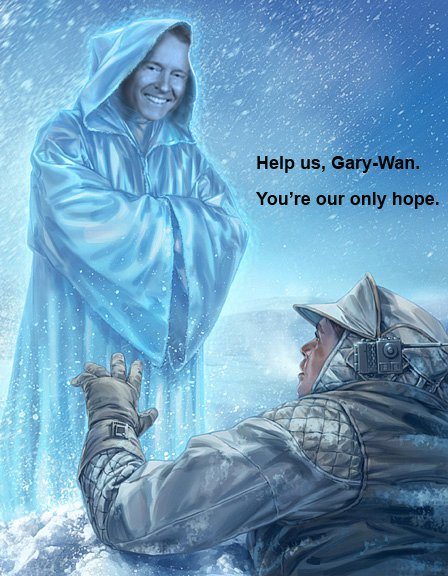 4. Gary England Drinking Game (Winter Rules Edition)
We get a lot of credit for writing the Gary England Drinking Game, but a couple of OU students are the people who actually came up with it. We did, however, write the Winter Rules version. We also play the original one... a lot.
-
5. Gary England Winter Weather Shout Outs
Gary kind of laughs off winter weather coverage, and when we were live blogging it back in 2009 he wanted to get us drunk.
-
We published this a month or two ago. It's the greatest song ever.
-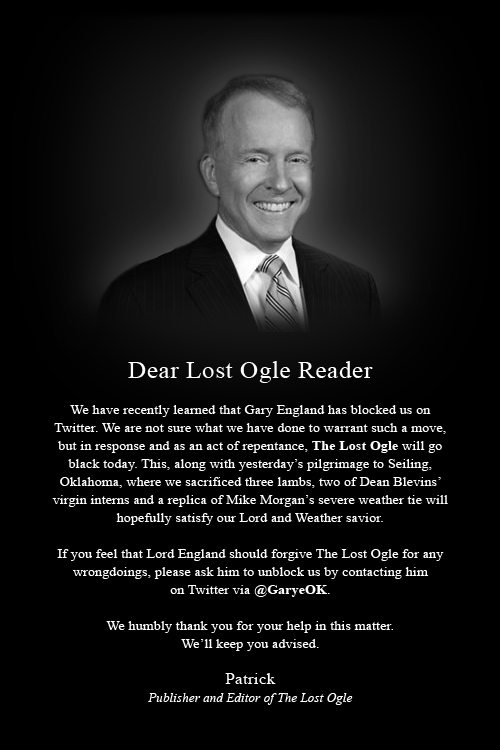 7. Gary England Blackout Protest

On January 7th, 2012, we joined sites like Reddit and Wikipedia and blacked out our website. They were protesting government intrusion. We were protesting Gary England inadvertently blocking us on Twitter. He unblocked us and we went back online.
-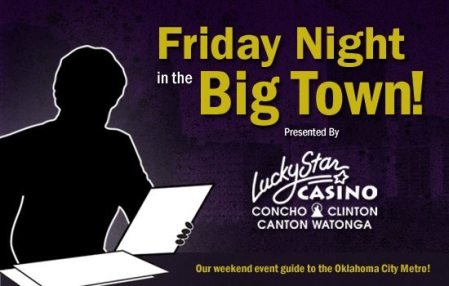 8. Friday Night in the Big Town
The name of our weekend event guide is named after a Gary England catchphrase! That's probably all you need to know about us.
-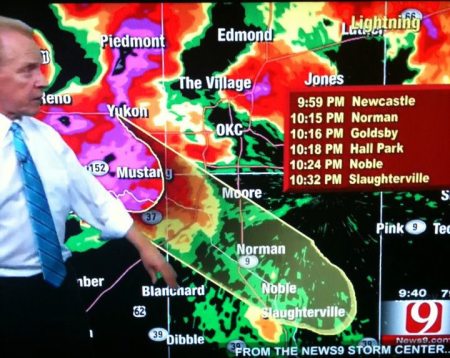 It's not surprising that his weather dong is the biggest one of them all.
-
10. Gary England Not Liking The Attitude
Word to the wise, never piss off Gary England. Who ever gave him an "attitude" should be happy he didn't get a bolt of lightning to the face.
-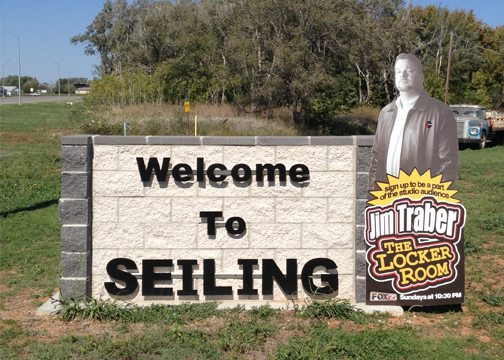 11. Gary England Day Pilgrimage to Seiling
Back in October, we took a pilgrimage to Gary's hometown for his birthday (a.k.a. Gary England Day). It was a blast. We didn't even have to use a map to find the place. We were guided by doves and rainbows.
-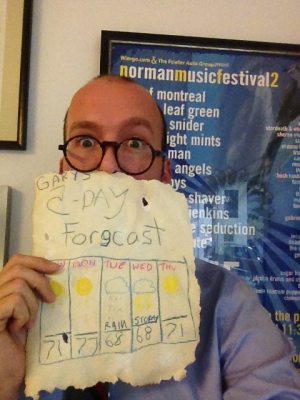 12. Discovering Gary England's First 5-Day Forecast
We uncovered Gary's first ever 5-day forecast. We provided it to the benefactor of our expedition, Jonathan Fowler. Gary was impressed:
-
13. Gary England Has Severe Weather Babes
And not surprisingly...
-
14. Gary England is whacking it
-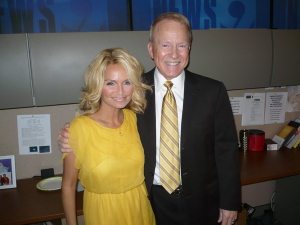 15. Six Time Ogle Madness 1-seed
Gary England has been a 1-seed in every Ogle Madness tournament, and each time he's failed to make the Final Four. That's because he likes to share the glory.
-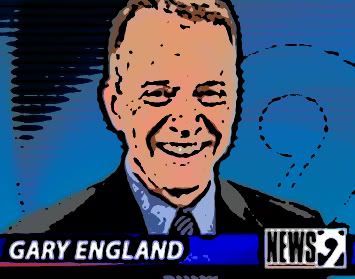 16. Hero of the Justice League of Oklahoma
Kind of like having a one night stand with someone from Graham's, we try to forget Clark Matthews' opus "The Justice League of Oklahoma,"... but for some reason we just can't.
-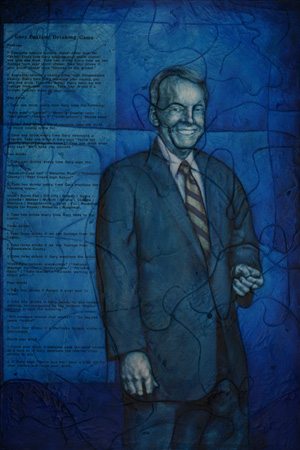 17. Gary England Art
We covered this recently, but local artist Trent Lawson has made a name for himself by creating artwork featuring the chosen son of Oklahoma weather.
-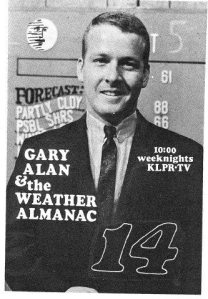 18. My Three Cents: Gary England Should Be Scared
That's the title of the first ever post in TLO history. After reading all this, it's not surprising is it?
-
Anyway, we'd like to thank Lord England all the other weather demi-gods across the state for all they do. We get a little laugh out of them and their relevance to our culture, but without these guys the destruction and impact of tornados would be much much worse. In his name we pray. Jump back, Loretta.
Stay in touch
Sign up for our free newsletter