Everything Else
Mission Chinese could be coming to Oklahoma City…
4:00 PM EDT on May 6, 2013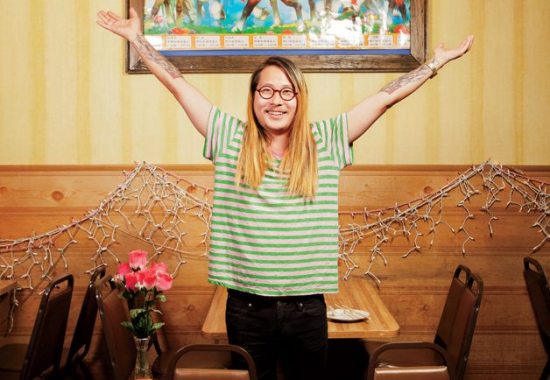 The guy pictured above is Danny Bowien. If he kind of looks familiar, it's because a) he was raised in Oklahoma City, b) you've read about him in magazines, or c) you're a racist and all Asian hipsters look the same to you.
Anyway, Danny is kind of a big deal. He's the founder and head chef of a popular restaurant called Mission Chinese. Over the past couple of years, the eclectic Asian fusion eatery has grown into one of the coolest, trendiest, hottest, hippest, restaurants on both the East and West Coast. Need proof? In 2011, the original San Francisco location was named one of the Top 10 New Restaurants in the country by Bon Appetit and GQ. And remember the New York Times food critic who panned Guy Fieri's restaurant? He named Mission Chinese the top "New York Restaurant Triumph of 2012."
From The New York Times:
True, I gave more stars to other restaurants. Mission Chinese Food, which got two, is young and probably still growing. The same dish might taste very different from one night to the next. But both versions would taste like nothing else in town. And no other restaurant I reviewed this year left me feeling as exhilarated each time I got up from the table. The chef, Danny Bowien, seems to have found a secret stash of flavor that he applies to food that may start out as Chinese but that leaves the kitchen as pure Mission Chinese. You couldn't mistake Mr. Bowien's cumin lamb for the original Sichuan dish, not with its wads of sugary dates or its bay leaves with their eucalyptus scent. He amplified the flavors in the typically sedate salt-cod fried rice until he had something that seized your full attention and kept it. For its bravado, its inventiveness, its low prices, its attempt to ease the suffering of those waiting at the door by tapping a small keg of free beer, and its promise to give some of its earnings on each entree to a food bank, Mission Chinese was the most exciting restaurant of the year.
That's kind of cool, huh? But know what's even cooler?  Chef Danny is wanting to expand Mission Chinese to different markets and it looks like Oklahoma City is on the short list. From a May 1 interview with James Beard Foundation:
JBF: There have been a lot of rumors flying around about Mission Chinese expanding to Brooklyn, your hometown of Oklahoma City, even Paris. Can you reveal any solid plans for new locations?

DB: Let's just say this: a lot of things that have helped shape Mission Chinese into what it is comes from learning from others and listening. Before I left for Paris, Dave Chang called me and gave me some incredible advice: wait. Grow at your own pace. Mission Chinese NYC isn't even a year old yet. It's very difficult being in two places at once. We have an incredible infrastructure in place—amazing chefs, cooks, and management. But it's still really important that I'm in both restaurants as much as humanly possible. Obviously we want to open a Mission Chinese in Paris, Brooklyn, and OKC (really badly!), but the reality is that Paris will always be there. I think expansion within the states is closer—plus I need to learn French!
Did you see that? He put "Really Badly!" in parenthesis. That would lead to me to believe he "Really Badly" wants to open a restaurant here. Since that's the case, can we get somebody with the Chamber of Commerce to help Danny expedite the whole process? Not only would it bring a trendy "Name" restaurant to town, but it would possibly give us a decent place to eat Chinese food. Seriously, where's the best place to eat Chinese food in Oklahoma City? The fact that you just thought "Pei Wei?" says everything.
Also, why haven't we read about this guy in the Gazette, Look at OKC, Oklahoma Magazine, Distinctly Oklahoma, Oklahoma Today, etc? One thing our local media loves to do is highlight famous people from Oklahoma who made it big by leaving Oklahoma. The second thing they love to do is highlight "cool" businesses that may expand to Oklahoma (Whole Foods, Hard Rock, Anthropologie). This is like their dream story, yet I did a quick Google search and couldn't find a thing about him or Mission Chinese in any Oklahoma publication. Don't worry, though. Now that we've written about it, expect our media to be all over it.
Stay in touch
Sign up for our free newsletter