Everything Else
The Tulsa World was bought by Warren Buffet, and the Oklahoman will share content with just about anyone.
1:20 PM EST on March 1, 2013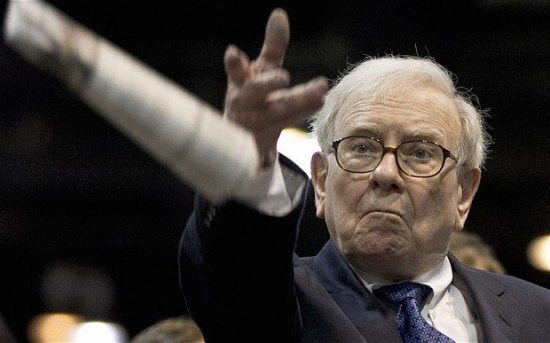 In case you missed it while trying to figure out what to do with the pallet of ice melt in your garage, the state's second largest newspaper, the Tulsa World, was recently purchased by Warren Buffet's Berkshire-Hathaway. That means two of Oklahoma's largest and arguably most influential media outlets are owned by out-of-state interests:
Warren Buffett's BH Media Group is buying the Tulsa World for an undisclosed price.World Publishing Co. Chairman Robert E. Lorton announced the sale in a meeting with newspaper employees Monday morning."This has not been an easy decision, as you can imagine, after more than 100 years for the Lortons, but for our employees - you all - for the Tulsa World and for the Tulsa community, we believe - and have decided - this is the best path to the future," Lorton said.Robert E. Lorton III, the company's CEO and the newspaper's publisher, will leave the newspaper and will be succeeded as publisher by John R. Bair, previously the company's president and chief operating officer....Larry King, BH Media Group vice president for news and content, told a gathering of Tulsa World editors that news decisions will continue to be made locally."When it comes to news, you're not going to hear from me," King said. "I just want to assure you that there's no one from Omaha looking down your throats and trying to tell you how to cover Tulsa."
I know Warren Buffet is a financial and business genius, but is this a good decision? Newspapers are the dinosaurs of the media. They're either going extinct or evolving into birds. That's why I think Warren should buy The Lost Ogle. Wouldn't that be a better investment? If I was a rich old guy I'd rather own the hunter than the hunted. Then again, maybe that's Warren's problem. He's old and still reads newspapers. He probably has the Tulsa World IT department working on an app for his Palm Pilot. Seriously Warren, buy The Lost Ogle. If you do, we'll finally be able to afford a mobile app. My asking price is only a couple of shares of Berkshire Hathaway stock. Make it happen.
While we wait for Warren's phone call (I doubt he uses email), let's ask the big question. Will the Oklahoman and Tulsa World still share content? Here's the answer:
King said the Tulsa World's content-sharing agreement with The Oklahoman will likely continue and that content-sharing options with other BH Media Group newspapers likely will develop.
Whew, that's a relief. I was worried the agreement was going to end and I'd no longer be able to read the oddly erotic prose of Barbara Hoberock. Just kidding. It's not odd.
Perhaps a better questions should have been "Why do they even have a content sharing agreement?" Over the past month or so, it appears the Oklahoman will "share" content with just about any media outlet. It's like they're turning into a giant news aggregator. Here are some recent examples:
-
Photo Shows Beijing Air pollution
From a Washington Post Blog:
Can you spot the 81-story building just two blocks away? Me neither.
China's air pollution has been bad lately. Really, really bad. We've posted photos of it before, but the above shot really drives home how severe this has gotten.
Both photos were taken in Beijing by Bill Bishop, who runs an excellent all-things-China e-mail newsletter called Sinocism.
The photo on the left shows his view on a clear day. That tall building is the mammoth China World Trade Center Tower III.
Read the analysis from blogger Max Fisher on the Washington Post WorldView Blog.
Read the rest of this post on the original site »
H/T: Reddit
-
Former soccer player set to make history as first woman in the NFL
Lauren Silberman, from New York, had never kicked anything more than a soccer ball in an organised game before she started practicing long-range field goals.
Now she has been given a chance at an NFL regional scouting combine on Sunday at the New York Jets' training facility in Florham Park, New Jersey.
Speaking about her chances of getting the NFL call, Silberman said: "I am working hard to prepare but I am also realistic about my chances.
"I hope my willingness to put myself out there inspires others to seize opportunities and challenges. The support from around the world has been so heartening."
Read the rest of this post on the original site »
H/T: Drudge Report
-
Girls Gone Wild founder Joe Francis has filed for bankruptcy, according to The Wall Street Journal.
The paper reports that Steve Wynn's Las Vegas resort has been chasing Francis, 39, for years after he failed to pay a $2 million gambling debt to the hotel.
Francis reportedly has put GGW Brands LLC and other companies under Chapter 11 protection in California, listing a $10.3 million debt as disputed in the 12-page bankruptcy petition, according to WSJ.com.
Read the rest of this post on the original site »
H/T: Gawker
Yes, the Oklahoman is now "hat tipping" websites like Reddit, Drudge Report and even Gawker. That's kind of weird. They're also linking to content and sharing video from our local TV news affiliates:
Alessondra's Great Horned Owl Cam in OKC has gone viral
For the fourth year in a row, a mother owl in Oklahoma City has chosen a window box outside of Jeff Click's theater room to start her family.
KFOR reported it, and now even CNN has taken notice...
Read the rest of this post on the original site »
And that's how bad things are at the Oklahoman. They can't even send their own reporters to Edmond to write a fluff piece about a couple of owls. Hell, even Channel 25 was able to file a story about it. We know how high their journalistic standards are. What a hoot! (Sorry about that.)
Anyway, I'm not going to be too critical of the Oklahoman. You got to do what you have to do to survive. They're obviously desperate for page views and ad impressions to keep things afloat, and teasing people with a clickable headline is a good, if not cheap, way of doing that. I just wonder what's going to happen when we publish something that's "hat tippable." Will they link to it? Will they mention The Lost Ogle? I doubt it. We're more likely to be purchased by Warren Buffet than linked to by the Oklahoman.
Stay in touch
Sign up for our free newsletter