Politics
Senator Clark Jolley and a screwball doctor want to take away your birth control pills
7:00 AM EST on February 27, 2013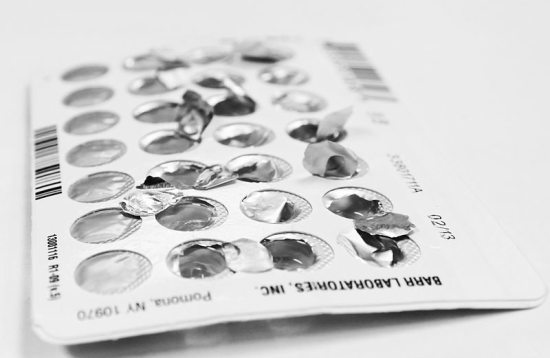 Oklahoma ladies, you're whoring days are coming to a close. And those days where you could actually control your body, career, and economic situation? They're ending as well. It's time to live up to your destiny, you know. Stop suppressing who you were meant to be. Give up your birth control pills. You've had your fun but now Senator Clark Jolley wants you to know that a friend of his thinks it's poison so it's totally not okay to take it. Yes, you read that correctly. A politician knows an irrelevant dude who makes false claims regarding women's health, a variation on a popular theme.
From the Tulsa World:
OKLAHOMA CITY - Employers in Oklahoma could opt not to include contraceptives and abortions in employee insurance plans under a measure that secured passage by a Senate committee Thursday.
The measure, Senate Bill 452 by Sen. Clark Jolley, R-Edmond, passed the Senate Business and Commerce Committee by a vote of 9-0 with no debate and now heads to the full Senate.
"Notwithstanding any other provision of state or federal law, no employer shall be required to provide or pay for any benefit or service related to abortion or contraception through the provision of health insurance to his or her employees," the bill says.
Under the federal Affordable Health Care Act, employee group insurance plans are required to cover contraception unless the business offering the benefit meets the conditions of being a religious organization, said Mike Rhoades, Oklahoma Insurance Department deputy commissioner of life and health insurance.
Jolley said the measure is the result of a request from a constituent, Dr. Dominic Pedulla, an Oklahoma City cardiologist who describes himself as a natural family planning medical consultant and women's health researcher.
Pedulla says he is morally against contraception and abortion. He said he had to give up his small group health plan because the only plans available in the state required coverage for contraception and sterilization. He and his family were on the plan and had to find more expensive insurance elsewhere.
"Every small group plan forces you to choose those options," Pedulla said.
Women are worse off with contraception because it suppresses and disables who they are, Pedulla said.
"Part of their identity is the potential to be a mother," Pedulla said. "They are being asked to suppress and radically contradict part of their own identity, and if that wasn't bad enough, they are being asked to poison their bodies."
I proposed that Dr. Padulla be given the nickname Dr. Derpalahoman. Based on his thoughts and appearance, It's very clever and fitting.
I like it when men say the thing that makes me a woman is the one thing that in no way delineates me from a cockroach. Two X chromosomes is apparently the equivalent of guaranteed reproduction. I don't know if Dr. Pedulla has an opinion on women who can't have children, though it would be silly to assume that he didn't have an opinion on everything that he then liked to whisper in the ears of his political friends. If you've read anything I've written for The Lost Ogle in the past three years, the one thing that should be abundantly clear is that my ability to reproduce is what defines me, and not my cynicism, nerdiness, and penchant for drunken shenanigans. I'm basically a blogging uterus just waiting to cultivate a seed.
As for poisoning my body, I'm totally for it. I'd like to make it abundantly clear that the poison I put in my body doesn't come in the form of a daily pill, but in cheaper and more readily available ways. If Dr. Pedulla would like to prevent women like me from poisoning themselves, perhaps he would like ban Diet Coke. It tastes like gasoline and I can't go a day without reading about all the terrible potential side effects it could cause. But I can't stop drinking it. Other poisons I ingest on the reg: Nachos Bell Grande from Taco Bell (that cheese isn't natural), Norman's water (full of hexavalent chromium), and movie theater popcorn ("butter").
It's not surprising that a Republican would advance a measure that restricts a woman's access to birth control. This is basically the new party platform. And in a state with one of the highest teen pregnancy rates, you'd think a priority would be to provide more access to birth control. But maybe we'll try out some of those natural family planning methods that Dr. Pedulla advocates. You know what they call people who use natural family planning methods? Mama and Daddy.
Stay in touch
Sign up for our free newsletter