Politics
Oklahoma could soon be known as the "Horse Slaughter Capital of the World."
2:33 PM EST on February 14, 2013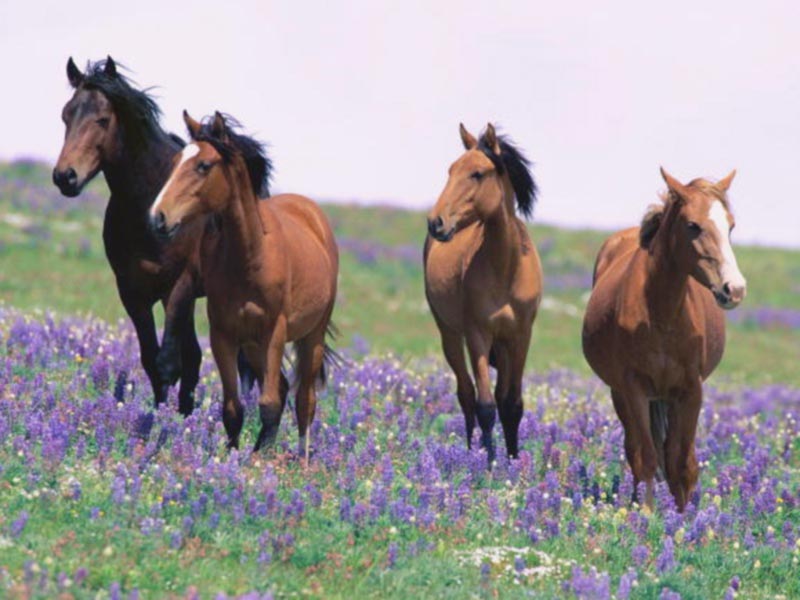 For several years now, the Oklahoma City Chamber of Commerce has tried to brand OKC as the "Horse Show Capital of the World." In fact, they have a page on their website dedicated to it.
Home to more equine events than any other city in the world, Oklahoma City is the venue of choice for more than a dozen top national and world championship horse shows, attracting riders from across the nation - and world - each year.

Not only do Oklahoma City horse shows provide family fun entertainment, they make a substantial contribution to the city's economy. Total estimated economic impact of all Oklahoma City horse shows exceeds $126.5 million each year.

Citizens gave the nod to Oklahoma City's western heritage in 2004, when they voted to increase the hotel tax, which is financing a bond to pay for upgrades and continuous improvements to State Fair Park equine and livestock facilities. Providing top-notch showing facilities secures the city's position as Horse Show Capital of the World, helping it retain current horse shows and pursue new shows.

Equine organizations around the world are noticing the state-of-the-art, 21st century complex at State Fair Park. The complex will feature nine barns, VIP RV parking, exercise areas and a conference and meetings facility.
It may be about time for the Chamber to update the horse show page. If Rep. Skye McNiel, R-Bristow, gets her way, people will be able to legally slaughter horses for human consumption in Oklahoma.
Via the Tulsa World:
Legislation to legalize horse slaughterhouses in Oklahoma passed a state House Committee on Tuesday, the same day the bill's author was hit with an ethics complaint.

Without debate or questions, the House Public Health Committee voted 8-2, split by party, in favor of House Bill 1999, sending the proposal to the House floor for possible consideration. A similar bill passed a Senate committee on Monday.

Rep. Skye McNiel, R-Bristow, said her proposal is a humane one that is designed to deal with a growing problem in rural Oklahoma - old horses that have outlived their working lives and are being abandoned to starve.
According to Cynthia Armstrong, state director of the Humane Society of the United States, the bill has some issues:
"They would love to keep ... hammering home that there's so many starving horses, that they're helping neglected horses by slaughtering them. They're saying it's the equivalent of euthanasia, that it's a mercy thing," she said. "As long as we keep it there, we're never going to get around to talking about the fact that these plants are community killers."

Horse slaughterhouses damage community reputations and are environmentally destructive, she said.

Furthermore, American horses aren't raised to be food and are routinely injected with drugs that would make the meat's consumption dangerous, she said.

Despite advocate claims that meat from a horse facility would not be sold in the state, Armstrong said it is wrong to produce food that is toxic and dangerous.

"We wouldn't ship an illicit drug, like heroin, overseas ... just because we could sell it to somewhere where there may be a market for it," she said. "It's a very hypocritical viewpoint."
This is actually a difficult issue to figure out. Team Horse Killers make some valid points. If allowing horse slaughter in Oklahoma is humane and solves a problem, shouldn't we legalize it and give a little boost to the economy? The horses are going to be slaughtered anyway, so they might as well be killed here in Oklahoma and help boost our economy. You can kind of justify it the same way you could medical marijuana, only without dead horses.
Of course, sometimes you have to ask yourself "Do I really want to be the asshole who supports and endorses horse slaughter for human consumption?" The answer to that is probably "No." If it's yes, then remind me to never let you watch my dog. Seriously, I don't care if it boosts our economy or not. Not all money is good money. Let those people turn Black Beauty, Mr. Ed and My Little Pony into French hamburgers in some other state. (And yes, you could use that same logic in opposing medical marijuana, but once again, minus dead horses).
Anyway, despite it quickly passing through committee, I don't think this bill has a good chance of becoming law.
First of all, it sets a dangerous precedent. If you're going to allow the slaughter of horses, what comes next? Are we going to start killing dogs and cats and chinchillas for food, too? And yes, I know that's the same stupid argument that anti-gay marriage advocates throw out there> That's why I wrote it. It feels cool to be dumb and ignorant for once.
Also, the Obama administration actually lifted the US ban on horse slaughter in 2011, so if an Oklahoma lawmaker votes for this bill, it will mean they're agreeing with Obama on something. I don't think that's ever happened. Obama could claim they sky is blue and some rural lawmaker would call for him to be impeached. Then again, if our wacko lawmakers did agree with Obama on anything, it figures that the topic would be killing horses. That's not very surprising.
Stay in touch
Sign up for our free newsletter