Everything Else
2012 Year In Review: October
10:00 AM EST on December 26, 2012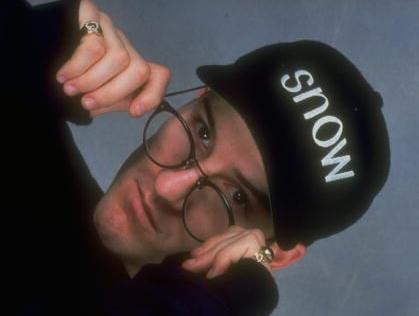 If you're reading this right now, there's a good chance you're at work the day after Christmas. Or...you're just a loyal Lost Ogle reader interested in seeing what happened 60 days ago. Either way, I feel sorry for you.
October's top 5 TLO posts are after the jump.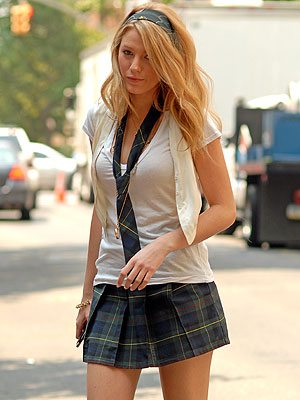 5. Why Oklahoma Superintendents Are Leaving
Published: 10/02/12
What We Said: Anyway, the very next day I read this article about Oklahoma hemorrhaging superintendents since 2006. "What an interesting coincidence." I thought. "I meet the State Superintendent's son, and then read an article about how school superintendents hate their jobs." Then I watched the Mentalist on DVR.
What We Learned: We learned there are tons of reasons the education system in this state is full of people who can't wait to get out and move on. We also learned Spence does comedy, likes pictures of hot ladies, and likes the Mentalist. Knowing him personally, I promise you, only two of those things are true. Good thing hot lady pictures and the Mentalist are real things.
Best Comment: "WOW! Spence you're a Democrat? I would have guessed all of you at TLO were Republicans." - Wild Bill
-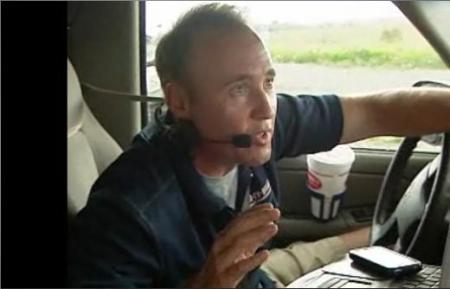 4. David Payne is Moving to Channel 9 
Published: 10/18/12
What We Said: "News 9 is apparently making the move to combat stagnant ratings and help prepare for the day when Lord England retires to his Severe Weather Palace in Edmond. If this rumor is true, and we think it is, it will come just 14-months after KWTV signed longtime KFOR chopper pilot Jim Gardner to a lucrative contract."
What We Learned: We learned it feels weird when things change. Bobbie Miller, Jim Gardner and now David Payne all work for a syrup empire now. Downside: The "Laughing Guy" has to work even harder to fake laugh. Upside: David Payne doesn't have to work with the 2 Movie Guys anymore.
Best Comment: "Ten years of Gary England promoting his team as the calm, solid professionals may be at risk. What's he going to do? Make Payne freebase Valium on every severe weather day?" - kbnorman
-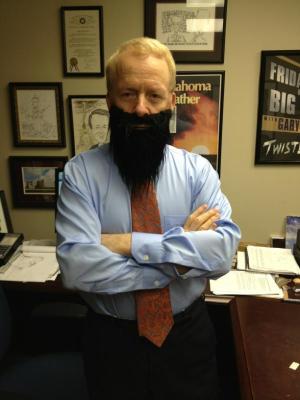 3. 11 Possible Replacements For James Harden's Beard
Published: 10/29/12
What We Said: Not only did the Oklahoma City Thunder lose one hell of a basketball player on Saturday night, but they also got rid of one of the greatest pop culture icons to ever capture this city in James Harden's beard.
What We Learned: We learned there are a lot of possibilities when it comes to replacing a beard as a rallying object. We also learned, way too late, investing a lot of money in a Chinese fake beard company is a super bad idea. Hope everyone enjoyed their box full of fake beards for Christmas. If I wanted to be around that many beards I'd hang out at James Lankford's staff's family Christmas party.
Best Comment: "Maybe we can let the Thunder Girls show us who has the best beard?" - Jpod
-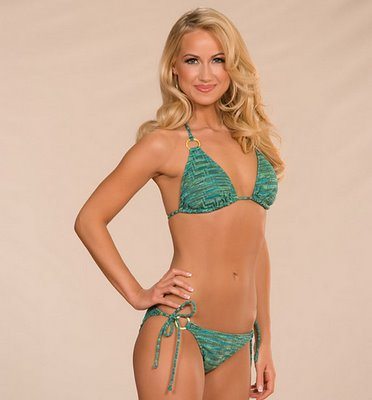 2. Meet Alex Wehrley - She's a Former Miss Wisconsin and the Sizzling New Host of Some Show on KSBI
Published: 10/08/12
What We Said: "We learned through the Ogle Mole Network that Alex Wehrley, Miss Wisconsin USA 2009, has been hired as the new host of the program. In fact, her first show is today. I think she'll be replacing Drew Schroeder of "Drew and Kasey, Too" fame, who will be taking a leave of absence to figure out why he can't open his eyes."
What We Learned: We learned to start watching Oklahoma Live! on KSBI. I'm friends with the co-host of that show. Not the hot one and not the one who laughs in the afternoons on KISS. I'm friends with Oklahoma's own Ryan Secrest, Owen Pickard. That guy is on the radio and hosts two tv shows. No one in this market is doing that. Not since Ronnie Rocket was a thing and hosted the "Frontier City, Junior High Heavy Petting Friday Night Dance Party" on the old Channel 34, has anyone tried to double up. Thank God. I don't want to see Jack & Ron host anything. It's a damn shame Owen doesn't look like Alex though. It's not a damn shame she's not on the radio. TV is perfect for her and also my eye parts.
Best Comment: "I think all the media babes around here just got out-classed." _ Gert Frob
-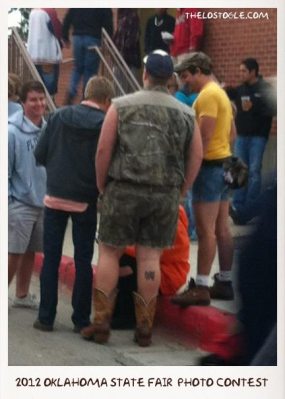 1a. Oklahoma State Fair Photo Contest Semi-Finals 1 0f 2
Published: 10/09/12
What We Said: "We will post 20 photos for the semi-finals. 10 are being posted today. 10 more will be posted tomorrow can be found here. You can vote for up to three photographs in each group. The three pics from each group that receive the most votes will advance to next week's finals."
What We Learned: We learned there's no shortage of people who think they know what white trash pics at the fair are, but are wrong. Taking a picture of a fat lady? Not white trash. Taking a picture of a fat lady with a Tweety Bird "Shop Til' You Drop" t-shirt as she sucks down fistfuls of deep fried anything while her 90 pound, meth addled boyfriend, Scooter Ray Dean Honeycutt the III, is walking along side her as she moves along in a Lil' Rascal, is what we need more pictures of. That's white trash.
Best Comment: "I log on every year…praying it's not a picture of me deep throating a corn dog. Thank God!" - MJ
-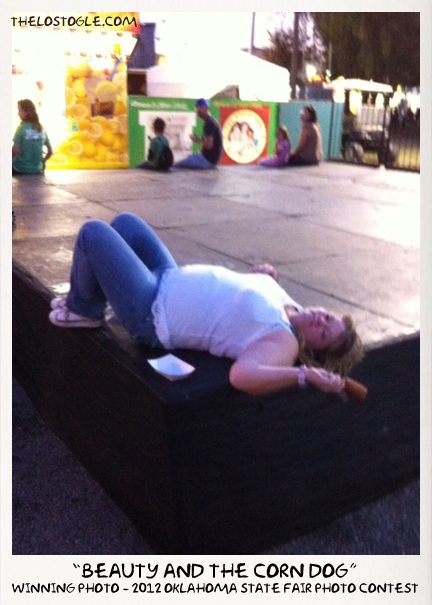 1b. Oklahoma State Fair Semi-Finals 2 of 2
Published: 10/10/12
What We Said: "...we received about 150 – 200 photos. There were a bunch of good ones that just missed the cut."
What We Learned: We learned some pictures are the greatest gifts in the world. There was one pic that didn't make the cut. Not because it wasn't funny (it was) or fell into the required criteria, but because the submitted picture in mind was of someone I used to date. No lie. So narrow that down for me, Plaza District. It was hilarious and accurate. There she was, like a champ, surrounded by white trash, jamming a corn dog into her throat some hipster stranger probably gave her. Oddly, that's how a lot of problems in our relationship came about. We would post it but we don't want to deal with a lawsuit.
Best Comment: "This is only acceptable viewing in the same way "Hoarders" is designed to make us feel better about ourselves. Though I think some of these people might actually be hoarders." - Diesel
-
Stay in touch
Sign up for our free newsletter