Everything Else
Uhm, Lynn Hickey died last Friday
11:33 AM EST on December 19, 2012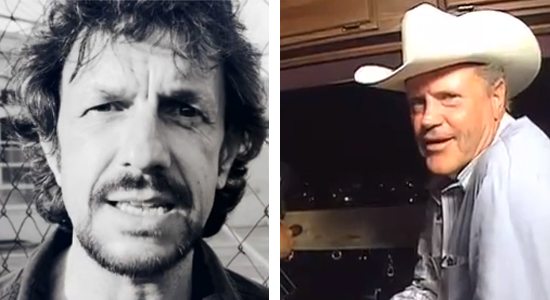 In honor of Ashton Edwards and Chase Thomason's engagement, Spencer and I recently collaborated on a post that listed some other random OKC couples we'd like to see tie the knot. One of the duos that I came up with was the guy from The Key and The Ghost of Lynn Hickey. Here's what I wrote:
Because that would be one hell of an amazing car buying experience.
You see, the Key brands itself as a low-pressure car buying environment where you can not only purchase a 2007 Malibu with 20%-interest, but also read self-help books and beat an old car with a sledge hammer. Lynn Hickey, on the other hand, was the owner of Lynn Hickey Dodge. His car dealership took the phrases "high pressure sales," "publicity stunts," and "Oh shit, it's the IRS!" to new levels in the early 1990s.
My idea to match the two came out of nowhere. I was thinking it would be funny to list the guy from the Key with a random person or thing. For some reason, the Ghost of Lynn Hickey was the first thought that popped in my mind. The only problem, unbeknownst to me at the time, was that Lynn Hickey was still alive. Or at least he was. He passed away on December 14th, four days after we published the article.
Lynn passed away peacefully on December 14, 2012, at the age of 74. He was born July 10, 1938 in Wheeler, TX to Arvle and Clarabelle Hickey, the 5th of their 10 children. He graduated from Bethany High School and served three years in the United States Marines.Lynn's beginnings in the car business started from the ground up. He began working at Dub Richardson Ford in 1961, detailing cars, and quickly rose to the top in every position, from sales to managing every department. In 1970, an opportunity was presented for him to own his own Dodge dealership. Lynn Hickey Dodge was very successful, recognized as the top selling Chrysler/Dodge dealership nationally in the early 90's. His advertisements were always one of a kind and are still remembered today by many Oklahomans. In 1996, Lynn Hickey Dodge was the first dealership sold to a publicly held company, another first for Lynn. After retiring from the car business, he moved on to farming and ranching, his true love, in Sayre, Oklahoma.In the early 90's, Lynn became a fierce competitor in the horse industry. He started Team Penning and even won the Ben Johnson Celebrity competition at the Lazy E Arena in 1993. Following this, he immersed himself in the Cutting Horse world. He had many World Championship wins in the Appaloosa breed, which he was very proud of. He also had his eye set on winning the big show in Fort Worth. His passion went as far as building a barn that replicated the arena in Fort Worth so that the horses would feel at home when they competed.Lynn's attention to detail and perfection was visibly noted by all in his farming operations, as every field was weed free, fence rows spotless, and every row sown straight as an arrow. A perfect day for Lynn was spent on a tractor, turning that red dirt, or on a horse, looking at his cows and calves.He will be greatly missed and loved forever.He is survived by his wife of 54 years, Olivia; sons, Wade Hickey and Melinda Ashcraft, Doug and Debbie Hickey; and daughter, Cheri and Tim Blair. 13 grandchildren, Shayna and Taylor McIntyre, Alyssa and Luke Lawver, Jenna Hickey, Grace Hickey, Kaelyn Waldron, Brandon and Stacie Hickey, Baylee and Bryan Jackson, Lauren and Foster Wilcox, Josh Blair, Laynee Blair, Jaxon Blair, Jace Blair, and Lyndi Blair; 6 great-grandchildren, Maddox and Evie McIntyre, Kinley, twins Allie and Andie Hickey, and Owen Jackson; 6 sisters, Vernice and Kendall Bales, Fae and Tom Moore, Jill Cox, Kay Miller, LaRue Smythe, Sharon and Tom Pound; brother, Don and Cheryl Hickey. He was preceded in death by his brother, Nathan Hickey, his parents, and his sister, Janelle and her husband, Charlie Akin.Viewing will be held at Mercer-Adams on Wednesday, December 19, 2012 from 9am-9pm with family present from 6-8pm. Funeral services will be held at Bethany First Church of the Nazarene at 2:00pm on Thursday, December 20, 2012. Interment will follow in Bethany Cemetery.In lieu of flowers, memorial contributions may be made to the Diabetes Research Foundation.
First of all, our sincere condolences go out to Tom Park and the entire Lynn Hickey family. We had no clue Mr. Hickey was still alive, much less sick and in poor health. If we did, we obviously wouldn't have made the Ghost of Lynn Hickey reference. We're very sorry for your loss.
That being said, I'm reeeeeeeeally weirded out right now. Seriously, is anyone else concerned about the rising power of the Ogle Influence? I'm okay with it predicting fast food restaurant remodels, girls in lingerie, crappy indie bands, or news chicks in bikinis, but when it starts influencing matters of life and death, things must stop.
Of course, I really don't know how to make it stop. I just write stuff and it happens. Hell, I don't even have to write something for it to happen. Yesterday afternoon, I noticed we had a back link from a blog post by Doug Loudenback. In his column, Doug analyzed the glorious New York Times Magazine piece about Oklahoma City and the Thunder. He included a pic of the story's author, Sam Anderson. I remember thinking, "Okay, so that's the guy that fell in love with Oklahoma City." Five hours later, I was talking to Sam Anderson before Free Team Trivia at the Speakeasy. And I'm not making any of that up. The guy was there, at the bar, drinking a beer.
Anyway, maybe I should pursue a career as a psychic or soothsayer or something. Also, do any mystics out there have advice on how I can harness my powers for good? It don't want bad things to happen. I want things to take place that benefit everyone, like Liz Dueweke to be nice, Jim Traber to retire and Joleen Chaney to pose in certain magazines. I'm a simple man.
Stay in touch
Sign up for our free newsletter