Everything Else
We received a letter From Hasheem Thabeet's hair
9:00 AM EST on November 28, 2012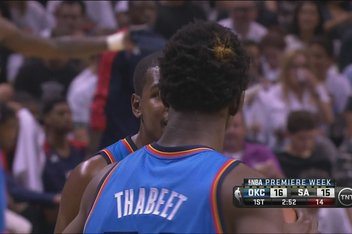 Alright, I don't know if any of you have seen me, but if you haven't then that means you haven't watched my YouTube videos. It's like that? Anyway. I pretty much have the greatest head of hair you'll ever see in the time between your birth and death. I haven't cut it since December 2011 and it has grown into a beautiful lion's mane of curly Egyptian Cotton. 10,000 thread count. I say all of that to say this, I get questions about my hair all the time. The Top 3 Questions are:
1) Can I touch it?
2) Are you gonna get dreads?
3) Would you like to slap me in the face for asking annoying questions about your hair?
2/3 answers are No. You be the judge. And I don't if people assume because I'm tall and Black with long hair I represent all tall long-haired Blacks, but people always ask me questions about Hasheem Thabeet's hair like I'm 'sposed to know why it's blonde. So I decided to get to the bottom of it so everyone would leave me alone. I talked to my barber and after a quick Thunder-Lakers debate, I asked him who cuts Hasheem Thabeet's hair. Once he told me, I emailed that barber and asked if he could deliver a message to Hasheem Thabeet's hair for me. Three days later I received a response via my mailman Sherman.
Here's the letter:
Dear OKC, I think it's time for me to set the record straight.

Hello. It is I, the mysterious patch of discolored hair in the back of Hasheem Thabeet's head. I understand that everyone is pretty confused about my existence, so allow me to introduce myself. My name is Thabeet, Talent Thabeet, and I represent the very small amount of raw basketball ability that Hasheem Thabeet, or Hash (Nickname he earned in college. Don't ask.) possesses. Now I know what everyone is thinking; "Why are you blonde?" Shut up. I'll get to that.

When I was at UCONN, Hasheem had a fade, or as white people call it "a buzz cut." For that reason, I did most of my work from under the scalp, but if you remember correctly, Hash was the man. His Junior year he averaged 13.8 points and 10.8 rebounds even scooped up Big East Defensive Player of the Year AND Big East Co-Player of the year honors. That was all me bro.  All me. But let's be real, if you're a 7-Footer and display ANY kind of shot blocking ability, you're going to the NBA. See: Daniel Orton. However, after being drafted 2nd overall in the 2009 NBA Draft to the Memphis Grizzlies Hasheem found himself in the dreaded NBA Developmental League, or as we call it back home: The Short Bench. Allow me to explain.

Soon after Hash was drafted, my life completely fell apart. The NBA was a lot different than I'd expected and it was starting to wear on me physically, mentally, and emotionally. Then one late Sunday night, after returning home from a 5-Game road trip, I walked into my house only to found my wife in bed with Gryffindor, Blake Griffin's Talent. It broke me. It fucking broke me. I mean…Really?! A GINGER?! That what the straw that broke the camel's back and after my divorce, I fell into a deep depression. I stopped caring about basketball and spent most of my time in Memphis ordering Chinese takeout, watching old college tapes, and playing Jack and Jill at Hard Rock Cafe. What's Jack and Jill, you ask? That's when you go the bar, take as many shots of Jack Daniels as you can before the bartender cuts you off, and fetch a pail of puss. This life of alcoholism and womanizing became an everynight routine and as a result, Hasheem's career suffered. As he bounced from Memphis to Houston to Portland and between the NBA and the Short Bench, I bounced down a path of self-destruction until finally…after 3 years…I got tired of killing myself. I realized that if I didn't make some changes, I would be responsible for the death of Hasheem Thabeet's career. So Like Jerry Stackhouse, I did P90X to get back in shape and just when the world was ready to call Hasheem Thabeet a bust, I resurfaced.

And now here I am in Oklahoma City, playing for the defending Western Conference Championships. And since Hash has decided to grow his hair out, I've decided I'm no longer going to live behind the scenes. I'm a star and this little light of mine, I'm gonna let it shine.

So, to answer everyone's question, that's why I'm yellow. Not blonde…Yellow.
Dante. Stay Black.
Dante Jordan is an award-winning stand-up comic and YouTube star from Norman. Do yourself a favor and follow him on Twitter: @Dante_Jordan
Stay in touch
Sign up for our free newsletter