Law and Order
Note to Self: Do not pee in a yard in Piedmont
1:24 PM EST on November 6, 2012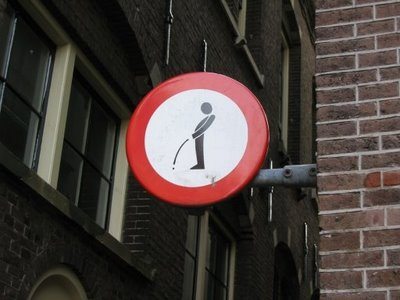 When I was in high school, my friends and I spent a lot of time in Piedmont, Oklahoma. We did this for one very important reason: Piedmont girls.
Piedmont girls were awesome. They were cute, fun and would easily make out with you. I guess you can say they were like Yukon or Mustang girls, except they didn't chew tobacco and you didn't have to get them drunk. As an added bonus, they were located only 15-minutes away from the outlet mall at Council and Northwest Expressway. Piedmont girls love outlet malls.
One time I had a "playa" moment and actually dated two different girls from Piedmont at the same time. I sure was a badass. One girl's name was Rebecca (the blonde), and the other one was Sara (the brunette). They had been best friends, but were in the middle of catty high school girl fight when I started dating them. I didn't know about this until I was at Rebecca's house and saw some "Becca and Sara BFF 4Ever" photo collage on posterboard in her bedroom. That was kind of awkward. Eventually, the girls found out they were both talking to the same nerd from PC West. My "playa" moment didn't last too long after that.
Anyway, I apologize for all that. I had to relive the 1996 glory days for a second. I guess the point I was going to make was that the only thing that sucked about Piedmont girls were Piedmont cops. Simply put, they were assholes. They'd pull you over for going 1 mph over the speed limit, or for listening to your car stereo too loud, or for making out with a girl named Sara in the back of your friend Isaac's blue Camaro.
Well, I guess some things don't change. Piedmont cops are still assholes. Now instead of harassing teenage boys, they are going after Piedmont residents. They recently ticketed a family for $2,500 because a three-year old kid peed in a front yard.
Via News 9:
A 3 year old gets his mom in trouble with the law when he gets a ticket from police. Now the little boy's mother will have to pay thousands of dollars for what the toddler did in their own front yard.

Dillan is being potty trained. His mother says he wasn't playing outside and wasn't near the facilities, so he unzipped.

News 9 was told before he could pee, a Piedmont police officer stopped him. It's a bathroom break that cost mom $2,500.

"Dillan pulled down his pants to pee outside. I guess and the cop pulled up and asked for my license and told me he was going to give me a ticket for public urination," the boy's mother, Ashley Warden, said.

"I said really, he is 3 years old, and he said it doesn't matter," said Dillan's grandmother, Jennifer Warden. "[He said] It is public urination. I said we are on our property and he said it's in public view."

The family lives on two-and-a-half acres and says the street is actually quite rural; but they say the officer who cited them parks at the end of their street daily. So they asked why.

"It's a public street and he wants to, so he can," Jennifer Warden said.

The Wardens filed a complaint with the police department. The police department didn't accept the Wardens' complaint. They have a court appearance set for next month.

"I am disappointed that the officer thinks... what he needs to do with my tax dollars is sitting and harassing our family," Jennifer Warden said.

Warden said as a courtesy, the officer wrote down the cost of the ticket: $2,500. Warden plans on fighting the ticket since she says her son didn't actually finish the act.

News 9 tried to speak with the police department, but our calls went unreturned.

We're told a judge can throw out the ticket.
I'm not going to lie to you. I feel a little bit silly and uncomfortable writing about a 3-year-old boy urinating in public. That's just gross and weird. Which makes me wonder, does anyone know what happened to those Piedmont girls??? Once again, their names were Rebecca and Sara. I think they would have graduated in 1998ish? Have they gained a lot of weight and had a bunch of kids like girls from Piedmont usually do? Did they ever make up and become friends again? I'm just curious, that's all.
Anyway, some random thoughts on this story:
• Can we send Chris Hansen out to do an investigation on the Piedmont Police Department? Seriously, what type of cop sets around waiting for a three-year-old to pee in a yard? I bet it was Captain Merv.
• All that being said, what type of parent send their 3-year-old out to the front yard to take a leak? If my neighbors did that, I'd probably call the police.
• Isn't public urination a sex offense? Does that mean the kid is going to have to register as a sex offender? If so, how will he be able to go to school if he's not allowed within 2-miles of school?
• Out of the two Piedmont girls, I'd say that Rebecca was probably the better looking one.
• Isn't a $2,500 fine excessive? I could understand it if someone took a dump in a yard and then started throwing it around like a chimpanzee at zoo, but $2,500 just for peeing? Even Dean Blevins thinks that's excessive.
Stay in touch
Sign up for our free newsletter