OKC Media
The Thunder have hired Lesley McCaslin as a sideline reporter…
10:00 AM EDT on October 23, 2012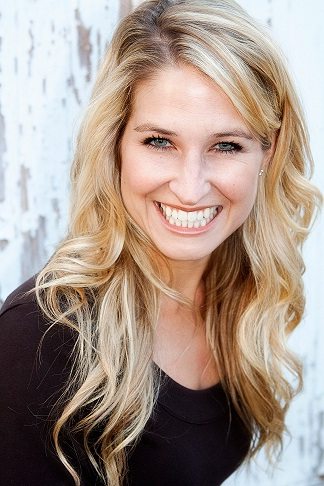 Yesterday, the Oklahoma City Thunder announced that Lesley McCaslin has joined the the team as a television broadcast sideline reporter. Her job will be to report trite human interest stories about the work of Thunder players in the community, give vague injury updates and provide a much needed break from Brian Davis and Grant Long.
Lesley is replacing Kelly Crull who left the team last summer to make a documentary about eye shadow and foundations. Just kidding, Kelly left the team to "explore other broadcasting avenues." From what we've heard, both Kelly and the Thunder thought that was a great decision.
Anyway, from a press release issued by the team:
The Oklahoma City Thunder has announced the hiring of Lesley McCaslin as its new courtside/web reporter and host for game broadcasts on FOX Sports Oklahoma. She joins play-by-play announcer Brian Davis, analyst Grant Long and radio announcer Matt Pinto on the Thunder broadcast team.

McCaslin comes to the Thunder from Dallas where she has worked as an anchor and reporter on FOX Sports Southwest, covering the Dallas Mavericks, the Texas Rangers, and Big 12 and Conference USA football. Her career also includes Texas high school football broadcasts and local TV sports reporting in Texas markets Austin and Abilene. She grew up in west Texas and graduated from the University of Texas at Austin.

"We are thrilled to have Lesley join the Thunder broadcast team," said Dan Mahoney, vice president of Corporate Communications. "She is an experienced professional with a great knowledge of and passion for the game of basketball. She will offer our viewers and web visitors valuable insight into Thunder Basketball."

As host and courtside/web reporter, McCaslin will anchor the team's pregame show "Thunder Live," provide courtside reports during the game broadcasts and be a frequent video contributor to the team website, THUNDER.NBA.COM, covering Thunder Basketball and community events. She also will host the weekly "Thunder Insider" show, which appears on FOX Sports Oklahoma, THUNDER.NBA.COM, NewsOK.com and TheSportsAnimal.com.

"Does anyone actually read this quoted text," Patrick wondered. "If so, leave the word 'Yahtzee' as a comment. It will probably confuse the people who just skip this stuff and go to the comments and/or disturb the Thunder organization."

"I am very excited to be joining a quality organization as respected as the Thunder," McCaslin said. "I love the team's commitment to the community and strong family atmosphere. I look forward to being in Oklahoma City, covering the Thunder and continuing my relationship with FOX."
I wish the team would have pursued one of our suggestions for Kelly's replacement — especially Morgan Woolard — but I guess this will work. My only complaint is that there does not appear to be a bunch of pics of Lesley on the Internet. I did some pretty extensive research and couldn't really find any worth publishing.
However, I did find her husband's Twitter account. He's a a former semi-pro golfer and the type of guy who bothers Matthew Berry for Fantasy Football advice on Twitter: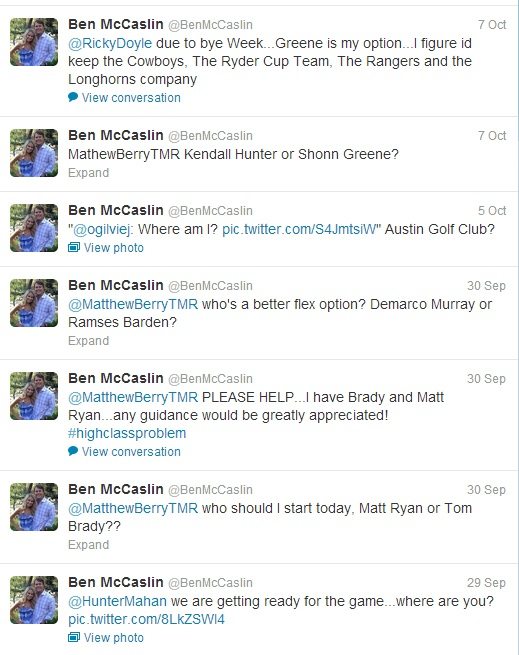 Yeah, I'm sorry we don't have hot pics of the fit blonde girl with one very shiny smile, but here are a couple of quick thoughts:
1. I'd like to go ahead and invite this dude to be in my Fantasy Football League next year. He has Matt Ryan and Tom Brady as QBs, yet he's having to choose between Kendall Hunter and Shon Green as starting running back. That means he must have taken a back-up QB in the 3rd or 4th round. Loser.
2. In addition to tweeting Matthew Berry, he also gave a shout out to Hunter Mahan. Think about this for a second. The guy knows nothing about fantasy sports, is obsessed with golf and stalks Hunter Mahan on Twitter. If we find out that he wraps his Thanksgiving turkey in a cheesecloth, things are going to get weird.
Stay in touch
Sign up for our free newsletter