Everything Else
Johnny Depp was the Grand Marshal of a parade…in Lawton
1:07 PM EDT on October 1, 2012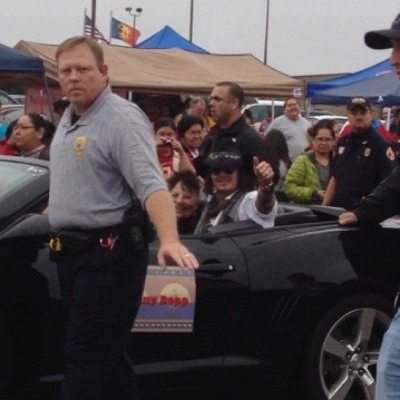 From all accounts, Johnny Depp is a pretty cool guy. He's a big tipper, makes surprise visits to elementary schools and even turns hot lesbian actresses into straight lesbian actresses. But all of that is nothing when compared to his most recent random act of kindness. He visited Lawton, Oklahoma...voluntarily.
From TMZ:
Johnny Depp is an honorary member of the Comanche Indian tribe, so it should come as no surprise he showed up at Comanche Nation Fair today in Oklahoma ... except for the fact the tribe didn't publicize his appearance at all.

The 21st Annual Comanche Nation Fair is being held this weekend in Lawton, OK ... and none of the locals knew Depp would be there today. We're told the tribe wanted to keep Depp's appearance a secret so the parade (where he served as Grand Marshall) was not bombarded with people there just to see Johnny.

As you can see from the video, they succeeded admirably.

Depp was named an honorary member of the tribe back in May, partly due to the fact he is playing Tonto in the upcoming "Lone Ranger" movie.
Yeah, Johnny Depp is awesome. Not only did he make a trip to Lawton, but he sacrificed a Saturday to do it. That's the nicest thing anyone's ever done for that town since, well, I don't think anyone's ever done anything nice for Lawton. It's the armpit of Oklahoma's armpit. It's more depressing than an old person taking a bath.
Here are some YouTube videos of the parade:
Once again, that's pretty cool. Congrats to Johnny Depp for being a good dude, and congrats to the Comanche Nation for thinking of a unique way to get a celebrity come to your parade. Now if they can go ahead and name Bar Refaeli and/or Megan Fox as honorary Comanches, we'd appreciate it. We tried naming them honorary Ogles, but Kelly would have nothing to do with it.
Here are a few other thoughts and notes:
• Out of the three videos, I like the first one the best. It's just fun to hear the girl nervously say "Johnny Depp...is coming down the road, right now, at this moment.......in time." Plus, unlike the other two videos, it doesn't feature the obnoxiously loud siren noises from the scary looking government SUVs that were stolen from the set of 24.
• Does anyone else find it kind of odd that Johnny Depp was named an honorary Comanche for playing the role of Tonto? Don't a lot of Native Americans find the Tonto character to be degrading and offensive? Plus, the always reliable Wikipedia claims that Tonto was from the Potawatomi nation. If you're playing the Gary England drinking game while reading this, take a drink.
• While referencing reliable websites, someone on the Oklahoma Reddit page claims the Depp bought a Boss Mustang - perhaps the one driven in the parade — from a Lawton car dealership. He even paid cash at full markup so the salesman would get a larger commission. Once again, Johnny Depp's a good dude.
Stay in touch
Sign up for our free newsletter