Everything Else
Top 10 tired and overused storylines about OU football
11:12 AM EDT on September 20, 2012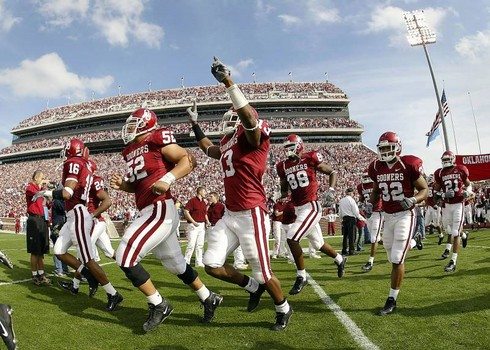 This Saturday, OU will finally play a real football team when Kansas State visits Gaylord Family are Assholes Memorial Stadium. Kansas State is apparently a good football team. They have a great coach, a good quarterback and have beaten three bad football teams. This has earned them a 15-ranking in the AP poll, which is determined by the same panel of drunken sportswriters who think that OU is the 6th best team in the country.
Anyway, this Top 20 match-up has regurgitated the same old boring, stale and tired discussion that OU fans sucks, don't cheer at games and are pompous entitled assholes (only two are true). Bob Stoops served as the catalyst for the discussion when he hinted that the fans need to be loud for the K-state game during his weekly press conference.
Cue Berry Tramel column in 3…2…1:
Big game Saturday at Owen Field, and you don't have to check the rankings or gauge ESPN mentions or take R.J. Washington's blood pressure.

Just listen to Bob Stoops nudge OU fans to get rowdy.

Stoops hasn't called out the Sooner crowd — he's still smarting from four years ago — but Monday he dropped a subtle hint that it's all hands on deck when Kansas State comes to town.

"I'm sure we'll have a great crowd," Stoops said. "Everybody's anticipating the opening of the Big 12 season, so hopefully our crowd will engage and be a factor."

Stoops doesn't trot that out for Florida A&M or Iowa State. He saves it for games like second-ranked Texas Tech in 2008 and K-State this weekend.

Stoops this week wanted no part of a repeat exhortation. "People got pretty sore at me," he said of his 2008 declaration. "I can't say that I heard anything. Just seemed that way."

Sore? Don't you love it when Stoops talks like Beaver Cleaver. Besides, why not call out the fans again? No one in human history ever got so much mileage out of a request.

"I don't need to comment on that," Stoops said. "You guys are at every game. You can see whether they're raucous or not. So you call it as you see it. You can refer to 2008 if you want."

OK. Consider it done.

So do the OU fans get a bad rap? I'd say so. I don't think the Sooners have the most electric atmosphere in college football, but I also don't think it's stale.

I've been to games at Tennessee and Oregon, Alabama and Nebraska, Texas A&M and Georgia, Notre Dame and Texas. Owen Field ranks somewhere in the middle of that pack. Tennessee's probably the best I've experienced, and I wasn't even there for a big game (OSU 1995, the Cowboys stunk).

The OU crowd gets juiced for big games, and who cares about little games?
First of all, let me say that I agree with Berry Trammel. OU fans do get a bad rap. Outside of the SEC, the 80,000+ fans huddled around Owen Field have the same game day energy of any other fan base. The get loud and cheer at the games that require it (Nebraska 2000, Alabama 2002, Missouri 2007, Texas Tech 2008, most Bedlam games) and set on their seat and leave early for the games that deserve it (just about any other game played in Norman since 1999). Also, they have the disadvantage of playing their biggest rival each year in Dallas.
Anyway, this whole debate about the OU fan base comes up every time the Sooners play a Top 20 team at home. It got me thinking about some of the other overused, redundant and tired storylines about OU football. You know, the ones that come up every couple of years, dominate newspaper columns, sports talk shows and message boards for a few weeks, and then fade away into oblivion until some team, press conference comment or Boomer Trammel column bring them up again.
Here's my Top 10:

10. Players on Twitter
This is relatively new phenomenon, but the Oklahoman sports department loves to explore the topic about once per quarter. In fact, I think it's a requirement that each new OU beat writer — they seem to hire a new one once every six months — has to write about some OU football player posting something stupid on Twitter.
9. Line Woes
Did you hear that another lineman got injured? Were you aware that some guy got homesick and moved back to Illinois? If not, then you don't follow the OU football program. Each spring and fall, you're pretty much guaranteed that one offense lineman will hurt his knee or back, and that another one will transfer to some other school. I don't know if it's like that for other programs, but for OU it seems to be a time-honored tradition.
8. Vulnerability against a mobile quarterback
This reached its apex in the early to mid-aughts when OU had difficulty containing Brad Smith. This led all OU fans to perceive that the Sooners have difficulty against mobile quarterbacks (despite the fact that they did pretty decent against Seneca Wallace and Vince Young).  What OU fans didn't comprehend is that just about every team struggles with a mobile, two-dimensional quarterback. That's kind of why those QBs are so valuable, and probably why Stoops and Co. have always been against having one for so many years.
7. Schmitty Workouts
From 1999- 2005, Schmitty was a savior of the program. He helped instill that toughness and discipline that brought the program back to dominance.  But since about 2006, Schmitty's become the scapegoat and the reason why so many players quit, transfer and get injured when they enter the pros. Both perceptions are extreme. Every upper-tier college football program has sophisticated strength and conditioning programs and psycho coaches like Shmitty. I'd bet they are all about the same. You're just as likely to get injured, burned out or whipped into superior shape at Georgia or Oregon as you are Oklahoma.  Of course, OU fans tend to live in a bubble and forget that there are other programs with Division I athletes, big budgets and good coaches.
6. OU - Texas being moved to a home and home series
I've been an OU fan my entire life. I hate Texas and want them to lose every game. Do I give upside-down "Hook-Em" hand signals any time someone points a camera at me? No, but that's for a different column.
Anyway, every couple of years the discussion gets brought up about moving OU and Texas to a home and home series, and every couple of years sports columnists and sports radio callers flip out about it. I'm not one of those people. I actually think playing your biggest rival on a neutral field located 200 miles from your campus is ridiculously stupid. Sure, it looks cool on TV and the back-drop and rivalry is nice, but you sacrifice a lot by doing that. Including:
A) Taking away a marquee home game every other year
B) Limited the exposure of your team to its fan base
C) Crippling the local economy
Seriously, if you think the OU –Texas experience is crazy in Dallas, imagine how much fun a night game against the Longhorn would be like at Owen Field. It would be crazy! Plus, more people would get to see the Sooners play their biggest rival. It wouldn't be limited to 40,000 white doctors, attorneys and Energy company executives, and entitled fraternity and sorority students.
5. Bob Stoops is a poor game manager
Actually, this is rarely, if ever, mentioned by the local media. That's because most pundits and commentators are too scared to bring it up, and most sports radio callers and message board nerds are too dumb to notice it.
Basically, Bob Stoops is the Andy Reid of college football coaches.  He doesn't understand how to use timeouts, manage the clock or even know when to go for one or two. He also makes terrible risk/reward mistakes during games. These mistakes were masked by luck when he was known as "Big Game Bob," but with the rabbit's foot gone, they're just exposed as bad decisions. Want to call a timeout to give Robert Griffin a chance to win a game? Bob Stoops does. Want to send your middle school caliber kicker out attempt a 48-yard field goal against Florida in the National Championship game? Bob Stoops does! Want to attempt a low-percentage on-side kick against West Virginia right after you've recaptured momentum? Bob Stoops does!
4. Back-up players don't get enough snaps
Whenever OU plays an overmatched foe on Fox Sports Net, my brother and I make a bet to see at one time in the game the announcers will start wondering when OU is going to pull the starters. Actually, we don't make that bet, but we probably should to make blow outs more entertaining. Here's how it usually works:
"Well Chris, with 3:13 left in the third and the Sooners up on the Cylcones by 41, you have to wonder when Stoops is going to pull the starters and let some of the reserves play."

"Yes, Joel. With the game in hand, this is probably good time to get some younger players out there and experience some game reps."
Two minutes later…
"After the interception the Sooners have the ball on the Iowa State 40 and it looks like Landry Jones is still in there…"

"Well, they're probably trying to give him one more series to get a few more reps and work on some things…"
Five minutes later:
"Welcome back to Fox College Football Saturday. We have 12-minutes left in the game and Landry Jones is leading the Sooner offense back on the field. Chris, you really have to wonder why Landry Jones is still in this game, especially with such a large lead."

"Well, Joel. Bob Stoops and his staff have probably identified an area for improvement and want to finish this thing strong."
Listen, I'm not condoning Stoops' aversion to playing younger players in blowout wins. I'm just saying it's a tired topic.
3. Boring Fans
Hey, it's the thing that started the whole topic. You know my thoughts on this.
2. Road Woes
What does the dyslexia agnostic insomniac OU fan stay up all night thinking? Is there a dog and why does OU suck on the road? The dyslexia agnostic insomniac OU fan isn't the only person who questions OU's difficulty playing outside Norman. Just about everyone in the media tries to answer the question, especially the guys who host shitty sports radio shows.
My question, though, is a bit different. Bob Stoops road winning percentage is about .678. So basically they win about seven out of every ten road and neutral site games. In this age of parity, that doesn't seem very bad. I think the more startling statistic is that OU is 77 – 3 at home under Bob Stoops. As we know, OU doesn't have craziest and loudest fans in the world, so why do they play so well at home? Why hasn't there been more Texas Tech style upsets? That's the question people should be asking. I personally think the opposing teams get sick from drinking the Norman water, but that's just me.
1. Home of the Sooners during the National Anthem
This is the most tired debate in the world. I'd rather hear Jim Traber and Al Eschbach talk about Seinfeld re-runs than this thing. And for the record, I'm a very loud and boisterous "Home of the SOONERS" fan.
-
Anyway, that's my Top 10 tired and overused OU football storyline. Did I miss anything? I have a felling I did. If so, let me know in the comments.
Stay in touch
Sign up for our free newsletter