Everything Else
Fried Mullet Rascal Scooters! The Oklahoma State Fair Photo Contest is back.
10:29 AM EDT on September 11, 2012
It's that time of the year!
The temperature is starting to cool off, college football is in full swing, and Ogle Moles from all over the state flock to the Oklahoma State Fair to snap pics of those "unique" and "colorful" folk who are showing off their newest mullet, rascal scooter and Tazmania Devil (or Tweety Bird) tee-shirts.
Yes, our Oklahoma State Fair Photo contest is back for its fifth year! For those who are new to the show, here's how it works:
• Go to the Oklahoma State Fair and take pictures! Obviously, we are looking for funny pictures that capture the personalty of the fair, and in particular, the people who come out of the woodwork and/or trailer park to attend this thing. You know, like a black guy draped in a confederate flag, an ex-member of Alabama walking around with the scraps of his newly christened jean shorts or interesting looking ladies with big baskets.
• Email those pictures to TheLostOgle@gmail.com! When you do so, you are basically entering our contest and agree to let us use the photo and all that legal stuff. Also, if you see some friend post a funny picture on Facebook or Twitter, encourage them to enter.
• Come here and vote for your favorites! When the great State Fair concludes, we'll sort through all the pics we receive and post our 20 favorites for the semi-final round. Our readers will then vote for their favorites, and the six photos that receive the most votes will move on to the finals. The pic that receives the most votes in the finals will be the winner and win the grand prize, which is...
• Snap the winning pic and be treated to a Limo Dinner Tour for four to the Wedge Pizzeria and Deep Fork Grill! What's a Limo Dinner Tour? Let me tell you. On a night of your choosing, the Deep Fork Group will send a limo to pick up you and your guests guests somewhere in the OKC metro. First, you will be whisked away to the Wedge Pizzeria for beer and appetizers. After that, you will be escorted to Deep Fork Grill for wine, dinner and dessert. From there, the limo will take you on a cruise around Oklahoma City, and at the end of the evening, drop you off safe and sound at your home...or hotel. Pretty cool, huh?
Anyway, for your viewing pleasure, I posted the victorious photos from the previous State Fair Photo Contests after the jump. My favorite is still the Rascal Racers from 2009, although the Guardian from 2010 is pretty amazing.
2011: Boomer Sooner on My Back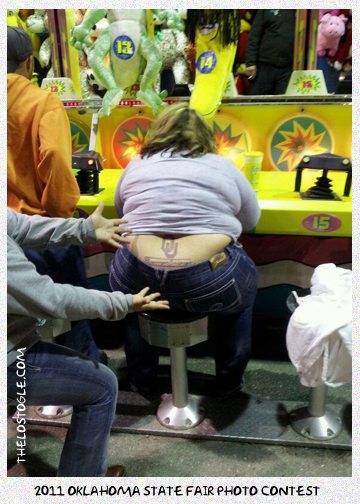 Notice how the dude standing next to her is wearing a burnt orange shirt? I don't know if they were together, but if they were, I kind of like that girl. In other news, the University of Oklahoma just sued her for copyright infringement and brand defamation.
-
2010: The Guardian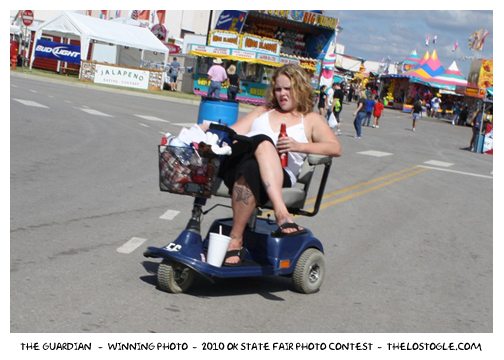 I'm pretty sure that they need to put a statue of this lady on top of the dome at the City Arts Center building at the Fair Grounds and call her The Fair Guardian. That's because she represents almost everything the fair is about. Seriously, she has a rascal scooter, Budweiser, and a tattoo of an apparent penis sticking out of a star on her leg. The only thing she is missing is a corn dog and visible sores.
-
2009: The Rascal Racers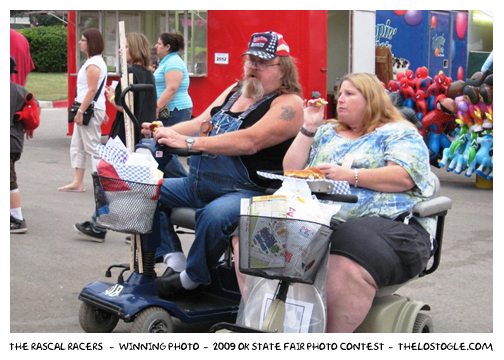 Instead of getting all sad when I look at this picture, I ask myself these questions: Are these people racing, and where are they racing to? Something tells me the answers are "Yes" and "Indian Taco Stand."
-
2008: Pregnant Lady Smoking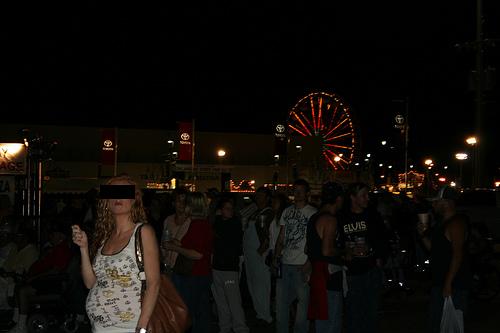 Nothing says "classy" more than a pregnant women smoking…in front of a ferris wheel.
-
Anyway, good luck to everyone. Hopefully you'll stumbled across the winning moment. Also, thanks again to our good friends at The Deep Fork Group for sponsoring this contest.
Stay in touch
Sign up for our free newsletter