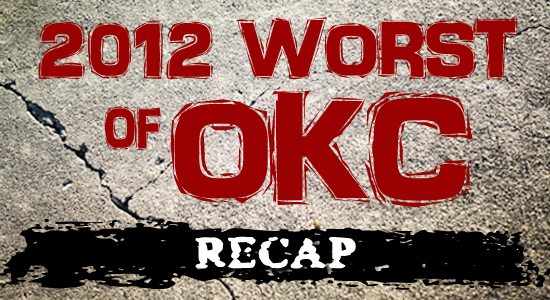 After three weeks, 15 categories and 21,506 votes, the Worst of OKC is finally behind us. This is probably a good thing. Although it's fun to figure out some of the worst things this city of ours has to offer, it's also kind of depressing. Seriously, we had to choose between Sally Kern and Jim Miller for worst human. That's just brutal.
Also, Joel was our guide throughout the entire thing. I had no clue he was from California, and that every damn post would include the phrase "When I lived in California." If I had known that, I would have hired Matt Vaughn, Jonathan Meisner or DJ Boom instead.
Actually, I'd like to thank Joel for being our Worst of OKC moderator. Writing a series like this without looking like a total schmuck is difficult, and Joel did a good job reminding us of that. And while I'm thanking Joel, I should probably thank all of our TLO contributors, and all the people who voted in the Worst of OKC. I should also thank Wayne Coyne for the little traffic spike in the middle of it all.
Anyway, here is our 2012 Worst of OKC recap. I listed each category, the winner, the number of votes they received, and Joel's write-up.
Worst Anchorman: Paul Folger, Evening Anchor, KOCO Channel 5 (35%, 542 votes)
There's just something awkward and uncomfortable about Paul. If you need proof, just watch the video above that a Mole sent us. I'm not sure what to think about it. Either Paul Folger doesn't have Facebook account and is trying to make us think that he does, or he's having conversations on Facebook with people who are posing as cats. That's just weird.
-
Worst Anchorwoman: Meg Alexander, 5:00 & 6:30 anchor, KFOR Channel 4 (24%, 343 votes)
Meg Alexander seems like a cool soccer mom. The kind of cool soccer mom who would buy you beer for your party so you can make friends because no one likes you. The downside is she'd probably end up crying for hours about something harmless. Like this. If she doesn't "win" she can take solace in the fact anytime she talks to Emily Sutton, she becomes an example for all journalism students on how to not banter. It's brutal. Poor Emily.
-
Worst Weatherperson: Anyone on FOX 25 (49%, 752 votes)
If being a weatherman consisted of standing in front of a green screen and mumbling incoherently then FOX 25 would have the weather game locked down. I've seen better weather reports from my uncle with the bum knee. "Yep. Storm's a comin'." Thanks drunk uncle Fernando and your aluminum knee for that information. At least drunk uncle Fernando is accurate and doesn't make me want to punch my TV. And he can read.
-
Worst News Channel: Fox 25 (51%, 669 votes)
The FOX 25 newscast is akin to having a child watch a better produced newscast then recount that newscast.  Way too many chuckles at nothing funny, what I can assume is the world's least dependable tele-prompter and the worst human interest pieces ever produced make for the most consistently mediocre newscast of all time. Airing the Speno out of the place didn't seem to improve things either. Maybe they should just bring back Lauren Richardson so her and Dueweke can spend from 9pm-11pm every night eating ice cream on camera. It would be much better and so very entertaining.
-
Worst Place to Park Your Car: Penn Square Mall (38%, 460 votes)
Penn Square Mall is an anomaly. Nowhere else in the city do urban kids and unemployed Nichols Hills wives come together to shop in the same place. Because everyone has to act polite while inside, it's a damn hate fueled demolition derby in the parking lot. The worst placement of One-Way signs in the city coupled with everyone's complete inability to realize there's tons of parking near Macy's on the north side of the mall makes this one of the most treacherous parking lots in OKC.
-
Worst Sports Media Personality: Regular Jim Traber (30%, 481 votes)
I produced a radio show a long time ago and he filled in for one of the hosts who was gone. His first foray into local radio. I remember thinking he was a big blowhard in an Oriole's uniform. I was right. Some things never change. Years later and he is the epitome of pompous. He once walked out during a standup set I was doing right after I did a joke about his buddy Toby Keith. He's wouldn't even take a photo with his cardboard doppleganger. We aren't sure if that's because he's afraid of cardboard or like the rest of us when we see his image we are frightened and want to do nothing more than look the other way and pretend it never happened. I feel bad mentioning him because it just means he'll complain about it on the air which means that's less time he'll have to yell about something that doesn't matter at all. Poor Trabies.
-
Worst Douche Bag: Ryan Tate, CEO of Tate Publishing (62%, 1,409 votes)
Ryan Tate is the guy who prayed with, and then fired, 25 employees because they were concerned their jobs were being sent to India Philippines. If you forgot how terrible the audio of that call was, go listen to it again. It's Douche Bag 101. The sad thing about this guy is he truly thinks he's doing a good thing by being a dick. He sounds like he's 13 and doesn't look to be much taller. He must treat his close friends great. "Hey. Stupid. I love you but you're making me stab in you in the face. I know I said I wasn't gonna do it. But you're wrong. Now get your face ready for a stabbing. Idiot."
-
Worst Morning Radio Team: Jack and Ron (37%, 483 votes)
I haven't done the research, but if Jack and Ron win this category they may be the first to ever win an Oklahoma Gazette Best of OKC and TLO Worst of OKC in the same category in the same year. But don't let that influence your vote or anything.
-
Worst Human: Sally Kern (52%, 893 votes)
Besides looking like a twisted version of Dobby this woman is just as ugly on the inside. Her thoughts on gay marriage prompted Ellen to try to call her. Aside from Kern's voice sounding like what I imagine Charlie Brown's inbred parents from the 1800s sounding like, she's preaching hate. Pure, unadulterated, misguided, hate. She's dangerous. She also makes OKC come across like a homophobic haven for ignorance. So a homophobic haven. Oklahoma's gay community is pretty awesome and doesn't deserve the venom this woman spews.
-
Worst Natural Disaster: Tornados (40%, 372 votes)
Tornados are the natural disaster we're best known for. This is only because country music isn't considered a natural disaster, although it should be. Tornados are as synonymous with this state as Kevin Durant, Land Runs and bad pilots. Tornados not only destroy houses and lives but also give every weather man worth his salt s pretty big weather chub. Weather chubs are the worst. Trust me.
-
Worst Intersection: Penn and Memorial (43%, 488 votes)
When this intersection isn't flooded with water it's flooded with an influx of people either going to gorge at Krispy Kreme or buy barrels of mayo at Sam's. Because of the neat little stop light at the entrance to Wal-Mart some moron always going south wants to turn left thus backing up traffic to Kansas. Wal-Mart can wait. So can all other sub par chain restaurants at that intersection. You don't need it. I promise.
-
Worst Commercial Spokesperson: Bobbie Burbridge Lane (26%, 359 votes)
Whenever I hear her anti-pornography or Senior Follies ads on the Sports Animal, I ask myself two questions. The first, "What is this crazy old broad talking about?" The second, "What the hell am I doing listening to The Sports Animal and not driving off a cliff?"
-
Worst Suburb: Mid - Del (30%, 463 votes)
Mid-Del is a weird place. It's a cross-section of military families and meth heads who are too good for Harrah. They've got Mr. Spriggs which is awesome, but they also have a bar called "Booger Reds" which is not cool at all because it shares a name with a Garbage Pail Kid too disgusting to exist. There is also a sign on the highway for Tinker exits that says "Liberator, Lancer, and Marauder." That sign shares a name with the top-selling items at Christie's Toy Box for five years running.
-
Worst Tourist Attraction: Unfinished American Indian Cultural Center (47%, 529 votes)
Not sure how this has gone horribly wrong. If history has taught us anything, it's that dealings between Native American tribes and government entities always go smoothly. Construction on the facility has stalled because of a lack of funding. Uhm, has anyone thought of making it a casino? That would raise some money. Plus, Lucky Star Downtown Casino has a nice ring to it.
-
Worst thing about Oklahoma City: Right Wing Nut Jobs (47%, 601 votes)
I get we live in a state where bible thumpin', straight, rich, white folks seem to have the majority say, but that seems to be changing. It's gonna take a generation, or ten, but OKC will one day be a place where liberal thinking and frowning on hate will be an asset. In the future I also won't be afraid to put an Obama sticker on my car because some douchery wrapped in a Romney/Ryan shirt with anger and a brick has no self-control.
Stay in touch
Sign up for our free newsletter