Everything Else
For some reason Pat Jones was inducted into the Oklahoma Sports Hall of Fame
11:45 AM EDT on August 9, 2012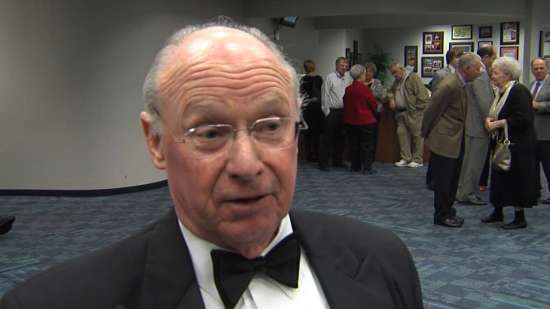 On Monday, former Oklahoma State football head coach and local media darling Pat Jones was inducted into the Oklahoma Sports Hall of Fame. Because the sports media in this state is soft and very protective of who goes in and out of their inner-circle, everyone gushed about how deserving Pat Jones was of this honor.
From a Boomer Tramel column in the Oklahoman:
Pat Jones 'roughed it' during successful tenure at OSU

The Oklahoma Sports Hall of Fame inductee was in the office early and stayed late. That's just a part of what it took to make the Cowboys post three 10-win seasons under Jones.

In the splendor of OSU's newfound football status as a national power, sometimes we forget just how good the Cowboys were in the 1980s.

Not always. Not Monday night, when Pat Jones, the coach of those OSU teams, goes into the Oklahoma Sports Hall of Fame.

The Mike Gundy Cowboys the last five years: 48-17. The Jones Cowboys from 1984-88: 44-15. Gundy has the Big 12 title and Fiesta Bowl victory; he also has a glittering new stadium.

"The guy had his hands tied here," said Gundy, Jones' quarterback from 1986-89. "It was extremely difficult. People talked a lot about (the success) of other sports. It's not the same with football, without the tools."

Jones doesn't disagree. OSU was a hard job back in the '80s. Jones arrived in 1979 with Jimmy Johnson; the Cowboys were on probation and morale was down.

"He was always at the office early, then would stay late," Gundy said of Jones. "One thing I've always remembered with him, and he said this to me as a young coach and I really didn't understand it … 'If you go to a big city – Chicago, New York City – and in those buildings where people make a lot of money, the lights are on at 6:30 or 7 in the morning, and they don't go off at 5.' I always remember that."

Sure, Jones says now, it was hard winning at a place where you might lose a valued assistant coach over salary and where your facilities were just average and your stadium was decrepit. Hard, but fun.

"It wasn't hard coaching (Thurman) Thomas and (Barry) Sanders and (Leslie) O'Neal and (Hart Lee) Dykes," Jones said. "But running the program, it was always hard.
Yeah, Pat Jones sure did a great job running that Oklahoma State football program. For some reason, though, one little piece of information was missing from Boomer Tramel's article. It was Pat Jones coaching record from 1989 to 1994:
1989: 4–71990: 4–71991: 0–10–11992: 4–6–11993: 3–81994: 3–7–1
Not exactly hall of fame material, is it? But as Boomer Tramel mentioned, Jones did have success coaching Jimmy Johnson's players — and his own recruits like Barry Sanders, the luckiest recruiting coup/secret in NCAA history — to great success. Here's his record from that era:
The National Collegiate Athletic Association today banned the Oklahoma State football team from bowl and television appearances as part of a four-year probation for recruiting violations. The N.C.A.A. warned that future infractions could result in the ''death penalty,'' which would shut down the program...

One N.C.A.A. investigator said the penalty was the most severe since the Southern Methodist football program was shut down in 1987.
Oops, that's not Pat Jones' win and loss record from the 1980s. That's from a 1989 write-up in the New York Times detailing the severe NCAA sanctions that OSU was hit with while under Pat Jones' watch. Or as Boomer Tramel would put it, that glorious time when Pat Jones worked so hard to build the OSU football program.
Anyway, I don't have a problem with Pat Jones. He's entertaining on The Sports Animal, knows his football stuff, and is always good for a funny quote or two. But should he be in the Oklahoma Sports Hall of Fame? I don't think so. You should be put in a hall of fame based upon your record or stats, not on how chummy you are with the media. And Jones' record isn't very good. OSU blatantly cheated under his watch, and when they couldn't cheat, they were embarrassingly awful.
If the Oklahoma Sports Hall of Fame really wanted to recognize a former OSU football head coach, they should have honored Bob Simmons. He's the one who cleaned up the mess that Pat Jones left, brought the program to a level of consistent mediocrity, and set the stage for Miles and Gundy to take the program to higher-levels. Plus, it would be fun to see the media's reaction when Nathan Simmons gives the induction speech.
Also, OSU-Fan-Who's-About-To-Leave-A-Comment, I know that Barry Switzer cheated, too, but at least he won three national championships, a Super Bowl, and never had a winless season. Also, he's also Barry Fucking Switzer. Comparing Barry Switzer to Pat Jones would be like comparing Gary England to Rusty McCranie. They're not just in different leagues, they are in different universes.
Stay in touch
Sign up for our free newsletter