Law and Order
Oklahoma Stereotype Alert: A vigilante lassoed a car thief
7:00 AM EDT on August 7, 2012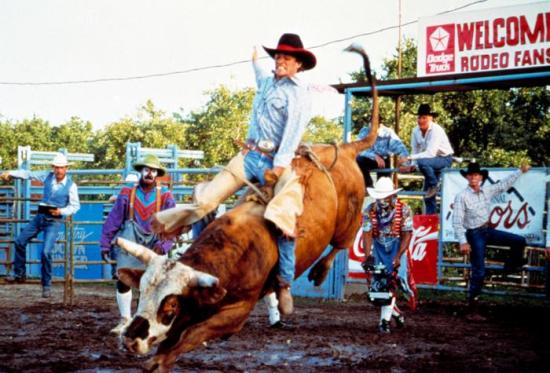 Despite living in Tulsa and all, it seems as though rodeo skills are somewhat of a lost art to us city folk. Sure we all cried at the end of 8 Seconds and everyone knows a co-worker who can't wait to catch the PBR when it comes to town, but I wouldn't say a large percent of our city residents actually study the craft. In fact, I'd say most Oklahoman city dwellers know nothing about it.
Of course, people who live in Los Angeles or Seattle or European hostels are not aware of this. To them, Tulsa is synonymous with people wearing fist-sized belt buckles, fringed chaps, and cowboy boots! You know, people like Jeremy Penny:
An Oklahoma driver stopped a man driving off in his 1997 Buick LeSabre, then roped him in rodeo style before calling police, Tulsa's KOTV News reports.

Jeremy Penny, of Tulsa, says he was baling hay when he saw the suspect driving off in his car, then joined his father in a second vehicle to give chase. When traffic snarls hung up the LeSabre, Penny caught up with the suspect.

"I was really mad when I drove up next to him and he was changing my radio station," he told reporters. Penny, who stands almost two metres tall, left his truck and removed Kalvin Hulvey from the driver's seat, then used his rodeo skills to hog-tie him to a fence with his father's assistance. He doesn't advise others to attempt to repeat the feat.

"There was only one way it could go good," he says. "And it just so happens it went good for me today." Hulvey was later arrested by Tulsa Police and booked on a complaint of larceny of a motor vehicle.
Thanks a bunch, Mr. Penny. You did a marvelous job reinforcing the Oklahoma stereotype that we lasso and hog-tie people who steal our LeSabre. Because of people like you, I have to try and stay knowledgeable of Oklahoma stereotypes so I can use them to my advantage when I flirt with Australian cowboys.
Seriously.
So a couple years ago I went to Las Vegas with a pack of sorority friends for spring break. Wanting to do something wild and edgy (this was before Magic Mike and 50 Shades of Gray came about) we bought tickets to see the Thunder From Down Under--an uh, Australian male revue. Obviously, it was awesome. Since I was with an entourage of college girls, the strippers performers invited me and my friends to go to some loungey bar with them after the show. I thought that was pretty cool, and thanked all of my friends for being so ridiculously good-looking. Well, apparently they invited pretty much every pack of girls that attended their show because by the time we got there, each beefcake was flanked by an army of skanks.
I needed a plan, and fast. The boys were making their rounds and I knew I only had time for a thirty-second elevator speech before they'd either get bored or lured away by easy company. The one that I picked out as my favorite was approaching, and had changed out of his thong costume and into a pair of Wrangler's with--what do you know--a belt with a buckle the size of a teacup poodle. Turn up that twang Chelsea, this is something you can work with. Within five minutes of talking to the dude, I learned that he was a champion bull rider in Australia before seeking fame in the bachelorette entertainment industry. In return, we both learned that I barrel raced as a child, had mixed feelings on the ethics of calf roping, thought mutton busting was absolutely adorable, and had a family friend with ranch perpendicular to Tuff Hedeman's. Of course this was partially bull (waka waka), but mission accomplished. Homeboy was happy because he "rarely ran into people who knew a thing about riding" and I was happy because I had the undivided attention of a hot Aussie, even though he droned on all night about steer wrestling and pole bending. Plus, all of my friends were insanely jealous. Pretty much a win-win.
I know it sounds like I just told you all this story to brag about a super cool thing that happened to me one time. This is kind of true. I know that it's kind of evil and sneaky to exaggerate the truth for one's own personal gain, so it's not something I've done more than a few necessary times. It's also true that I'm going to Las Vegas this weekend and will see the Thunder From Down Under again, and I can't seem to think about much else. But, it's also true that an Okie besides myself used their wealth of rodeo knowledge to well, rope in a dude.
(Editor's Note: If you want to Chelsea to believe that you're an Australian champion bull rider — or just want to sell her some swamp land — you can follow her on Twitter at @xCawoodstock
Stay in touch
Sign up for our free newsletter