OKC Media
Is this guy going to replace Rick Mitchell???
6:55 AM EDT on August 6, 2012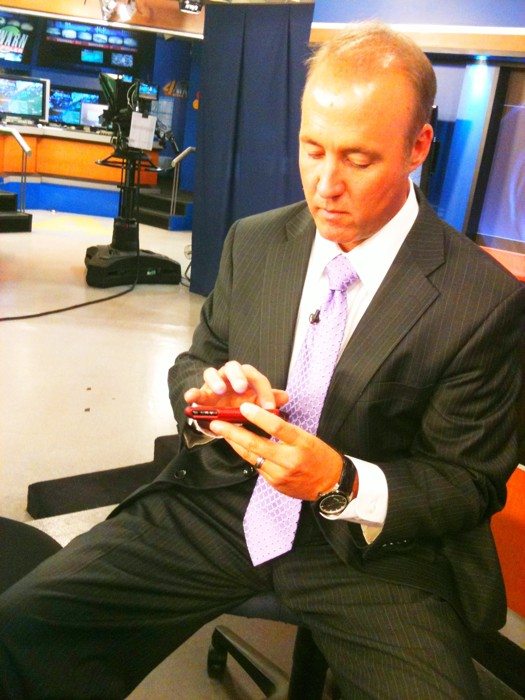 We are starting to hear rumblings through the Ogle Mole Network that KFOR's David Payne is the leading candidate to replace departing KOCO Channel 5 Chief Meteorologist Rick Mitchell. Since this is the spot where we usually quote some other site, here's a snippet from David Payne's Wikipedia Page.
David Payne is a television meteorologist. Since 1993, he has served as a meteorologist at KFOR-TV (channel 4), the NBC-affiliated television station in Oklahoma City, Oklahoma providing forecasts on the weekday morning and Monday and Tuesday noon newscasts, as well as for the Rise and Shine Oklahoma newscast on sister station and MyNetworkTV affiliate KAUT-TV (channel 43) and performs storm chasing duties for KFOR-TV's severe weather coverage. Payne is a member of the National Weather Association and American Meteorological Society and is a recipient of the NWA's Broadcasting Seal of Approval. Payne resides in Edmond, Oklahoma with his wife Julie, and their daughter.
I know what you're thinking. David Payne has a Wikipedia page? How did that happen? Instead of wasting your time reading something that David Payne probably wrote about himself one Friday night while drinking a vodka tonic, watch this video of him nearly being sucked up into a maxi-wedge elephant trunk telephone pole snapper tornado. It's much more entertaining and lets you know David Payne is basically a bad ass.
Before I share my thoughts on the possibility of David Payne replacing Rick Mitchell, let me remind you that nothing has been confirmed as of yet. We're basically just pulling a Jenni Carlson and reporting rumors. Since we're an obscure local social blog, I think we can get away with it. That being said, where there's smoke there is usually fire, and there's definitely some smoke here. The question is what type of fire is it? Is David posturing for a new contract and raise? Or does Channel 5 really want him? Considering that Rick Mitchell is set to leave by the end of the month, I guess we'll know very soon.
Regardless of what happens, I'm not a big fan of this news. Even though David Payne has better name recognition than all of the other back-up weathermen around town, I'm not sure he's the right fit as a chief meteorologist. He's at his best when driving into the heart of a storm and reporting to Mike Morgan that semis are overturned and that he smells pine. I just can't see him being content showing a hail core on radar or telling kids who are home alone from school to put on a helmet and hide in the closet.
In a way, he's kind of like the Mike Stoops of Oklahoma City weathermen. He's a top quality assistant, extremely intense and very popular, but he's possibly too energetic and excitable to be the top dog. If he does leave for Channel 5, let's hope he doesn't come back to Channel 4 in eight years with his tail tucked between his legs and a nice tan.
Anyway, I guess I've now become the unofficial news resource for the Oklahoma City weather media. If you think that's sad and depressing, guess what, it is. When I read the "How to be a Blogger" brochure at OCCC it didn't mention anything about this stuff, it just had a bunch of pics of hot chicks in bikinis and weather dongs. I guess that's what I get for going to community college.
Stay in touch
Sign up for our free newsletter