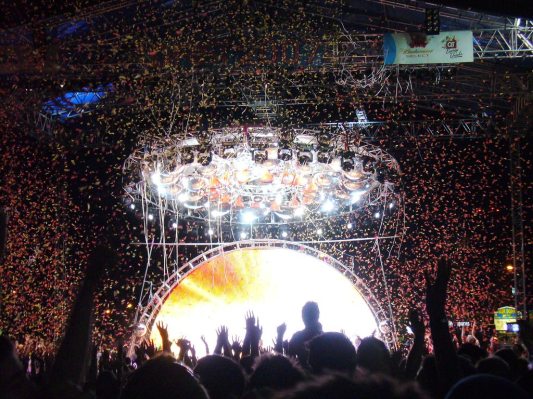 Once upon a time, some people in Tulsa decided that they were sick of traveling halfway across the country for a somewhat decent outdoor music festival. Promoters sought to create a mid-sized aural jubilee in dear old Tulsey Town, and as a teen, I was excited and hopeful when I first got to attend this said event. This took place late July of 2005 I believe. Early Dfests took place in the five or six bar cluster on 18th and Boston known as well, the Boston District. At the blooming age of 16, I was a bit frustrated to find out that even though I had purchased the $10 wristband, it did not magically override my birthdate, thus did not grant me access to any indoor alcohol-serving venues. This restricted me to watching shows on the single shabby outdoor stage, where I caught my favorite high school band Xanadu, and some band I had never heard of before called Colourmusic.
Well, later that night I was grounded for the rest of summer vacation because, despite not being allowed into 80% of the "festival," I still very much so enjoyed myself like a typical person at an outdoor concert would. The strong marriage between concerts and libations make it paramount that I include this disclaimer: any specific event or night I reference in this post is subject to the creative reconstruction of my somewhat hazy memory. This post might be 70% factual.
Fast forward to 2007. It's still called Dfest, it's still in Tulsa, and it still takes place during the last week of July. But this time, it's moved to downtown Tulsa's Blue Dome district, before all of those kitschy themed bars popped up. And this time, there are three or more massive outdoor stages. And this time, Wayne Coyne brought his spaceship, hamster ball, giant hands, confetti cannons, and alien/Santa groupies.
This my friends, was the peak of Dfest, short for Diversafest, born in 2002 and deceased before 2010.  Over the course of a few years, it went from an unwashed collection of garage bands playing for a $10 cover to hosting a full-blown music conference, complete with panel discussions, a trade show, a keynote speaker, and of course, a rad musical line up.
And when I say rad, I'm not messing around. 2007 brought Leon Russell, the Format, Shiny Toy Guns, and of course, the Flaming Lips. If you want a successful night of music, always recruit Mr. Coyne and company. 2008 hosted the likes of the All-American Rejects, the Roots, Ghostland Observatory, Paramore, Phantom Planet, Clutch, and Zappa Plays Zappa, and 2009 brought Rooney, Cake, Ra Ra Riot, Bassnectar, the Black Crowes, Citizen Cope, Metro Station, Blue October, and keynote speaker Andrew WK to the 918. That's right, Andrew WK was the king of Tulsa's biggest party in 2009. Not bad for the "little brother" of a city that didn't have just received a major-league team.
Now, I wasn't at the Flaming Lips zoo amphitheater show, so my judgement comes mostly from watching the documentary DVD. But, when the spacecraft lowered and Wayne rolled out in that hamster ball, it felt as exciting as if your birthday, winning the World Series, and getting a new puppy all happened at the same time. I was pretty much pinned against the front row rail, but the nice security guard brought me and my friends bottles of water, scooped me up to let me use the port-a-potty, then returned me to my original spot throughout the course of the night's shows. Colourmusic, who by then I was a pretty big fan of, opened for the real opener, Stardeath and the White Dwarfs. Despite Mr. Coyne's proclamation that the major legalized marijuana for just one night, I witnessed security guards gather contraband all night, but never once wrote a ticket or threw any hippies out of the venue. Policemen toasted longnecks with under-aged drinkers. Freaks in costume buddied up with PFG-wearing middle aged men checking to see if their sponsorship funds would indeed pay off. That night, Tulsa belonged to the people.
Saturday July 25, 2009 was a pretty memorable day as well. I had just acquired a fake ID and couldn't wait to try it out at this place called McNellie's I had been hearing about. Hundreds of beers? Sweet potato fries? House-made blue cheese dressing? Uh, excuse me while I welcome myself to my own personal promiseland. The on-and-off rain showers seemed to enhance the Cool Kids and Bassnectar's jams, that is until they delayed a bunch of shows due to the weather. Not that I really cared--there was pub fries and Guinessi to consume! After the rain cleared, some chick in booty shorts and a fanny pack lured my friends into a fancy looking trailer. Apparently Camel was pushing some new kind of chewing tobacco, and they gave us at least half a dozen cartons of it and told us to give them away to anyone we saw. I'd rather rip my fingernails off one at a time than start dipping, but I'm pretty sure the frat boys I was with appreciated the gesture. The taxi ride back to South Tulsa cost a small fortune, but in the grand scheme of things, it was a small price to pay for such an idyllic night.
Why did an awesome event like this fail? I thought people were more than willing to travel two or more hours if it guaranteed a reason to shotgun Keystones, eat funnel cake, and fist pump to brostep. Downtown Tulsa was in the beginning stages of a complete remodel. Tsunami's still existed. Police forces were (and still are) too busy fighting chemical labs to bother peaceful beer drinkers or other uh, natural substance users. Sure it was mostly outside, but surrounded by first world amenities. No RV's necessary, the outdoor stages were all surrounded by clean, air-conditioned hotels. The bands were all notable, but none of them really ever qualified as MTV's flavor-of-the-month, if you will. It was well-balanced with a large range of people. Dfest had landed in what I perceived as the sweet spot for the market Tulsa could pull.
By 2010, Dfest organizers announced that due to the recession, this year's festival was on hiatus. The recession could be to blame, but I think '08 and '09's lack of a headliner that would actually drive in out-of-towners, combined with rising expenses, are probably the reasons for its demise. I mean, they hired Andrew WK to speak to a selected group of people at a conference instead of have him out on the streets or on the main stage throwing the party? Not a very prudent way to utilize Mr. WK's talents. 2011 brought not the return of Dfest, but instead the Brady District Block Party and something called Free Tulsa. You can go to Free Tulsa this weekend and catch the headliner--wait for it--Colourmusic, but I don't think the Brady Block Party will ever happen again. Wayne Coyne must have done something to piss God off last year, because an isolated thunder-cloud formed directly above the Flaming Lips' full UFO stage and pretty much destroyed the spacecraft, their lighting, and everything else in the immediate area within an eight minute period.
So with that, I'd like to pay my respects to Dfest, and the brave souls who thought a legitimate music festival could thrive in green country. I salute your optimism, your courage, and your penchant for footlong corn dogs and pop-punk bands. Rest in peace.
Follow Chelsea on Twitter at @xCawoodstock
Stay in touch
Sign up for our free newsletter