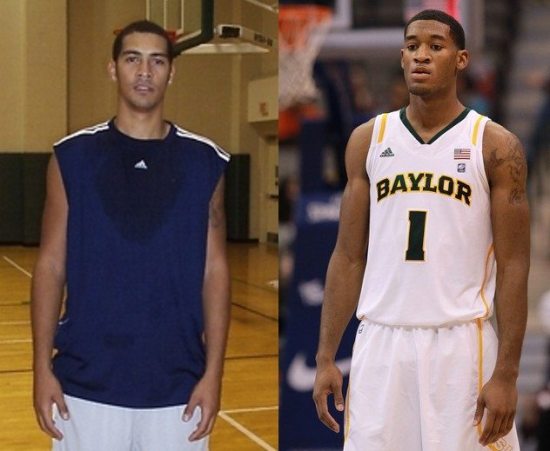 Potential is Spanish Fly for basketball fans. It as an aphrodisiac that lures those who love to game to believe that great things are on the horizon for a player. Like Spanish Fly, potential rarely works out.
Back in 2006, Patrick owned an Oklahoma City Hornet themed website and had a good relationship with The Sports Animal. As a result, he and I were occasionally invited to participate in their weekly show about the Hornets including a draft night special recapping the team's performance.
To briefly rundown what did happen that night, the Hornets had two lottery picks where they selected two identical 6'10" shot blocking power forwards (Hilton Armstrong from UConn and Cedric Simmons from NC State who I would derisively refer to as Hildric Simmstrong from that point on) then took a Brazillian small forward named Marcus Vinicius Viera de Souza (more succinctly referred to as "Marquinhos") in the second round. As I called into the show for my segment, "Pork" was leading the show while giving the team general manager credit for taking two players who fit a team need and then just making fun of the Brazilian's name. I saw it the other way around.
"Marquinhos was projected to be a lottery pick," I told him. "Being able to draft him in the second round is a steal."
"He has a skill set that few players possess," I told him. "If he reaches his potential, there will be a lot of teams that regret passing on him."
Six years later, the Oklahoma City Thunder selected Perry Jones III out of Baylor. He is a guy of which the same arguments were made, and now I'm on the other side. I have been burned once before.
Leading up to the NBA draft, so much scouting and researching of the individual players occurs that the teams selecting have information overload. Yet, like clockwork, every iteration sees multiple draft hopefuls "slide" based on information that comes to light at the last minute. Most often, the reason for the panic relates to a newly discovered injury risk, or for foreign players, issues related to the player's ability to play in the United States immediately.
Sometimes, the panic turns out to be unfounded. Three years ago, University of Pittsburg center Dejuan Blair was a projected lottery pick based on the stats he put up during his college career, but the discovery that knee surgeries had robbed him both anterior cruciate ligaments made decision makers think twice about investing in him. He slipped all the way to the second round where the San Antonio Spurs finally took a flier on him, and they have been well rewarded for taking the risk.
In other circumstances, though, the concerns are well justified. For instance, Marquinhos.
Like most players, Marquinhos was cautiously vetted prior to the draft. Unlike most plyaers, the returns mainly just lead to more questions. No one doubted that he had incredible potential to become an amazin player, but no one knew anything about whether he would be able to reach that potential. His ability to speak english was a work in progress, he had never played against elite players, and then when he showed up to workouts unable to show off his talents due to an injury, concerns opened as to whether he would be able to stay healthy.
Of course, despite the red flags, all it would take was one team to take a chance. He was, after all, a 6'10" small forward with incredible athleticism. For one team he played for in his pro career, he had been their starting point guard. Someone, okay me, hears that and they start picturing a latin Magic Johnson revolutionizing the game.
Marquinhos did earn a roster spot with the Hornets and was on the team the entire 2006/2007 season (when he wasn't in the D-League), but Coach Byron Scott only inserted him into 26 games. In those 26 games, the Brazilian scored a total of 50 points. The next season he was traded to the Grizzlies during training camp. They cut him a few days later. Viva la revolucion, right?
As excited as I was about Marquinhos, Thunder nation seems to be more excited about Oklahoma City's selection at #28 this past Thursday. Perry Jones III oozes potential. At certain points of the past two years, there were legitimate NBA analysts who expected him to be the first pick overall. Watching him in high school, the expectations seemed spot on. Here was a 6'11" power forward with the ability to dunk like Tracy McGrady in his prime, he looked like a guy God had created to be a basketball player.
Then, he actually started playing basketball where people could see him and the results were uninspiring. Despite being the best athlete on the floor at all times and possessing height that made him a match up nightmare, his numbers as a freshman at Baylor were downright pedestrian. Yet he still would have been a top-5 pick with a weak draft class if he had withdrawn from school, something that seemed foregone when the NCAA suspended him for taking improper benefits.
Except, he decided to stay in an attempt to improve his draft stock. Somehow, he played even less inspired as a sophomore. Then, in what can only be described as an effort to further torpedo his hopes, he decided to market himself as a small forward during workouts. With ideal size and ability to be a power forward, and no skills that make him a small forward, this was like me going into an accounting interview boasting about my desire to be a stone cold rapper. Worse, it gave clarity to why he had underperformed so much in college.
What made Perry Jones such a dazzling prospect is that he had the tangible things that could not be taught. The expectation being that with proper instruction he could use those advantages to become a star. His hesitance to be a power forward (what God created him to do) explains everything. He doesn't want to be a 6'11" basketball player. If he has to be a basketball player, he would rather do so in a manner where he doesn't actually have to give much effort. Why jockey for position and wrestle for rebounds when he can shoot uncontested jumpers (mainly because he shoots 30% on three point shots)?
It all makes sense now. The lacksidasical play. The passive performances. The disinterested expressions. Jones doesn't really seem to like basketball. He gives off the aire of that kid from your middle school who made the team because he was six inches taller than everyone else, but only tried out for the team because his parents made him. In the end, I think this red flag was far more important to the decision making process of general managers than the reported discovery of a miniscus tear that could make his knee a ticking time bomb.
So, for every fan that lauds this pick as the Thunder learning from passing on Dejuan Blair, I submit that no one ever questioned Blair's dedication to the game. To this day, he gives 100% on every play, with his mistakes generally being from overhustle. The same can't be said of Perry Jones. How can one even hope that he will reach his potential when the dedication to the game may not exist?
On the bright side, all analysts love this pick by Sam Presti. From a basketball perspective it is low risk. If Jones turns out to be half as good as he was once expected, the Thunder have another star in their midst. If he doesn't he gets a low salary for a couple of years and disappears.
For the fans, though, this is a not low risk. Like I did with Marquinhos, they will invest their hopes into this new player and live and die with Jones' glimpses of talent. Meanwhile, he probably won't care.
Clark Matthews is a world-class checkers champion, co-founder, and basketball editor-emeritus of The Lost Ogle
Read More:
Stay in touch
Sign up for our free newsletter