Law and Order
This man doesn't like turtles
10:50 AM EDT on June 26, 2012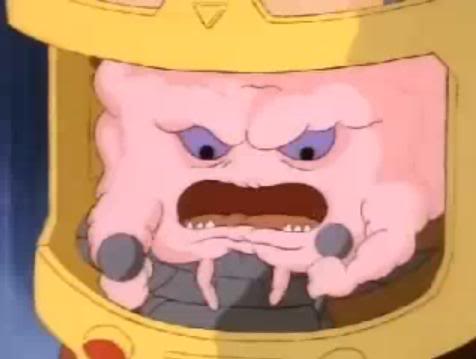 The guy pictured above is Derrick Peace (not really, it's Krang, but who cares). Derrick threw his hat into the ring for the title of "Oklahoma Asshole of the Month" by allegedly throwing an innocent box turtle into the street and killing it.
Via NewsOK.com:
An Oklahoma City man was arrested on an animal cruelty complaint Thursday after a turtle with a broken shell was found in the street. The turtle later died.

Derrick Derrell Peace, 39, denied he injured the turtle when reached by telephone Monday.

Animal welfare officer Rory Garien found the injured turtle when he responded to a phone call from a neighbor.

Garien said he called an Oklahoma City police officer, who arrested Peace.

The red-eared slider turtle was taken to the Oklahoma City Zoo and then to the WildCare Foundation in Noble where it was given fluids and pain medication.

The turtle died in less than 24 hours.

"Unfortunately she did not make it," said Jennie Mook, an intern at the WildCare Foundation. "When a turtle's shell is cracked to that extent, there's no telling what kind of damage has been done to its internal organs. Her shell was too far gone."

Mook said the turtle died from internal bleeding.

Garien said Peace could face a $1,200 fine and up to a year in jail if convicted on an animal cruelty charge.
When I was a little kid living on Southwest 33rd and Santa Fe, my mom was some sort of vigilante turtle rescuer. Anytime she'd see a turtle trying to cross the road, she'd pull the car over, throw the thing in the back seat, and take it home for me and my little brother to play with.
This was always awesome. Generally, my brother and I would build a "comfortable" habitat for the turtle (dirt, rocks and sticks) in a cardboard box and give it leaves of lettuce to eat. After a couple of days of wondering why the turtle wouldn't eat our lettuce, our dad would then walk us to Lightning Creek and we'd set the turtle free. It was a total southside thing to do, but since I didn't die or join a gang, I guess it was all right.
Anyway, because of those fond childhood memories, I've always had a little soft spot for turtles in my heart. And that's why I think if found guilty, Derrick Peace should be sent to jail for 25-years to life. Or at least sentenced to dress like a zombie and stand on the corner of SW 59th and May while holding a sign that reads "I Like Turtles." He should also be forced to change his name to Bebop or Rocksteady. Then all the other turtles will know to watch out for him.
Stay in touch
Sign up for our free newsletter