Everything Else
Seven fun summer-esque things to do in Tulsa
7:00 AM EDT on June 26, 2012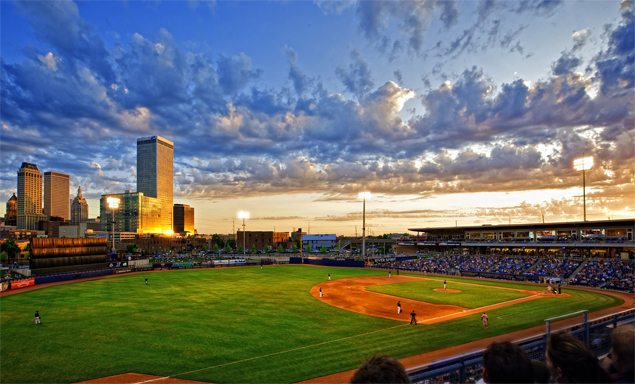 Okay, so this whole sit-in-a-cube-for-hours thing (predictably) doesn't agree with me.  The world tells me I need to spend my time constructing complex functions on Excel and tending to the arbitrary needs of my sales reps, but all I want to do is make half-day-Friday a daily ritual, befriend someone who owns a salt water pool, and pump my veins full of Jamba Juice.
If this post were a term paper, this would be the part where I'd insert a quote by Oscar Wilde or Dylan Thomas or Robin Williams urging us all to live deliberately, frolick through the woods, and consume bone marrow. I vowed to never become one of those people who comes home after work, turns on Lifetime, cooks dinner for their cat, then goes to bed at 8:30. Unfortunately, with every passing day, my life begins to look more and more like this. Luckily, summer is a great time for all of us on the 9-5 schedule to stay up a little later, go on a few adventures, and reacquaint ourselves with things like "fresh air" and "UV rays." So, I've compiled a list of fun things to do in my dear old Tulsey Town. You know, to help us all feel childlike and carefree again.
1. Attend Thirsty Thursday at the Driller's Stadium. There's only a few ways one can improve America's pasttime: a) by serving $1 drafts, b) putting some muscular eye candy on the roster, and c) holding games in an art-deco masterpiece of a stadium. Readers, the fine folks in charge at ONEOK stadium have created a recipe for success. I Googled the picture above, but I don't even think it's Photoshopped. The view is actually that great.
2. Catch Oklahoma! at Discoveryland. This activity requires a bit more preparation and commitment than well, essentially catching happy hour at a minor league game. The drive to Discoveryland is dull and dusty, but the sweet BBQ picnic and square dancing with cowboys makes it worth the drive. Remember what's great about our state by crooning "Oh What a Beautiful Morning" with Curly and checking out the slightly offensive makeup tactics they used to turn some white guy into the Middle Eastern peddler man. While you're swatting mosquitoes off your back and rubbing the cool condensation from your Sarsparilla on your temples, remember this: the cast is enduring the swamp-like conditions too, but they're doing so while tap dancing in petticoats, bonnets, and bolo ties.
(Editor's Note: According to Holly Wall with This Land Press, we have learned that Oklahoma! is not being performed at Discoveryland this year. Discoveryland claims this is because of "the economy and record-breaking heat of last summer." In other words, people stopped going.)
3. Visit the Tulsa Zoo. That giant sea turtle has been stagnant for twenty years, the lions sleep tonight all day every day, and we don't have Toba, but I bet a pocket shot would taste delightful in one of those frozen lemonades.
4. Ride the Master Blaster at Big Splash. You could get a tetanus shot beforehand to protect yourself from disease, but I think a quick bath in peroxide would do the trick as well.
5. Brunch on Brookside.  I spent last week in Dallas, and all of my old college buddies raved about how awesome Sunday Fundays were out there. Can we make this a Tulsa thing too? It would completely kick the butt of what I normally do on Sundays--you know, watching the Food Network and sketching pictures of Nick Collison. Yo Brookside, are any of you fine establishments willing to sell mimosas for less than $7 a pop? If so, shoot me an email. I have a lot of friends willing to embark on this possible social movement.
6. Attend Summer's 5th Night. But if you don't live anywhere near Utica Square and aren't keen waiting an hour to eat at Queenie's, don't worry--literally every single shopping center in South Tulsa hosts this sort of event on Thursday nights as well. In case you don't know what I'm referring to, I'm talking about those live music block party-esque get-togethers where parents sit in folding canvas camping chairs and snack on cheese platters while their kids skip around with snow cones and pups on leashes. I know, I too am completely stunned that there's enough jazz and classic rock cover bands in Tulsa to service this kind of demand.
7. Hike around Turkey Mountain or bike along Riverside. Ah, two great activities to bring out the Captain Crunch in all of us. Here's a few tips for folks who are just now hopping on the Tulsa recreational activity bandwagon: a) Chacos are required, b) always travel on the right side of the trail, and c) unless you're down with a George Michael-esque public bathroom experience, relieve yourself in the woods.
Follow Chelsea on Twitter at @xCawoodstock
Stay in touch
Sign up for our free newsletter