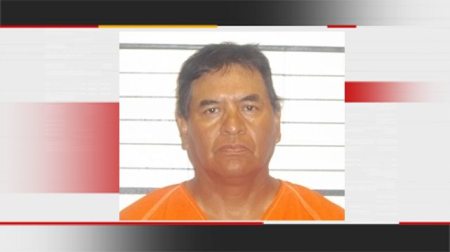 The locker room experience is synonymous with many-a-poignant moment in the coming of age for any high school student. For boys, it's where you discuss which teachers are sexy, learn what a BJ is, and brag to your friends about all of the pretend sex you're having. For girls, it's where you develop body image issues, figure out who stuff their bra, and crucify other girls for all of the pretend sex they're having.
Yes, ever since I watched my first John Hughes movie, I knew that the locker room is where sexy things happen. However, the raunchy moments usually have more to do with naughty things teens say, and less to do with any action that takes place. Don't worry mom, George Lopez didn't get arrested. This is Howard Harjo, and he admitted to videotaping the girls he coached in the locker room.
From News On 6:

A Sapulpa High School assistant softball coach has been arrested and is facing felony charges after police said he admitted to secretly videotaping girls in the locker room.
A school employee found a camera on Wednesday and took it to police.
Police then went to the facility and saw a hole in a trash can, which contained a second camera concealed inside. Authorities said both cameras showed girls, nude from the waist down, in the bathroom stalls. The cameras even contained shots of Howard Harjo, 54, placing the camera, disguising it and adjusting its angle.
"Harjo was located and during a subsequent interview, admitted he placed the cameras for the purpose of viewing the girls at the facility," Sapulpa Police Capt. Bret Bowling said.
Authorities said Harjo was videotaping young girls in the locker room for quite some time, possibly up to four years.
Sapulpa Public Schools released a statement Thursday saying Harjo, who was not a teacher at SHS, was relieved of his duties immediately.
He had served as an assistant coach since 2008.
School officials said they met Thursday afternoon with softball parents who were anxious to identify the victims. Counselors are also available for softball players, according to SHS.
"What we have also asked them to do to help their student understand to maybe curb the Facebook and Twitter [postings]," Sapulpa Superintendent Mary Webb said. "So much information gets twisted when it gets sent out that way."
She says Harjo had a clean background check and was liked and trusted and no one ever suspected this type of behavior.
So, I'm going to state the obvious here and point out that THIS GUY WAS FILMING GIRLS WHILE THEY USED THE TOILET. Aside from "horrifying," and "pedophyllic," this is also just pretty gross. Even Nick Collison loses his sex appeal while dropping a deuce. This is the creepiest fetish I've ever heard of, yet I'm fairly certain that there has got to be websites devoted to it. Yo Howard, instead of violating minors, why not just join an insane pee-pee porno site instead?
Another thing I thought was interesting is how the Superintendent is trying to minimize chatter on social media about this incident. Short of announcing who the victims are, I'm not sure how much more damage can be done. This being said, if I was sixteen and every time I logged on to Twitter I had to read blurb after blurb about this nasty bastard, I might check myself willingly into an institution. For the privacy and the sake of healing for these victims, it's probably best that their fellow classmates lay off the Facebook statuses and blog posts about this horrible incident. Not that we're following our own advice or anything.
And is it just me, or does Sapulpa produce a higher level of perverts-per-capita than any other Oklahoma boondock? Wasn't that judge with a penis pump from there too? You know you've reached rock bottom when you want to pull your kids out of Sapulpa public schools and send them to Glenpool or Kellyville instead.
Anyways, I hope the victims of this awful crime find peace and steadfastly move on from this incident. I also hope this guy gets locked up for a long time and is soon acquainted with Bogs and the Sisters.
Follow Chelsea on Twitter at @xCawoodstock
Stay in touch
Sign up for our free newsletter