Everything Else
Mailbag: E-Card Mike Stoops Fathead Dueweke Festival
12:07 PM EDT on May 25, 2012
It's time for our Friday Mailbag presented by Kaisers Bistro in Midtown. It's that thing where you send us emails, we publish a few of them, and then the person who sent us the best one wins some FREE food to Kaisers.
Last week's winning email was sent to us by Travis:
Instead of shirts, I think the Chesapeake Arena should hand out free fake beards for the Thunder-Laker games.
Congrats, Travis. Now to this week's mailbag:
Ogle Mole Jeff writes:
TLO,
I think its time to expand the Cardboard Jim Traber family to include Son of Cardboard Jim Traber. Just like his father, he would be considered a bastard. Perhaps a babyfied Fathead of the Ultimate Fathead would be appropriate.
Unfortunately, Cardboard Jim is sterile. He's also not a Fathead, although I guess you can say he's not really cardboard either. In fact, I think CJ is made of corrugated plastic. But which sounds better. Corrugated Plastic Jim Traber or Cardboard Jim Traber? I vote Cardboard.
-
Maryann writes:
I went to send a special e-card because you had the best ever birthday and special day cards. So I was very disappointed when I went to send one and the e-cards are gone. Why did you take them off?
Very disappointed
There are three possibilities here.
1. Maryann thinks she is emailing the Braum's Webmaster.
2. Maryann thinks we at one time hosted e-cards on our website.
3. Maryann is some internet trickster named Josh.
Knowing what I know about the Internet and stupid people, I'd vote number one. We get lots of weird emails from people who are meaning to contact someone else. Just a few of weeks ago some guy emailed us asking how he could sign-up to give hookers coffee on South Robinson. He must have stumbled on this post and thought we were the damn organization. With all the Braum's references on this site, I bet Maryann (or Josh) thought we were Braum's.
-
Spencer writes:
Speaking of Ed Doney eating at Boomerang, snapped this candid pic of Mike eating a Doney (at least that's what my mom always calls donuts). By the time he left the store, as can be seen in the pic, he had already taken down half of said LJ. Total power move. (Boomer!) I thought it was Brock Lesnar, but then I noticed he didn't have a giant penis tattoo on his chest.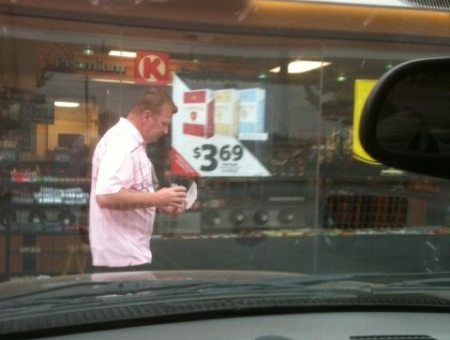 First of all, I'd like to thank this Spencer (not our Spencer) for being the first person in human history to begin a sentence with the phrase "Speaking of Ed Doney eating at Boomerang."  That's quit an accomplishment.
Anyway, this worries the hell out of me. Is it possible for Mike Stoops to look any more sad and defeated? I know that OU's defense lost some good players and is stuck with guys like Javon Harris (terrible) and Tom Wort (small and overrated), but this is ridiculous. Show some confidence! You're Mike Stoops! You're the savior of the program! You're going to shut every team out and hold Texas and Oklahoma State to negative 30 points!
And quit eating at Long John Silvers. That place is nasty.
-
Lindsay writes:
I'd like to thank you for calling out Liz Dueweke on Twitter. She's a beautiful young woman and doesn't need to "fish for compliments" on Twitter, unless she's looking to boost her ego. Thank you for exposing her for being so vain.
In case you're not aware, Liz Dueweke — the hottest woman in the Oklahoma City media — went on Twitter this week and complained that she doesn't look like Jennifer Garner. We then called her out for it: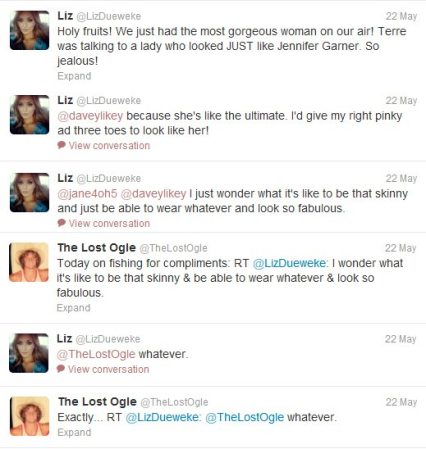 On a totally different note, if you ever feel the need to begin a tweet with "Holy Fruits," you should probably just put your phone away and stay off Twitter. It's not for you.
-
RJ writes:
I was spending some time on NewsOK and this story about the "Made in Oklahoma" festival in Midwest City caught my eye . Thought it was funny and you boys may enjoy it: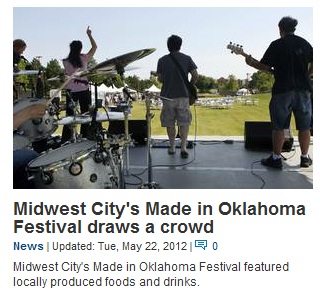 That is pretty funny. That's also the type of crowd I'd expect to show up for a "Made in Oklahoma" festival in Midwest City. I bet all the attendees were at Thunder Alley instead.
Also, other than sub-par wines, vegetables and Griffin's syrup, what products are actually made in the Oklahoma? I know there are plenty of items out there, but the only thing I can think of are those "Made in Oklahoma" paper towels they sell at Wal-Mart, which I don't buy because I'm not sure I want my paper towels to made in Oklahoma. I'm a Viva guy anyway.
-
Vote:
Stay in touch
Sign up for our free newsletter