Everything Else
Nine Ways the Thunder Could Beat the Spurs
8:00 AM EDT on May 23, 2012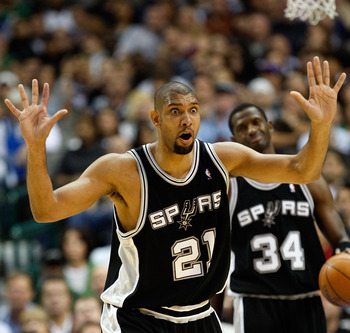 I love when Kobe Bryant is upset. Even better, I love it when the Thunder cause his meltdown. So, while Kobe killed his team by becoming Shot Volume Hulk and then talked to the press about how everyone else on his team was to blame, I was super pumped.
Then, I remembered that the ultimate reward of knocking off the Lakers was that the Thunder have to play the Spurs. That is terrifying.
I have seen basketball teams who have had similar winning streaks to what the Spurs are currently having. What I haven't seen is a team clicking this well at the most opportune time. San Antonio went into the playoffs winning 21 of their final 23 games to usurp the Thunder as the team with the best record in the Western Conference. Now, they're perfect through two rounds of the playoffs. Now, it is Oklahoma City destined for the buzz saw.
Of course, the Thunder could just go ahead and beat them. Here's how: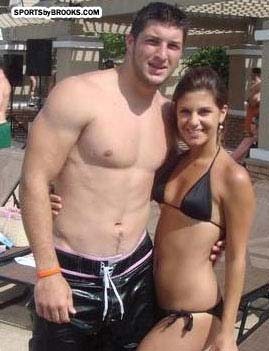 9. Get Tim Tebow to root for the Thunder
San Antonio has won 29 of their past 31 games including every playoff game they have played this year. And they aren't just winning, they are blowing teams out while crushing their souls. To beat this team four out of the next seven games will probably take some divine intervention.
Oklahomans are a very religious people, so you know there will be a lot of pleas to the man above. Of course, I only know of one person who absolutely has a direct line to God, and we need his help.
8. Cut off their head
The last time the Thunder played the Spurs, they were at home and fell behind by as many as 27 points. Late in the 4th quarter it was a two point game. It wasn't Kevin Durant or Russell Westbrook who lead the charge back. It was Royal Ivey.
In a game where Thabo Sefolosha's minutes were limited as Coach Brooks cautiously returned him from injury, Tony Parker was killing the Thunder. Then late in the third quarter, Brooks seeing the team down by 20 still and not having anything else to lose, sent in Ivey to guard Parker.
Ivey's relentless defense frustrated the Spurs' star point guard. Upset that he was being checked by the guy who usually only plays in garbage time, Parker wanted to prove his superiority and tried to do too much. Think Kobe Bryant on Monday. It took the Spurs completely out of their offense (which is damn near unstoppable when operating properly), and Parker started turning the ball over. Then Ivey came out of the game, the Spurs got back into their rhythm and the Thunder's manageable two point deficit ballooned to nine.
If the Thunder can derail Parker, they can derail the Spurs.Thabo is usually assigned to guard Manu Ginobilli when he plays against the Spurs, but his defensive prowess is probably better utilized in limiting Parker's play making abilities.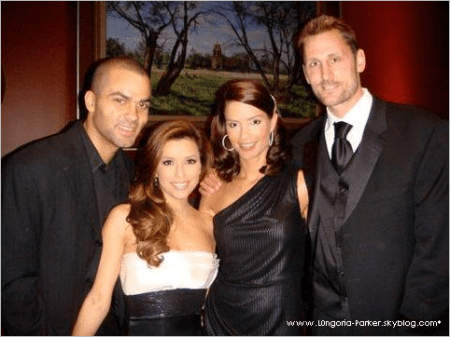 7. Give Eva Longoria and Brent Barry seats behind the Spurs bench
If Thabo can't slow him down, perhaps Parker can be distracted by his ex-wife and the ex-teammate whose marriage was ruined by the Frenchman.
6. Don't let guys who couldn't start in college destroy you
Danny Green was a bench player most of his college career. Then he got to the pros and fizzled out with the Cavaliers. So, of course, he winds up with a title contender, gets into the starting line up, and begins draining three pointers like he's Ray Allen and playing defense like he's Bruce Bowen.
Against Oklahoma City this season, he has made nine of the twelve attempts he has taken from beyond the arc, while also being the primary defender against Kevin Durant. In those games, Durant (who averaged 28 points per game on the season) has scored 21, 22, and 25 points.
5. Throw a beer at Metta World Peace
If you skip to the 2:05 mark, you'll see that Spurs shooting guard Stephen Jackson gets pretty protective of the guy who laid out James Harden. Jackson starts wailing on fans so hard that Artest starts pulling him away like, "Dude, you've gone too far."
Anyway, provoking him this way will probably make you rich and should be enough of a distraction to make the Spurs vulnerable.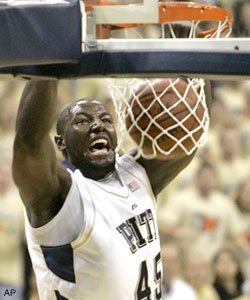 4. Lay a box of donuts down at the free throw line
Even though he's fallen out of the Spurs playoff roation, one guy who always seems to play his best games against the Thunder is DeJuan Blair. The 6'6" "270" "center" just destroys Oklahoma City's big men on the glass by using his hefty frame to clear them out. One way to get him to stop being so hungry for the basketball is to feed him tasty pastries. Look at the guy, he will definitely hang back for a donut.
3. Hire a medium to wake up the Skirvin ghosts
This worked for defeating a crappy Knicks team a few years ago. Of course, I could see this backfiring with Spurs coach Greg Popovich signing the dispirited soul of Effie the suicide victim to a contract and motivating her to spook Daequan Cook on three-point attempts.
2. Give the ball to Derek Fisher with 0.4 seconds on the clock
1. Make a statement in game 1
In all seriousness, the Thunder have to do something to reverse the momentum the Spurs are enjoying right now. Having not lost a game in nearly two months, Oklahoma City has to remind them of what it feels like, and do so in a way that is dispiriting. That could be Kevin Durant drilling a buzzer beater to knock them off on their home floor, or even better, demolishing them to the point that Cole Aldrich is dunking on them while Tim Duncan, Tony Parker, and Manu Ginobili sit around in their warm ups.
Clark Matthews is a world-class checkers champion, co-founder, and basketball editor-emeritus of The Lost Ogle
Read More:
Stay in touch
Sign up for our free newsletter