Politics
Mary Fallin likes her pool hot and her hot tub hotter. And we get to pay for it.
12:05 PM EDT on March 27, 2012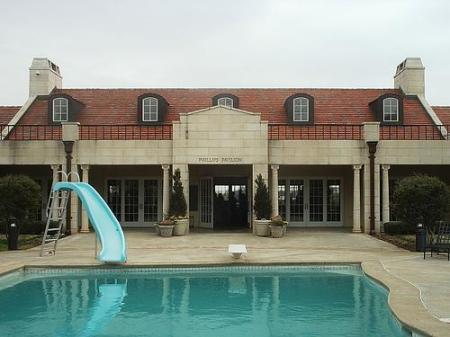 A few weeks ago, an Ogle Mole leaked to us a series of work order requests submitted to the Oklahoma Department of Central Services (ODCS) from the Governor's Mansion.
The work orders, which were issued between January - May of 2011, feature an odd array of maintenance requests for the heated pool and hot tub at the Governor's residence, and in particular, Governor Fallin's demands that they both heat-up to her ideal temperature for maximum comfort and relaxation.
The Mole also provided us with several ODCS expense reports. They show the state spent at least $3,255 maintaining the Governor's heated swimming pool and hot tub during that time frame. Included in those costs were a $1,445 Blue Spa Cover and an $850 chlorine salt generator.
Anyway, we break it all down below/after-the jump.
First, let's get to those pool maintenance requests. We have posted the initial requests issued by the Governor's office and the work notes left from the ODCS employees. For the most part, they are copied and pasted directly from the work orders. In a few of them, we editeded obvious typos.
-
"How many maintenance men does it take to adjust the temperature on a hot tub?"
These two work orders were issued in late January of 2011 because Governor's hot tub wasn't hot enough for her liking.
Work Order: 41543
Date Requested: 1/28/2011
Description: THE HOT TUB IS TEMP IS SET TOO LOW... HAVE BEEN ASKED IF IT COULD GO HIGHER...  ROOM:POOL /HOT TUB
Facilities Notes:
1/28/2011: TURNED HOT TUB UP TO 102 DEGREES.
-
Work Order: 41701
Date Requested: 1/31/2011:
Description: FAMILY HAS REQUESTED THAT THE HOT TUB BE 104 DEGREES... SECOND REQUEST... THANK YOU  ROOM:POOL/HOT TUB
Facility Notes:
2/7/2011: TURNED HEAT UP TO 104 WHICH IS MAXIMUM ALLOWED SET FORTH BY THE GOVERNMENT.
I'm neither rich nor a swinger, so I don't really know a lot about hot tubs. That being said, don't most of them come equipped with a temperature controls? Or is the royal hot tub at the Governor's mansion one of the few spas on earth where the water temperature can only be adjusted by a qualified maintenance man. Once again, I'm just asking the question.
Also, is the difference between 102 and 104 degrees noticeable? I don't think so. I'd compare it to the difference between a Ds and DDs. Sure, DDs are bigger, better and a little more cozy, but you don't complain about Ds…especially when they are paid for by the taxpayers of Oklahoma.
-
"We like to swim in broth"
According to the weather almanac, April 21, 2011 was a typical spring day in Oklahoma. Highs were in the upper 60s, there was a slight breeze and the First Family was about to take their mid-morning swim, but their heated in-ground swimming pool was too cold!  This was not acceptable, because they complained about the temperature one week earlier.
Work Order: 45822
Date Requested: 4/12/2011
Description: FG (First Gentlemen) WOULD LIKE POOL SERVICED HE SAID SERVICE LIGHT IS ON , THE POOL WILL NOT HEAT UP TO THE TEMP, IT HAS BEEN ASKED TO HEAT UP TO. THE NORTH SIDE HEATER DOES NOT SEEM TO BE WORKING...
Facility Notes:
4/12/2011: POOL IS AT 92-94 DEGREES ON POOL AND SPA.
4/14/2011: I SPOKE WITH LIZ ON THE BLINKING LIGHT AND EXPLAINED THAT THIS IS NOT A SERVICE LIGHT IT IS A REMOTE COM ERROR THAT IS IN THE FACTORY PROGRAMING. BOTH HEATERS WERE OPERATING WHEN CHECKED.
-
Work Order: 46407
Date Requested: 4/21/2011
Description: FIRST FAMILY WENT TO USE POOL TODAY.. SAID NOT HEATING PROPERLY. THE TEMP IS OFF... READS 79 SHOULD BE WARMER WANTS A POOL EXPERT TO COME OUT AND FIX
Facility Notes:
4/21/2011: RON AND I WENT AND CHECKED THE TEMP ON THE POOL THIS MORNING AND THE POOL TEMP WAS 102, THE SPA TEMP WAS 108 WHICH HAD THE COVER ON IT, WE CHECKED THE REMOTE AND IT SHOWED OK, WE SPOKE WITH LIZ AND EXPLAINED TO HER HOW THE SYSTEM IS SUPPOSED TO WORK AND IF SHE WOULD LET THE FIRST FAMILY KNOW THAT WE WOULD BE HAPPY TO MET WITH THEM AND EXPLAIN HOW THE POOL WORKS.
4/28/2011: FOXX POOLS WILL BE OUT MONDAY 4/25/11 TO MEET WITH US ON THE POOL.
5/2/2011: FOXX POOLS HAS BEEN SCHEDULED AND WAITING ON THEM TO COME CHECK THE POOL.
5/2/2011: SPOKE WITH RON ON THE POOL AND IT HAS BE OPERATING PROPERLY AND THE FIRST FAMILY HAS NOT COMPLAINED SO WE ARE GOING TO COMPLETE THIS W/O.
102-degrees? When did the Governor's Mansion become a Turkish bath?  Seriously, I'd rather swim in a pot of warm Pho than a 102-degree swimming pool. That's either a typo or Mary Fallin is one crazy lady. I'll let you guess which one I think it is.
And one other thing. This work order reports the hot tub temperature as 108-degrees, yet the first one we looked at notes 104-degrees as the "maximum allowed set forth from the government." I think we all know what that means. Mary Fallin installed a black market hot tub temperature booster on the hot tub at the Governor's mansion. I bet it's powered by pure, clean and abundant natural gas.
Anyway, at least they got the temperature thing figured out and the Governor and her family can simmer in some Chlorine stew.
-
"If it says 104-degrees, then it's wrong."
Oops. I guess the pool wasn't fixed. Here's another work order request to fix the temperature on the world's most problematic pool and spa.
Work Order: 48815
Date Requested: 5/27/2011:
Description: GOVENOR WOULD LIKE THE POOL TO BE WORKING FOR THIS WEEK-END... IT HAS NOT BEEN HOT ENOUGH FOR HER TO GET IN... SHE SAID THE SPA IS NOT THE CORRECT TEMP AMD IF IT SAYS `104. THEN IT IS WRONG...PLESAE GET FIXED SO FAMILY CAN USE THIS WEEK-END  ROOM:POOL
Facility Notes:
5/27/2011: TEAM 3 AND MYSELF CHECKED OUT THE SPA AND THE POOL TO MAKE SURE EVERYTHING WAS OPERATIONAL WE CHANGED THE FILTERS ON THE POOL AND MADE SURE THAT ALL FUNCTIONS WORKED PROPERLY I BRIEFED LIZ ON THE REMOTE CONTROL AND ITS USE FOR THE SPA. WE HAD TO RESET THE BREAKERS TO GAIN COMMUNICATION BACK TO THE REMOTE AND TURNED THE SPA ON. AGAIN IF THERE IS NO FLOW THEN THE HEATERS AND PUMPS WILL SHUT OFF THEREFORE CAUSING THE POOL AND SPA TO COOL.
Holy shit! You know things are serious when ODCS sends "Team 3" out on a job. They probably drive a black van, wear camouflage and have names like Fox, Mad Dog and Wildcat. Except for the smart-alecky guy. They probably call him Jazz or something.
In fact, don't you wish you could have been there when the leader of Team 3 briefed Liz on the remote control and its use for the hot tub? I bet it would have gone something like this:
Liz: "Do I hit AUX?"
Wildcat: "No, you have to move that switch over to HOT TUB 1 first."
Liz: "Oh, okay. Now what?"
Wildcat: "Hit input twice, then turn the dial to TEMP."
Liz: "Seems easy enough. Can you explain this to Christina?"
Wildcat: "We're leaving that task up to Jazz."
Jazz: "I taught Special Ed in the 1990s…"
Anyway, that's the last work order that was sent to us regarding the pool and hot tub temperature. What a relief. I really want our Governor and her family to enjoy the hot and steamy luxuries that are paid for in part by Oklahoma taxpayers. In fact, how much did all this cost? Let's take a look!
-
According to some credit card notes and receipts sent to us by the mole, ODCS spent $3,255 in pool maintenance costs from February – June of 2011. Mind you, that only includes the credit card expenditures that were leaked to us. It doesn't take into account the time spent by ODSC employees to turn up the temperature on the hot tub or any associated energy costs. According to this website, it would cost approximately $1,200 to heat a pool to 82-degrees from April –October in Dallas. Considering we have a cooler climate – and that the Governor's pool was set to 102-degrees – you would think our energy costs would be higher.
Anyway, here's an outline of the expenses we know about. We probably could have filed an open records request to see if there were any other fees or costs associated to the pool or hot tub, but that would have been boring:
2/23/2011:  Blue Spa Cover - $1,445
3/8/2011: Salt Test - Algae Bomb - $224.68
4/19/2011: Salt Generator - $850.00
4/28/2011: Decorative Pond Plumbing - $103.84
5/31/2011: Alg Ban II - $173.22
6/13/2011: PH Sensor - $259.00
6/28/2011: Track / Wheel Bearing - $199.94
We probably should have linked to the expense reports and receipts for these items, but they contain credit card numbers and stuff like that in them, but trust us, they are real.
-
Final Thoughts   
In the whole scheme of things, the costs associated with the maintaining the pool isn't that big of a deal. Sure, $3,255 is a good chunk of change and could go a long way for an Oklahoma family, but in relation to a multi-billion state budget it's pretty insignificant.
However, its irritating that while the average Oklahoman was cutting back and trying to recover from the Great Recession, our state's Chief Executive Officer was busy worrying about the temperature in her swimming pool and the size of a hot tub cover. If that doesn't show how out of touch she is with the average Oklahoman, I'm not sure what does…other than her constant need to vacation out-of-state.
I guess that's what bothers me the most. The damn hypocrisy of it all. Here we have a Governor who doesn't have an original thought in her head and regurgitates all the Fox News talking points about eliminating government waste and phasing out entitlement programs, yet as an elected official she goes out and contributes to the very things she is allegedly against. The only difference is that instead of using tax dollars to put food on her table or gas in her car, she makes sure that her pool is comfy, warm and a sweltering 104-degrees. Must be nice, huh?
Stay in touch
Sign up for our free newsletter