OKC Media
Attention Ladies: The Oklahoman has hired new energy reporters
10:28 AM EDT on March 22, 2012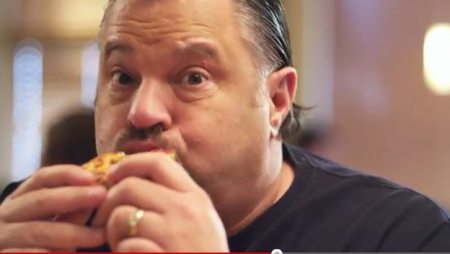 Our loyal legion of female fans sometimes get a little frustrated with our unbalanced coverage of hotness. They point to pictures of hot news chicks, porn stars and even scantily clad college girls and scream "Where are the pictures of hunky men?! Where are those six-pack abs and muscly arms?! Where's Kelly Ogle taking off his shirt and drinking a Diet Coke at a construction site?!"
Well, ladies, today is your lucky day. Stop your complaining and meet the reporters who will be manning the new energy beat for The Oklahoman. They are hot and they mean business!
OK, I was kidding...I think. I'm a heterosexual man so I'm not sure if these dudes are hot or not. Maybe they are if you're into guys who look like they are about to greet you as you walk into the showroom of Knippelmier Chevrolet or Mathis Brothers. And the guy on the left doesn't seem to have a neck. Marissa is totally into guys without necks.
Anyway, maybe I should focus on an interesting angle to the this story of hotness. The Oklahoma has created an energy beat! Hooray! From the totally free NewsOK.com:
Renewed focus on domestic energy production in the United States is expected to spur significant growth in the industry.
And with continuous growth of Oklahoma-based companies in recent years, The Oklahoman has decided to expand its energy reporting to provide deeper and more insightful coverage of one of the state's largest industries, and has hired two more writers for the beat.
Adam Wilmoth, a former energy writer on the Business desk, returns as Energy Editor after working in public relations for the past four years. Wilmoth, 32, holds a master's degree in business administration from Oklahoma State University and a bachelor's degree in journalism from the University of Oklahoma. He's also a graduate of Leadership Oklahoma City's young professionals program, LOYAL — Linking Oklahoma City's Young Adult Leaders.
Paul Monies, 36, former database editor at The Oklahoman, has returned after a short stint with USA Today in the Washington, D.C., area. He graduated from Stephen F. Austin State University in Nacogdoches, Texas, and has a master's degree from the University of Missouri School of Journalism.
Jay F. Marks, 38, has been covering Oklahoma news since graduating from Oklahoma State University in 1996. He worked in Sulphur and Enid before joining The Oklahoman in 2005 and has been handling the energy beat since 2009....
The expanded energy team will be able to cover the industry in a way that hasn't been possible before. Reporters will dig deeper into the industry players and issues that affect so much of the state's economy, history and future. They'll cover the issues and trends that affect the industry, the state and the country and do more in-depth features and profiles on companies.
Let's give credit where credit is due. I've been very critical of our local media, especially the Oklahoman, for they're lack of balanced coverage and reporting when it comes to the energy industry in Oklahoma. It seems like any story about Chesapeake or Devon or Whoever is written by a PR firm and just focuses on all the amazing things the industry has done for the state and it's people. It's like a natural gas well could blow up in Durant and the focus on the story in the Oklahoman would be about how many new jobs the cleanup project would create. You never read local investigative stories about Chesapeake having cash issues or fracking not being everything it is (now get ready for this) fracked up to be. So on that note, the Oklahoman expanding its energy beat could be good thing.
But...did they really just hire a local PR flack to be their energy editor? That would be like the Oklahoman hiring someone from the OU Sports Information Office to replace Travis Haney. How objective can this guy really be? I'm not sure if his former employer has an energy clients, but to make a good living in PR in this state you better drink the fracking fluid that the energy sector dishes out on a daily basis.
Anyway, I guess we'll have to wait and see if the expanded coverage will translate into better coverage. Will Adam Wilmoth look into the books of one of our city's largest and most prominent employers and let us know how strong (or shaky) there foundation is?  Or will he just update us on when the newest On Cue Express CNG filling station opens? I guess time will tell.
Meanwhile, enjoy the hotness, ladies.
Stay in touch
Sign up for our free newsletter