Everything Else
The pros and cons of the Thunder signing Derek Fisher
7:00 AM EDT on March 21, 2012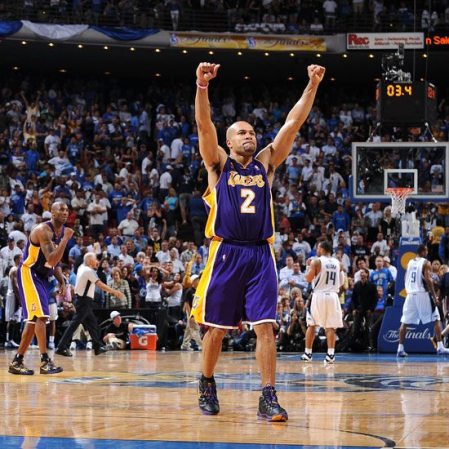 (Note: About an hour after I finished writing this, Marc Stein at ESPN reported that the Thunder were the destination for Derek Fisher assuming he clears waivers at 6:00 pm today.)
Just two weeks ago, I wrote about how the Thunder roster was too good to be tinkered with at the NBA trade deadline. As I expected, Thunder GM Sam Presti took my advice and sat the deadline out. Now, I am making the opposite argument. The team needs to make a move.
That move is Derek Fisher.
While the Thunder sat on their hands, the Lakers make a flurry of roster changes. One trade was to bring in Cleveland guard Ramon Sessions, and a second was to ship out their previous starter to the Houston Rockets. Derek Fisher had been the Lakers starting point guard for most of the past fifteen years. He was the guy running the show when Shaq and Kobe were winning back-to-back-to-back championships and after a three year hiatus when the team was at it's worst, he returned to help them win back-to-back championships. Now, the suddenly budget conscious team in Los Angeles shipped him off to save $7 million in luxury tax.
Now in the twilight of a long career as a valuable role player, Fisher was less than enthused at the prospect of finishing out his career with a borderline lottery team in Houston, refused to report after the trade, and was bought out of his contract in order to become a free agent. Assuming he clears waivers today, he will be free to sign with whomever he wants. I hope he wants to sign with Oklahoma City.
My opinion is not universally accepted. Royce Young, of CBS Sports and Daily Thunder is certainly hedging on the possibility of bringing in the veteran with as much championship pedigree as Kobe Bryant. Meanwhile, fans calling into the Sports Animal or leaving comments on the internet are downright opposed to the possibility. To help you make up your own mind, here is a pro/con list:
Con: Fisher is old as dirt
Ordinarily, a thirty-seven year old point guard is generally a coach somewhere. Big men sometimes have extended careers because their size can make up for the deterioration of athletic ability, but guards who lose a step are out of the league. Fisher has certainly seen better days and can no longer keep in front of ultra-athletic guards like Russell Westbrook.
Pro: Fisher is old as dirt
The trend has changed though with aging floor generals playing long past when one would think they should be put out to pasture. Steve Nash, 38, is still one of the best in the league and the starting point guard for last year's NBA champs was Jason Kidd who will be 39 on Friday. Fisher was never as good as either of those players, but his longevity is for exactly the same reason.
A player with fifteen years of experience has something those ultra-athletic guards will never have until they are no longer ultra-athletic: Experience. Wisdom. What Fisher lacks in explosiveness, he brings to the table leadership and knowledge culled together during seven trips to the NBA Finals that resulted in him earning five championship rings
Con: The Thunder roster is full
At the moment, the Thunder have fifteen roster spots that are all occupied. In order to sign a free agent, someone would have to be cut. The most likely candidates to be given their walking papers would be rookie Ryan Reid or current Tulsa 66er Lazar Heyward.
I know the organization likes both of those players a great deal and would hate to see them go, but honestly, what are they going to bring to the table as the team makes a run at the NBA title? If either of those guys are playing anything other than garbage time minutes, it is doubtful the Thunder have much hope of getting a ring.
Meanwhile, one of those players is bound to be cut after the season, anyway. Oklahoma City has a first round draft pick in this Summer's draft and there are no players worthy of stashing overseas likely to be available. That means a sixteenth player is going to receive a guaranteed contract for next season. So, the question comes down to who would provide the team the most value now.
Pro: The team needs someone to fill the role Eric Maynor played last season
Since Eric Maynor was lost for the season to a horrendous knee injury, the Thunder have lacked a point guard who could change the pace. Russell Westbrook, the starter, has only one speed, and that is fast. When he has the ball, he is going to go as quickly as he can to the basket and if his teammates fail to follow, he's going to take the shot himself.
That works pretty well considering that (with the exception of Kendrick Perkins) the starters are all quick players who thrive in that style. The second string is less reliant on speed, but Reggie Jackson (the current back up) is a less-experienced version of Westbrook. He really struggles to slow down, almost playing too slow because he is forcing it.
Fisher is basically Eric Maynor ten years from now. He thrives in the half court, he hits open shots, and he runs the offense.
Con: Fisher takes away from Reggie Jackson's development
Count me as one of the people who believes that Reggie Jackson will eventually be a really good guard in the NBA. On the other hand, count me as one of the people who doesn't believe that Jackson belongs on the floor for a title contender.
Whenever Jackson is called upon to handle the basketball, a task asked of a point guard fairly often, defenses go into attack mode knowing that he is not confident dribbling the ball. It completely takes the team out of rhythm when he is flustered before the play even begins.
Sure, the best way for him to improve is to be given playing time. Sure, Fisher's presence means Jackson probably gets that playing time in the Developmental League instead of honing his trade against the best. I say, so be it. Jackson was not expected to play at all this year had Maynor stayed healthy, and risking a potential title to get some extra game time for a player who will be, at best, Russell Westbrook's back up for the duration of his stay in OKC, makes little sense.
Pro: Signing Fisher keeps him from signing somewhere else
Fisher is one of those guys you hate playing against. He draws charges like Nick Collison. He drains dagger three point shots. He never makes mistakes. While he is not the guy opposing teams game plan against, he is definitely someone who makes the team he plays for better.
If the Thunder either pass on signing Fisher or he chooses not to play for OKC, the most likely destination is San Antonio (the second best record in the Western Conference) or Miami (the favorite to make the Finals from the East). That means if he is not helping the Thunder get a ring, he will more than likely be actively working against the Thunder getting a ring.
Con: Signing him may cost
To get out of his contract with Houston, Fisher gave up the $3.5 million he would have been owed next season. He will want to re-coup some of that. With all of the teams pursuing him having good title aspirations, money may be the deciding factor. Oklahoma City can offer him the most this season since they never used their "mid level exception," but Miami or San Antonio could sweeten their offer by giving him a guarantee for next season. Due to the roster size crunch I mentioned earlier, the Thunder would probably hesistate to match such an offer.
Summary:
Is Derek Fisher an elite defender? No. He can't guard Russell Westbrook or Tony Parker (like anyone can). The good news is he won't be guarding those guys, except maybe Westbrook during practice. On the Thunder, the role asked of him will be to lead the second team and perhaps play some crunch time minutes if the team is playing small. That's it.
The role of point guard is often underestimated. People look at their statistics and if the assist numbers are not astronomical and the point numbers are mundane, they assume the guy is not contributing. That should not be the case. With a guy like Derek Fisher, the statistic that matters is wins and losses. What he brings to the team is poised leadership and veteran knowledge.
In this case, his veteran knowledge is flavored with five championship runs. Having him in the lockerroom--and make no mistake, Fisher is exactly the kind of character guy the team covets--is like having another coach and scout involved. He has experience playing against anyone the Thunder might face in the postseason from playing them when stakes were at the highest. Unlike rookie whose minutes he would supplant, everyone can be confident that Fisher will not shrink from whatever the moment may ask of him.
Oklahoma City needs Derek Fisher. Unless he signs with Miami...then he's a bum.
Clark Matthews is a world-class checkers champion, co-founder, and basketball editor-emeritus of The Lost Ogle
Read More:
Stay in touch
Sign up for our free newsletter