Everything Else
Meet Oklahoma City's biggest fun hater
1:11 PM EDT on October 26, 2011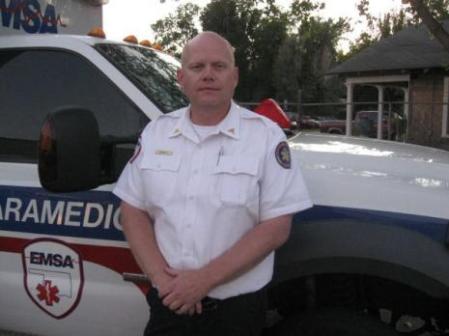 On Monday, some Oklahoma City motorists driving down I-40 were treated to an a nice surprise when a random money bag exploded and sent nearly $30,000 in cash flying through the air. Alert motorists quickly stopped their cars and scrambled to pocket an early Christmas bonuses. That is until the fun hater pictured above, Shawn Altebaumer, came to the scene.
Shawn Altebaumer thought a wreck Monday had people slamming on brakes, getting out of cars and scattering across an interstate highway in Oklahoma City.
But the Emergency Medical Services Authority paramedic quickly realized what was causing the commotion — an open bank bag spewing money. People were ditching their vehicles and scampering to collect the spilled bundles and loose bills, some of which had gone airborne.
"Somebody just lost a lot of money in the road. There were just bundles of money that people were grabbing," Altebaumer said.
About 2:45 p.m., vehicles were stopped in both directions of Interstate 40 at Meridian Avenue, and people were running up the embankment trying to grab the bills, Altebaumer said.
"Man, it was nuts. It was a free for all," he said. "There was literally money flying. People would pick it up, tuck it and just run."
Altebaumer said that's when they turned on the ambulance lights, parked next to the barrier and called the Oklahoma Highway Patrol.
He saw the bank bag a little farther along the barrier, grabbed it and was waiting for troopers to arrive when the ambulance was dispatched to an emergency call.
"I guess the bag hit the road and it just exploded," Altebaumer said. "We were so scared people were about to get hit or of a car pileup or something," he said.
Man, what a fun hater. If somebody wants to risk their life to collect a couple hundred dollars so they can pay the electric bill, buy groceries for their kids or just have a wild night a strip club, let them do it. Seriously, who is this guy to play God? Just do your job as a paramedic and help the old people who fell down in the bath tub or the fat lady who's having shortness of breath at Wal-Mart. Leave the law-abiding money scavenger cities alone.
That being sad, we must have some pretty stupid money scavengers in Oklahoma City. If I'm driving down the highway and see $100-bills floating through the air, the first thing I'm going to do — after slamming on my breaks, jumping out of the car and grabbing everything green in site — is look for the source of the money. As they say, money doesn't grow on trees. It has to be spewing from somewhere. It's kind of sad that a heroic fun-hating paramedic who probably notified his middle school history teacher when other students were cheating on a test and cockblocked his buddy's attempt to hook up with drunk unhappily married girl at a bar was the only person alert enough to grab the source of the cash.
What is also sad is that it looks like Altebaumer's chivalrous deed may have been pointless. Sure, maybe he saved a dumb person's life or two, but as of today the money still hasn't been claimed. That means one of three things.
1. The person who lost the money doesn't really want to explain to the police or FEDs or IRS why he or she happened to lose $30,000.
2. The bag of money fell out from the back of Bob Funk's King Ranch pickup and he still hasn't noticed.
3. Some really cool and bored rich person wanted to see what stupid people would do if he exploded a bag of money on the highway. I would guess that rich person would probably be Aubrey McClendon. Let's hope he does it again.
Stay in touch
Sign up for our free newsletter