Everything Else
The 10 worst losses of the Bob Stoops era…
4:00 AM EDT on October 24, 2011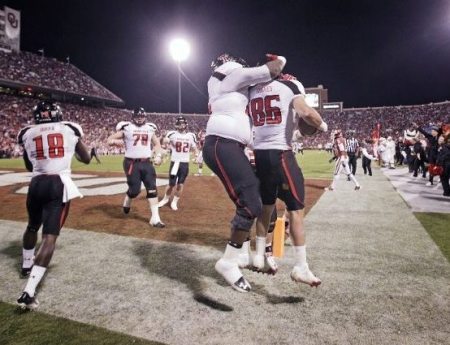 As you probably know, the University of Oklahoma football team was embarrassed by Texas Tech Saturday night (and Sunday morning) in Norman. The defeat may go down as the most unexpected loss Stoops has suffered since he took the reins of the program back in 1999. This is because:
A) OU was a 29 point favorite
B) The loss snapped a 39 game home winning streak, and
C) Texas Tech just scored again
Anyway, where does this loss compare with the other defeats from the Stoops era? We take a look after the jump.
Also, since Bob Stoops has transformed from the unpredictable (and lucky) riverboat gambler into the college football equivalent of Andy Reid or Marty Schottenheimer, I included a brief #StoopsFail of the Game with each recap.
10. September 3, 2005: TCU 17, OU 10
If I wrote this post on September 4, 2005, there's a good chance it would have made the top three. In hindsight, this loss wasn't all that bad. Sure, OU was heavy favorite and ranked in the top 10, but they were a bad football team at the start of 2005 and TCU turned out to be underrated and pretty good. In fact, the Horned Frogs finished the season with an 11 -1 record and ranked number 14 in the AP poll. That being said, OU should lose to a non-BCS school at home about as often as an attractive girl dances at Sugers, which is never.
#StoopsFail of the Game: There's not a defining call in this game that sticks out, but what would have happened if OU stuck with Paul Thompson for this game and the 2005 season. The guy was good enough to win a Big 12 championship the next year. He could have led them back against TCU, right? OK, probably not, but it's still worth asking.
-
9. January 8, 2009:  Florida 24 - OU 14 (BCS Championship Game)
Even though the opponent and final score makes this loss seem respectable, this game is the biggest blown opportunity of the Stoops era. OU totally controlled the first half, but went into the locker room tied 7-7 after failing to convert twice inside Florida's ten yard line. With no momentum on their side, OU struggled though the second half and scored only seven more points despite having one of the most explosive offenses in NCAA history.
#StoopsFail of the Game: Hard to pick just one. Stoops should have taken points when they were inside Florida's 10-yard-line, but what really sticks out is when he sent Frodo Stevens to attempt a 40+ yard field goal in the second half with the game still on the line. Bob Stoops was the only person with an Oklahoma zip code that seriously thought Stevens would make that kick.
-
8. September 29th, 2007: Colorado 27 - Oklahoma 24
If the Florida loss was the biggest blown opportunity of the Stoops era, this is the biggest blown game. OU was unbeaten, ranked third in the country and led the hapless Buffalos 24 - 7 in the third quarter when the Sooners decided to switch the Gatorade coolers for shiny kegs of Rocky Mountain fresh Coors Light. What resulted was one of the biggest meltdowns in Sooners history and a 27 - 24 loss.
#StoopsFail of the Game: OU had one timeout left as Colorado lined up for a game winning 45-yard-field goal. When the game ended, OU still had one timeout left because Stoops didn't use it to ice the kicker.
-
7. November 30, 2002: Oklahoma State 38 - Oklahoma 28
I've pretty much eliminated this game from my memory. I think OSU scored a lot during the first 55 minutes of the game, and then OU scored a lot during the last five minutes.
#StoopsFail of the Game: Failing to realize that OSU had a player named Rashaun Woods on the roster.
-
6. January 2nd, 2008: West Virginia 48, Oklahoma 28
This was supposed to be the BCS game that OU took seriously. The one where Stoops showed the world that "Big Game" Bob was back. Instead, people left the Fiesta Bowl wondering if "Big Game" Bob was nothing but an early-aughts fluke as OU gave up 349 yards rushing and 48 points against an out-manned Mountaineer squad
#StoopsFail of the Game: Let's just quote the AP recap:
"OU trailed 20-6 at halftime. But the Sooners cut it to 20-15 on Chris Brown's 1-yard run midway through the third quarter.
Then Stoops made two curious calls. First, he decided to go for two points. But Bradford's pass fell incomplete.
Then Stoops ordered an onside kick. The ball didn't go 10 yards, and West Virginia took over on OU's 39."
When the AP recap calls your decision-making "curious," they really mean "questionable, arrogant and idiotic."
-
5. January 1, 2007: Boise St. 43 - Oklahoma 42
To this day, I still break out into cold sweats ever time I hear Thom Brennaman yell "The Lateral!" I assume these episodes will continue until OU wins a national championship or Boise, Idaho is destroyed in a fiery inferno.
Anyway, even though this was one of those fluky "wrong side of history" games that puts OU in the same league as 85' Georgetown, 94' & 07' Michigan and the Soviet hockey team, it's still a terrible loss. OU had talented players who ran fast and jumped high. Boise St. had players that belonged on the set of Sons of Anarchy.
#StoopsFail of the Game: I don't know, maybe tell your defense to watch out for trick fucking flag football plays.
-
4.  December 6, 2003: Kansas St. 35 - Oklahoma 7
Even though OU still played for the National Championship during the 2003 season and nearly gutted out a tough road victory against LSU in the Sugar Bowl, this game deserves a high ranking. For one, it gave an eerie premonition as to what OU's defense would be like under the "leadership" of Greg Davis Brent Venables. Two, it marked the official end of "Big Game" Bob era.
#StoopsFail of the Game: I was so drunk by the end of this game I honestly don't remember a signature #StoopsFail moment, yet I do remember Kejuan Jones — perhaps the worst running back to ever receive significant minutes in the history of OU football — scoring the game's opening touchdown on a long run. We all should have known something weird was about to happen.
-
3. October 22, 2011: Texas Tech 41 - Oklahoma 38
Since OU was a 29-point favorite, had the home field advantage and was totally shocked by the Red Raiders, this game currently holds down the number three spot. However, if we revisit this list in a few years, this game may suffer the same fate as the 2005 TCU game. Maybe OU's just not that good. For example...
• Their signature wins against Florida State and Texas don't look near as good as they did earlier in the year.
• Landry Jones looks more like a solid system QB than a superstar Heisman trophy contender.
• Greg Davis Brent Venables is still the Defensive Coordinator
#StoopsFail of the Game: Making every OU fan have flashbacks to 1996 - 1998.
-
2. November 24, 2001: Oklahoma State 16 - Oklahoma 13
I think this is the most shocking loss of the Bob Stoops era. Granted, the offense was horrific that year, but I think it's one of the best CFB defenses I've ever seen. Fortunately, there are not any good YouTube clips of the game, so I just posted a video from my girlfriend's recent photoshoot.
#StoopsFail of the Game: This game took place nearly 10 years ago, so it was before Bob Stoops became the Andy Reid of college football. In other news, we are all old.
-
1. January 4th, 2005: USC 55, Oklahoma 19
I was depressed for a week after this game. I still can barely stomach watching any highlights, and I still haven't forgiven Mark Bradley (and Lance Mitchell) for allegedly taking money from Chicago gangsters and Somalian drug lords and throwing the game.
If the 2004 Sooners played the 2004 Trojans ten times, USC may win them all, but OU served this one up on a golden platter complete with Black Angus filets and blow jobs. USC was great but not that great. OU was great but not that bad. As I said, it still makes me sick to think about it.
#StoopsFail of the Game: Stoops really didn't have a chance to make many blunders for this game. His players and coaching staff took care of that for him.
-
Anyway, that's the Top 10. Agree? Disagree? Care less?  Let us know in the comments.
Stay in touch
Sign up for our free newsletter