Everything Else
The Real World is having a casting call in Oklahoma City…
11:30 AM EDT on October 18, 2011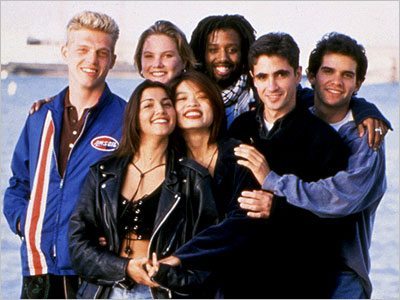 Remember that TV show called The Real World? It was one of the first reality shows to become popular and featured the "true story of eight strangers picked to live in a house, work together, and have their lives taped to find out what happens when people stop being polite and start getting real."
Yeah, I don't remember that show either. From what I recall, The Real World was a show that took eight attractive people, moved them into a big cool house, and then let them live a drunken rock star lifestyle as long as they showed up for a boring volunteer job each day.
Anyway, The Real World is having a casting call at Hooters on Northwest Expressway this Wednesday. From the NewsOK.com entertainment blog:
Casting directors from Bunim/Murray Productions, creators of the MTV reality series "The Real World," will be holding an open casting call from 11 a.m. to 6 p.m. at Hooters, 3025 NW Expressway, in Oklahoma City, Wednesday, Oct. 19.
Applicants, who must be 20 years of age or older (and appear to be between the ages of 20 and 24) for the casting for Season 27 of the show are asked to bring a picture of themselves (which will not be returned) and photo identification, according to a news release.
Casting directors are looking for anyone with a great personality and a willingness to share their life with the world, as well as people with surprising and unusual life stories that have yet to be told on television.
First of all, when is the last time somebody over the age of 16 watched this show? It's gone downhill ever since the third season when that Puck dude was evicted from the house for trying to kill Gay Pedro with a toothpick and electrical wire. Or was that a weird MacGyver episode? I can't remember.
Anyway, if you are at least 20 and want to live in a cool house rent free and embarrass yourself in front of a bunch of 17-year-old kids on national TV, I have some casting call tips for you. Here they are:
1. Wear a cowboy hat and talk with a thick country accent. If you are from Oklahoma and want to be on any reality show, your best bet is to come across as a right-wing stuck-in-your-ways redneck cowboy. That's usually the stereotype producers go for when they cast someone from the Sooner state.
2. If you're a dude, say you are gay. If you are female, say you are bisexual. The one thing reality show producers love more than a cowboy is a gay cowboy. The internal conflicts that come from this clash of stereotypes easily gives them two episodes worth of material, especially if you haven't come out of the closet. And if you're a girl, tell them you're bisexual. Everyone, including reality show producers, loves bisexual girls.
3. Tell them you are Native American. Thanks to Oklahoma's strong tribal presence (and minute long commercials about astronauts, classical music composers and water rights), we are very well-educated on Native American culture, people and history. That's not the case for the rest of the country. Since reality shows like The Real World like to tear down and attack racial stereotypes, you could probably improve your chances of making the show by telling them you are 1/16th Cherokee or something.
4. Talk about your love for Baby Jesus. The only thing Oklahomans loves more than Baby Jesus is natural gas and football. During the casting call, talk about how religious you are and how your parents would not approve of you living in a big house with a bunch of social deviants.
5. Have washboard abs and/or large breasts.  This is obvious but worth mentioning. Outside of The Biggest Loser — which I think has featured more Oklahomans than all other reality shows combined — you generally need to be in tip-top shape and physically attractive to be cast on the show.
6. Claim to be from some other state. If you're none of the things listed above, just claim to be from somewhere else. That was the plan for Harrah native and X-Factor favorite Brennin Hunt. He claims to be from Nashville and allegedly goes out of his way to make sure you don't associate him with anything from Oklahoma.
Or at least that's what I've heard. Since I have normal intelligence and enjoy my life, I don't watch X-Factor. I'd rather read the 50 greatest articles of Jenni Carlson's career than watch that crap.
Stay in touch
Sign up for our free newsletter