OKC Media
Jim Gardner is moving to Channel 9
1:00 PM EDT on July 28, 2011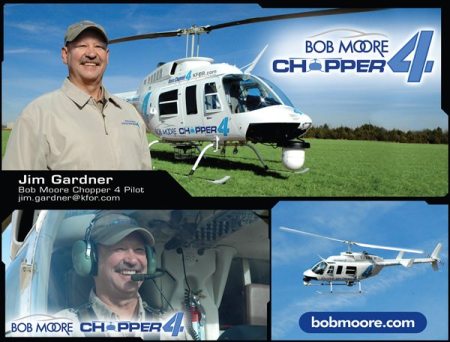 Well, it looks like some helicopter drama is unfolding over the Oklahoma City metro.
We have learned that Bob Moore Chopper 4 pilot Jim Gardner will be leaving Channel 4 to take over the piloting duties for Channel 9. Gardner will replace Mason Dunn who was released from his chopper duties in June.
Here's an email sent by Channel 9's Todd Spessard to employees earlier today:
From: "Spessard, Todd"
Date: July 28, 2011 10:31:58 AM CDT
To: Griffin Communications - All Staff
Subject: SkyNews 9 HD Pilot Announcement
Hello all, I'm pleased and excited to let you know that Jim Gardner will be joining Oklahoma's Own News 9 as the full time pilot of SkyNews 9 HD.   Jim will bring more than 25  years of experience to News 9 and has won numerous Emmy Awards for his piloting and reporting including his coverage of the May 3rd 1999 Tornados and 2003 Oklahoma City Tornados.  Jim got his start in California working in film and photo work and then became the morning pilot for KCAL where he covered numerous stories including the LA riots, earthquakes, wild fires, flooding, mudslides and the O.J. Simpson chase.
Jim and I have had several conversations over the past few weeks and I can tell you that he is very excited to make the move.  Jim will make a great addition to our team.  Jim is currently under contract with KFOR—so his start date with us is TBA.  In the meantime, we have an active plan to make sure we are covered when it comes to flying. Thanks—and holler with questions.
Cheers,Todd
Todd Spessard
Director, PM Content
Also, here's a snippet of an email sent to News 9 advertisers by an advertising account executive for Channel 9. It shows how News 9 is already spinning the situation to the people who really matter ... their advertisers:
You may have noticed that our helicopter has been grounded for a short time. We are really happy about hiring this new pilot who already has a great reputation in the Oklahoma City Market, and brings with him the best experience a pilot can have, when it comes to covering news stories. This will translate to higher viewership, higher ratings, more people watching our news. We are proud to acquire the best news helicopter pilot in the country, and we will have him on board shortly.
We'll have more on this story later, but here are some quick questions:
• Are there any legal ramifications to this? For example, is Channel 9 allowed to negotiate with someone who is under contract with a local competitor?
• What are the odds that Mason Dunn replaces Jim Gardener at Channel 4?
• What does Gary England think about this?
Let us know in the comments.
Stay in touch
Sign up for our free newsletter