Politics
Here's video of Christina Fallin's weird photoshoot at the Governor's Mansion…
2:36 PM EDT on July 13, 2011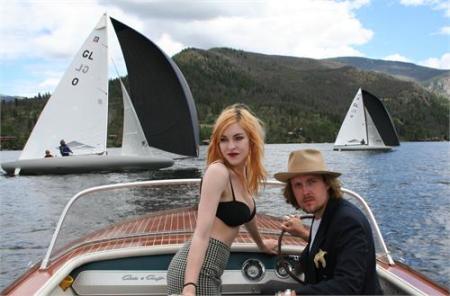 Christina Fallin is having a good summer.
Back in June, she married her hipster love at a romantic wedding ceremony in Ireland. Now she has been honored with the title of "August Girl of the Month" for some magazine called Douche Bag Twenty Something.
Of course, to accompany this prestigious accolade by a four-month old publication that no one has heard of, Christina posed for a photoshoot at the Governor's Mansion. The magazine posted a video montage of the shoot on YouTube. Oops.
From the Tulsa World:
OKLAHOMA CITY - Gov. Mary Fallin did not give advance approval for a photo shoot involving her adult daughter, Christina Fallin, at the Governor's Mansion, her office said Tuesday.
A video of the photo shoot, which was posted online but was removed Tuesday, shows Christina Fallin, 24, in fashionable attire, including some revealing outfits.
"The governor was not at the mansion during the photo shoot, nor was she or any member of her staff asked to approve the photo shoot on mansion grounds or informed of the details," said Alex Weintz, a spokesman for the governor.
"Photo shoots and press events at the mansion are generally cleared on a case-by-case basis by the governor's press office. This one fell outside of the normal operating procedure."
A situation such as this photo shoot has never come up before, Weintz said, adding that a policy is not in place for members of the governor's family who have access to the mansion.
Weintz said the Governor's Office and Christina Fallin hope to work more closely in the future.
Asked whether the photo shoot would have been approved had the governor's daughter sought permission, Weintz responded that that "is water under the bridge at this point." ...
Christina Fallin declined a request for an interview and issued a statement through the Governor's Office.
"I am thrilled to have been chosen as the August girl for Twenty Something Magazine," she said.
A representative of the publication declined a request for a telephone interview. The publication refused a Tulsa World request to show the video but submitted a photo from the event.
Dang, it sure is a shame that Twenty Something had to pull that video from the Internet. That means we'll just have to post it instead.  Check out it below:
In all honesty, the video is more accidentally-funny and bad than it is lurid or risqué. In fact, the video is kind of confusing. My eyes are telling me I'm watching something by Marilyn Manson, yet the totally hip MGMT remix and weird editing makes think I'm watching an Urban Outfitters commercial.
All that being said, I guess it's still a bit controversial when the daughter of a socially conservative Republican governor poses for an eccentric photo shoot at our Governor's Mansion while wearing platform heels, skin-tight leather pants and see-through clothing. I mean things like that shouldn't happen at the home of our Governor. They should take place at classier places like N. Lincoln, S. Robinson or W. Reno.
Stay in touch
Sign up for our free newsletter