OKC Media
Expert Panel: Taking a look at the Ed Kelley era
7:00 AM EDT on June 23, 2011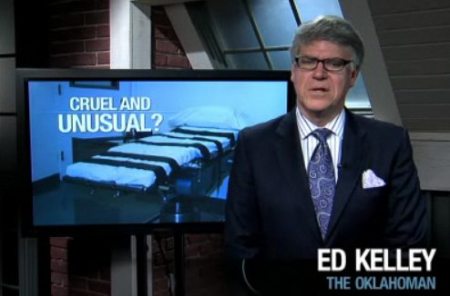 Last week, Oklahoman Editor Ed Kelley announced he is leaving the "state's most trusted news" to take over the editing duties of the Washington Times. This is kind of significant, considering Kelley has been the editor of the Oklahoman since 2003 and was the first person not from the powerful/polarizing Gaylord dynasty family to serve in that role.
During his tenure, Kelley helped navigate through a dynamic (and tumultuous) period in the industry. Internet and social media has radically changed the way news and information is relayed and delivered, while declining circulation and revenues have forced the Black Tower to layoff employees, close child care facilities and reduce their staff.
To get a perspective on Kelley's stint as editor, we emailed to see if he would like to take part in a Q&A. He never replied.
Since we're apparently not good enough to have Ed Kelley even gracefully decline an interview request, we went an alternate route. We emailed a list of questions to a panel of local journalism experts and pundits to get their take on the Ed Kelly era. Our panel of experts includes:
Dr. Joe Foote:  Dean and Chair of the Gaylord College of Journalism and Mass Communication at the University of Oklahoma.
Arnold Hamilton: The editor of the Oklahoma Observer since September 2006 and a 32-year veteran of daily newspapers.  He is a former staff writer for the Dallas Morning News, the San Jose Mercury News, the Dallas Times Herald, the Tulsa Tribune and the Oklahoma Journal.
Dr. Kurt Hochenauer: Professor at the University of Central Oklahoma and publisher of the liberal political blog Okie Funk.
Mike McCarville: Longtime radio broadcaster, 2nd amendment activist and publisher of the conservative political blog The McCarville Report.
I'll be honest with you, this was a fun little project to work on.  The panel members all have diverse and different backgrounds and political views, and it was interesting to see the differences (and similarities) in their answers.
Check it out after the jump:
PS: While working on this piece, OPUBCO announced that Publisher David Thompson will be leaving the paper in August. He will be succeeded by Chris "Wimgo" Reen…more on that later.
-
Kelley has been the editor of the Oklahoman since 2003.  How would you describe or grade the job he's done?  Does anything particularly stand (or stick) out from his time in charge of the newsroom?
Hamilton: A shaky "C." Kelley helped create the perception of a kindler, gentler Oklahoman – no more venomous page one editorials. But he wasn't able to change the culture: The paper still is all about protecting its friends and punishing its enemies, often via decisions on what to publish and where (page one or buried?) and what to ignore. In fact, there is a case to be made that the Oklahoman is worse than ever because it is more sophisticated at concealing its biases. It takes more work than most Oklahoman readers are willing to invest to determine what was edited out of stories (but appeared in other papers or on-line media), what was left out of the Oklahoman altogether but given significant attention in other media, etc.
McCarville: During Kelley's tenure, The Oklahoman has become much more moderate in its news coverage and its editorial positions. Reliably conservative during its history, the newspaper has angered some readers with editorials that to some don't fit that category. Kelley has presided during a time of huge change in the newspaper business. Shrinking revenues and profits, and the resultant employee layoffs, have challenged his leadership. Overall, I give him an "A" for coping with the changes, a "C" for news coverage and a "C" for editorial policy.
Hochenauer: I'll give Ed a "B-"/"C+", which is actually a great improvement from the "F-" I would have graded the editing before his tenure. Ed brought a softened, less ridiculous tone to the editorial page, for example, which is not saying too much because the page is still filled with irrational claims and fallacies.
Foote: I was particularly impressed with the transformation the Oklahoman made to the digital world a couple of years ago.  The top management worked very hard to find the best ideas nationally and created a climate where change could happen rapidly.  In a short time, the Oklahoman became a digital leader in some areas and reinvented itself with minimal dislocation.  That has been the case on a broader plane as well.  The newspaper industry has undergone tremendous upheaval during the past decade, and Ed has had to manage through all of that.  A firm, steady hand on the tiller has benefited the paper greatly.
While it isn't thought to be a high point for the Oklahoman, I thought Ed and the management handled their layoffs as professionally and humanely as they could be handled.  There was far less acrimony than in other news organizations nationally.  It seemed to pain everyone greatly to have to go through this, but the management took the consequences of it very seriously.
As a key member of the Gaylord College's Board of Visitors, Ed has provided excellent advice to me as dean. Because of his keen sense of the national news environment, Ed has been able to draw our attention to initiatives and opportunities that, otherwise, we might have missed. We have also been able to take advantage of Ed's exceptionally good judgment on many occasions when we sought advice.
-
Kelley was the first person outside the Gaylord family to take on this position.  How much of his own mark, if any, did he leave on the paper?
Hamilton: I'd view him as more of a caretaker. He assumed control in an era when newspaper fortunes plunged. Like many others in the industry, it was his misfortune to preside over a series of downsizings that left a shell of a newspaper – often little more than a perfunctory headline service. There are still some excellent reporters there – trying to perform journalism of distinction – but they are spread so thin that it's all but impossible.
McCarville: Quite a bit. If the people he chose to place in key positions remain, his legacy likely will continue. If his replacement has a different philosophy, change will occur again.
Hochenauer: I think very little. Newsok.com is the best achievement of the newspaper in recent years or even the last two decades, and I think people under Ed did most of the difficult work, from the tech stuff to selling the Internet to recalcitrant, conceited journalists. He did set an example through his video editorials, but those came later in his tenure.
Foote: I think Ed made significant contributions in just about every area of the newspaper, especially the opinion/editorial end.  Ed has a special ability to make a big impact without having a big ego attached to his presence.  This quality helped him prosper in a family-run organization.  After Ed's gone, I think we'll see that his impact was far deeper than it appeared superficially.
-
The Oklahoman – and especially the Gaylord family – are well known for their strong right of center political views.  Did you sense any change in its political philosophy (or editorial page) with Kelley in charge?
Hamilton: The editorial page has become somewhat schizophrenic. It's still mostly rightwing, but it's not uncommon for editorials published weeks apart to argue different sides of the same issue. For the most part, it still pumps out ultra-right, John Birch-style, pro-Republican, anti-Democratic drivel – though the approach often is more velvet glove than sledgehammer.
McCarville: Yes. Not so reliably conservative, not so dogmatically Republican. Part of the change can be attributed to the newspaper's younger ownership following Ed Gaylord's death.
Hochenauer: He made the editorial page less mean, but it's still weird and exclusive. Dissenting voices are not allowed on a consistent basis. There's a lot of talent in OKC that's not getting heard, but that's just the way it is here. Obviously, Ed didn't and doesn't care
Foote: I saw a big difference in the editorial stance from the time I left Oklahoma in 1972 and I returned in 2004.  I'm not sure exactly what happened in between.
I meet with Ed regularly, and we often talk about political issues, but it has been remarkable how much we have agreed with each other even though our politics differ significantly.  As a person, Ed is conciliatory and looks for common ground.  His editorial pen is suitably sharp, but it is uncanny how open-minded he is interpersonally and how easy it is for him to communicate with all different types of people.
-
It's safe to say the internet, social media and technology in general has changed the way news is reported and covered since 2003.  How has the Oklahoman adapted to these changes when compared to other outlets?  And how much credit (or blame) should Kelley receive for it?
Hamilton: The Oklahoman clearly sank a ton of money into its on-line operation. It's one of the slickest around. I can't say how involved Kelley was – other than to provide video musings. It's evident that Oklahoman reporters are posting around-the-clock on the web, but a hyper-focus on feeding that beast ends up diminishing the core product. What really distinguishes daily print journalism (or should) is thoroughness, context, nuance and balance. If your primary goal is to post news briefs faster than anyone else, there is little time left to fully investigate important matters or provide sorely-needed perspective.
McCarville: The Oklahoman's movement into the electronic Internet age came early. Others played huge roles in the development of the newspaper's electronic presence, but clearly it came under Kelley's leadership. The use of video is among the best in markets of Oklahoma City's size. The paper's website is the best in the state; compare it to the (lackluster) Tulsa World site, for example, and you'll easily see how good it is.
Hochenauer: I think NewsOK.com is a good site in terms of the density of its information. I think Ed allowed it to happen, but I don't think he "made" it happen.
Foote: I've covered this in my first answer, but anyone who was paying attention would be impressed by the Oklahoman's digital transformation.
-
Any thoughts or suggestions on who the Oklahoman should look to as a replacement?  Do you see this is an outside hire (a.k.a  the Stan Tiner) or do you see them promoting from within?
Hamilton: Given the newspaper's history and current financial climate, my guess is they'll go on the cheap – probably promote from within. But here's a novel idea: How about a journalist of real stature who's given the freedom and resources to upgrade the newspaper – creating a product that not only gives readers real value for their dollars, but also covers Oklahoma fairly and accurately, playing no favorites? Talk about a pipe dream!
McCarville: Good question. Who knows at this point? I sure don't, but given the (unpleasant) experience with Tiner, they may opt to look inside the building.
Hochenauer: I think the Tiner experiment lives in infamy. It takes a special person to get along with the Gaylords and their empire and their family/friend connections, i.e. Clay Bennett and Aubrey McClendon. The Gaylords need someone they can trust. (In full disclosure, I was once married to someone at OPUBCO who might be considered for the post.) Yes, I'm available for the position in case anyone wanted to know.
Foote: The Gaylord family has been aggressively seeking new ideas to lead journalism into the 21st century.  I'm sure they will want someone to carry on that leadership. At the same time, a family-based company always has its own culture and they should seek someone who respects and believes in it.
-
In general, what are your thoughts on the Washington Times?  How does it compare to the Oklahoman?
Hamilton: Totally different situations. The Washington Times isn't irrelevant, but it publishes in near oblivion – except for a certain (usually rightwing) beltway audience. As the state's largest daily, the Oklahoman is a must-read – even if it drives your blood pressure off the charts.
McCarville: The Times prospers despite its early reputation as "that Moon paper." It is pretty reliably conservative and Republican in its coverage and editorial policy, and thus, is pretty similar to The Oklahoman. Its scope of coverage, of course, is far different and Kelley's challenge is going to be dealing with a much broader picture. I suspect he'll have no difficulty doing so.
Hochenauer: The Washington Times is weird, very weird. Look at its opinion page. It's a cliché-ridden, stinky pile of conservative, pussel-gutted compost. (Pussel-gutted? Look it up.) Yes, I know The Oklahoman has its weirdness, too, but, you know, it reflects the views of a particular segment of lost, religious folks wandering aimlessly on the prairie. I think the Washington Times—I refuse to call it "The Times" for obvious reasons—reflects the travesty and vileness of unthinking. It's an attack on critical inquiry, the scientific method and basic reasoning.
Foote: It would be difficult to compare any paper in America to the Washington Times. It is extraordinary nowadays to see two newspaper towns, but Washington will always want the two main political bases covered.  The Times provides that bookend and has been able to move into niches where the Post is considered weak.  Keeping the Times going will always be a precarious challenge, but the city can't afford to live without it either.  The environment certainly will be different from a market where one newspaper has dominated for generations.
-
Is this a risky move by Kelley?  And outside of the cookie cutter statements like "Looking for a new challenge" or "Being closer to family," do you think there are other motives or reasons for him taking this position?
Hamilton: I have no inside information that would shed light on his reasons for departing, but I don't see it as a risky move. Which is worse for your professional reputation: if you captain America's worst newspaper (as judged by Columbia Journalism Review) or an openly rightwing DC daily owned by Moonie interests?
McCarville: Check his bank accounts in a few months. I suspect they'll swell substantially. That's usually the key reason someone seeks "a new challenge." It's also a step up in market size and despite your opinion of The Times, it is a major newspaper in (arguably) the most important market in the country.
Hochenauer: It's got to be the money, right? He's 58 and has worked at The Oklahoman since 1974. Does he really want to get out of Oklahoma that bad? It could be family reasons, but where's the job security at a newspaper that has never ever made a profit. Surely, he has a contract, and he's making the big bucks.
Foote: It's a real tribute to Ed that he wants to make this leap, but it's an ideal time for him with his children all grown and with two of them living in Washington.  I think that Ed will love that balance in his life of charging into a major professional challenge while having his family close by.  Plus, Ed knows and understands Washington.  I can't imagine him wandering off to any other place at this point in his career and not having a family bonus in the deal.
-
Which is more likely in five years?  Ed Kelley is the editor of the Washington Times or Ed Kelley is back with the Oklahoman in some capacity?
Hamilton: The better question may be: Will the Washington Times be in business in five years? I think the Oklahoman will be. If the Times doesn't survive – or if Kelley doesn't succeed there – I'd bet he's still in Washington … perhaps not even in journalism.
McCarville: Barring a major disagreement with management, I see Kelley there for at least five years.
Hochenauer: I don't see Ed still editor at The Washington Times in five years. Maybe he'll come back, but maybe he'll go to work for a new Sarah Palin publication or whatever. You betcha selling out will be part of the deal.
Foote: Everyone who goes to Washington has an exit strategy.
-
Anyway, those are the answers.  What are your thoughts on Kelley's departure?  What do you think about his influence?  Do you like fashion models in exquisite lingerie?  Let us know in the comments.
Stay in touch
Sign up for our free newsletter