Everything Else
The Russell Westbrook Experience
8:21 PM EDT on April 27, 2011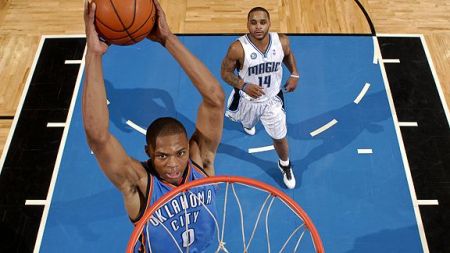 I come not to bury Russell Westbrook, but to praise him.
After a Game 4 performance that could most charitably be described as "selfish," the Thunder's star point guard is being heavily criticized. Some of the scorn is justified. As a whole, the team looked stiff, lacked confidence, and failed to execute, yet somehow they only lost by three points. On one possession late in the fourth, Westbrook made one of his patented wild drives into the lane that ended in an impossible layup attempt. Upset that the referees did not bail him out with a foul call, he stayed behind to complain while the Nuggets pushed the ball to the other end. His man, unguarded, dribbled to the middle of the floor where the rest of the defense was forced to collapse—you know, since the person assigned to stop him from getting to the basket unmolested was busy arguing with a ref 80 feet away—and he kicked it out to a wide open three point shooter who easily hit the shot.
Three points. The final margin.
In addition, Westbrook played most of the game in "Superman mode," an expression coined to describe a player who appoints himself to carry the team. He took thirty shots, twelve more than Kevin Durant who led the league in scoring. His pedestrian five assists were nearly matched by his three turnovers, and most egregiously, Westbrook jacked up seven three point attempts, making none.
This is the bad. However, it is not like Westbrook was the only player having a sub-par game for Oklahoma City. James Harden spent the game acting like the timid, afraid-to-shoot shooting guard that he was before the NBA trade deadline propelled him into his new role. Meanwhile, he let J.R. Smith go off on the other end. Daequan Cook stepped out of bounds twice after receiving a pass to take an uncontested three. Even Kevin Durant, the player most people wanted taking some of those shots in lieu of Russell, shot only 8 of18 from the floor. That is 44% compared to the 40% Westbrook made. 
The angry mob that had their hearts set on a first round sweep will find a way to blame all of those things on the star point guard by pointing out he was not playing like a point guard. This is a criticism that has existed for as long as Russ has been a member of the team, even before. Renowned experts like myself, and Gary England help me, Jim Traber have been preaching the value of a "true" point guard. I even had a mom cancelling my World of Warcraft account-level conniption fit when the team passed on Ricky Rubio in the 2009 draft. As late as this past trade deadline I was defending the suggestion made by ESPN's Tom Haberstroh that Steve Nash would be a good addition to the Thunder.
What they look past is that the Thunder would not have been in a position for fans to be upset at Russell Westbrook doing Russell Westbrook things in the playoffs if Russell Westbrook had not been himself all season. He uses his elite quickness and sacrifices his body to the stray knees that trip him at full speed or the elbows of goliaths protecting the rim. He soars above players a foot taller than him to grab offensive rebounds. He struts around with an arrogance that emboldens his teammates. Sometimes this style creates Sportscenter highlights, and other times it leads to us as fans getting as frustrated as we did while staying up way past our bedtimes on Monday night. Most of the time it creates winning basketball. Without the play of Russell Westbrook, the Thunder are probably not an NBA playoff team, and certainly not on the verge of going to the second round.
On the bright side, it is unlikely we will see another performance like that from Westbrook in game 5 tonight. The thirty shots taken were the most he has taken all season in a game that the team was playing without Durant that went into three overtimes. The seven three point attempts were also a season high and far above his regular season average of 1.3. Between the end of game 4 and the tip off of game 5, he will review the game tape and realize his mistakes. If the adjustments are not good enough to put Denver away tonight, the team still has two more opportunities to end this series in a good way.
Once that happens, maybe Oklahoma City fans will remember to focus on the good attributes of Russell Westbrook.
Clark Matthews is a world-class checkers champion, co-founder, and basketball editor-emeritus of The Lost Ogle
Read More:
Stay in touch
Sign up for our free newsletter