Everything Else
The Story of the Depressed Lady and the Paralyzed Baby Kangaroo
12:30 PM EDT on April 4, 2011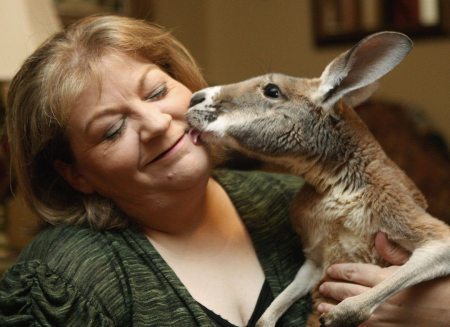 You know that weird lady in your neighborhood who has a lot of cats?  Well, Christie Carr has one upped them…a lot.  From the Associated Press:
An Oklahoma woman suffering from depression has found solace in the company of an unusual companion, but local city officials worry that the therapy pet — a partially paralyzed kangaroo — could become a public safety risk.
Christie Carr is seeking an exemption from the Broken Arrow City Council to keep Irwin, a 25-pound great red kangaroo that she cares for much like a child. Irwin rides in a car seat, is dressed in a shirt and pants each day and is rarely away from his doting caretaker.
At the advice of her therapist, Carr began volunteering at a local animal sanctuary, where she met Irwin, then just a baby. Less than a week later, the kangaroo named for famed Australian animal expert Steve Irwin ran into a fence, fracturing his neck and causing severe brain damage.
Carr volunteered to take the animal home and, while nursing him back to health, developed a bond. Irwin cannot stand or walk on his own, although he is slowly gaining back mobility and can hop three or four times in a row with assistance, she said.
"Irwin will not live if I have to give him up," Carr said, adding that she would rather leave town. "I can't imagine a day living without him"
Man, what a cute, heartwarming story.  It has a "based on a true story" Hallmark Hall of Fame movie written all over it.  Here's a potential story and plot line that I came up with:
Depressed Lady (played by Meredith Baxter) is borderline suicidal because her Son (Joey Lawrence) has cancer.  The Depressed Lady's therapist (played by Marcia Gay Harden) suggests that the that Depressed Lady should volunteer at an animal sanctuary.  The Depressed Lady is then befriended by an Animal Sanctuary Employee (played by Kristin Chenoweth) whose brother died of a cancer a few years earlier.  She introduces Depressed Lady to Irwin the Kangaroo.  Irwin then breaks his neck while fleeing Biker Fox (played by Gary Busey) who is at the refuge stealing kangaroos and raccoons.
Depressed Lady then cares for Irwin, helps him rehabilitate, and takes him to nursing homes.  There, Irwin inspires old people (played by James Garner, Betty White, Wilford Brimley and the guy who played Lester on the "Wire") to be happy.  However, the mean Broken Arrow Mayor (played by Judd Nelson) tries to force the Depressed Lady to get rid of Irwin.  But…a goodhearted and gutsy TV News Reporter (played by Blake Shelton) gets wind of the Mayor's plan and writes a story about Irwin's plight to build awareness of the situation.  It works, and Broken Arrow residents flock to Irwin's side.  The middle brother from Hanson even writes a song called "MMMMHop (In My Pouch)" about Irwin and performs a benefit concert to raise funds.  Of course, he lets the Animal Sanctuary Employee (once again, played by Chenoweth) and the TV News Reporter (Played by Shelton) sing "MMMMHop (In My Pouch)" with them.
Meanwhile, a Renowned Scientist (Paul Hogan) from the St. Jude Animal Institute sees the report on news.  He flies to Tulsa and offers to perform a dangerous surgery to heal Irwin.  Irwin nearly dies during surgery, but fully recovers.  An anonymous donor then gives the depressed lady money to start a Kangaroo Rescue in Stroud.  While all the drama is going on, the Depressed Lady's Son (Lawrence) makes a full recovery from cancer and falls in love with Animal Sanctuary Employee (Chenoweth). The film closes with her Son and Chenoweth getting married at the new rescue center.  Irwin is the ring bearer at the wedding.  The end.  Tears of joy.  Happiness.
First of all, I should really look into writing bad TV movie screenplays for a living.  I think that may be my calling.
Secondly, although this a cute story, I don't see it having a happy ending like my Hallmark Hall of Fame treatment  That's because in real life, large paralyzed wild marsupials usually can't be properly cared for by a depressed woman.   Also, if this lady is depressed before all this happened, imagine what she'd be like if they take away or even euthanize Irwin?!
But thinking about that stuff is sad and depressing, so screw it.  Instead, check out other pictures (and the cuddly AP video report about Irwin) after the jump.
Here's the AP News Report:
Here are some pictures.  They only thing that can make them any cuter is if bunnies, puppies and kittens were playing in baskets in the background.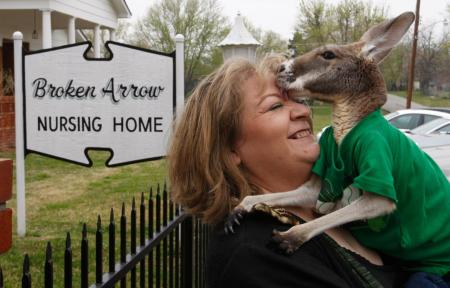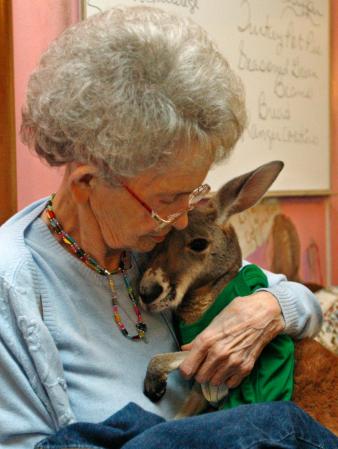 Stay in touch
Sign up for our free newsletter