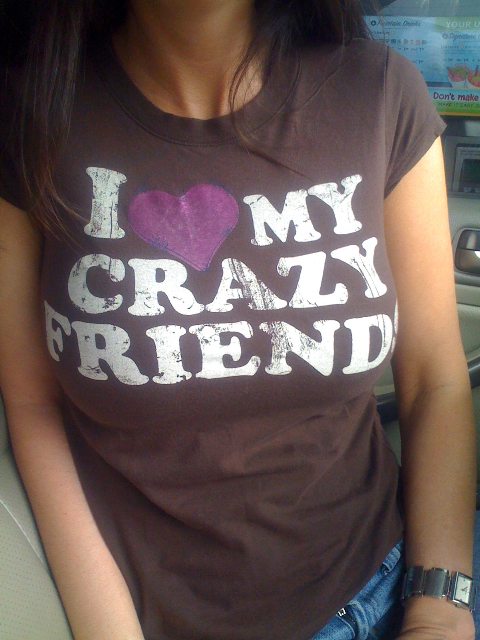 In the history of The Lost Ogle, we've received quite a few interesting emails.  They've ranged from exclusive story scoops (Jessica Alba, Thunder Logos and whatever happened on Thursday) to serious matters (veiled threats, threatened lawsuits, actual lawsuits) to a girl with large breasts randomly emailing us a picture of herself wearing a t-shirt that she thought we would find funny and enjoy.  We did. 
But perhaps the coolest - or yeah, second coolest - email we ever received was dated November 13, 2009. It was from Ferris O'Brien.  It was very brief and very too the point.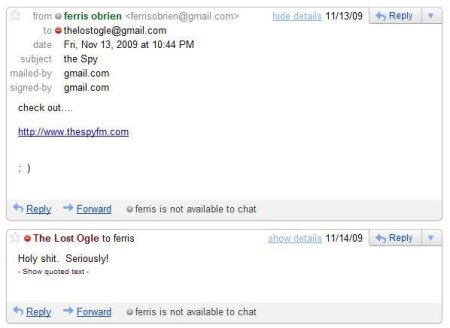 Yep, 105.3 the Spy "" my favorite radio station ever "" was coming back.  Man, was excited.  The following morning we broke the news under the guise of a Saturday Morning Music Video.  A couple of days later, we interviewed Ferris O'Brien and got the details of the new situation.
You may know how the rest of the story unfolded.  The Spy launched, and for an independent FM station based out of Kingfisher with a frequency as strong as a Jenni Carlson column, it did well.  We even partnered up with them and hosted some radio shows.  It was pretty cool.
But unfortunately, the 105.3 The Spy FM that we knew ceased operations this past weekend.  Ferris O'Brien is no longer involved with the station.  In fact, if you tune to 105.3 the Spy, you'll now hear a programmed playlist of some indie music from the early 2000s.  It's a copy cat spy.
However, if you visit the TheSpyFM.com, you'll still hear Ferris O'Brien's version of the Spy playing.  Confusing, huh? 
George Lang attempted to report the situation in the Sunday Oklahoman, but I'm still getting a ton of questions from people asking what exactly happneed to Oklahoma City's best radio station.  After the jump, I attempt to break it all down.
Disclaimer:  Before I continue, I should probably tell you some things:
1)  Yes, I know Ferris and have discussed the situation with him.
2)  Yes, we are still going to be involved with the online version of the "Ferris" Spy.
3)  Yes, the thoughts and statements below are my own.  I've talked with people on both sides of the equation and this is what I've gathered.
Why did the sale fall through?
The 105.3 frequency is essentially owned by Citadel, but for the past year it was managed and operated by Ferris (SpyMedia) under what I believe is called a Local Marketing Agreement.  Basically, Ferris paid Citadel a certain amount each month to use the signal, and then managed and operated the station.  This included paying a staff, buying equipment, etc. 
The general agreement between the two parties was that Ferris would eventually buy the station for a set amount after all FCC paperwork and approval was met, which can take up to a year.
However, as the time to finalize the sale approached, Ferris and his partners had a fair market appraisal done for frequency.  It came back at about 75% below Citadel's asking price. 
Citadel couldn't budge too much on their price because it was far below what they paid for it, but Ferris and his group couldn't justify overspending for a low-frequency FM station based out of Kingfisher.   Therefore, the sale agreement fell through, the lease agreement ended, and the Spy is pretty much gone.
Uhm"¦then why is the Spy still on the air?
Technically, 105.3 is still on the air and playing indie rock, but it's not the Spy as we know it.  The Ferris version of the Spy is still streaming at TheSpyFm.com.  I'm not sure how long that can last or work, but I doubt it will be that way much longer.
Wasn't this going to happen anyway?  The Spy had already failed twice?
Most radio stations are owned by corporations.  Corporations have stockholders, and it's that corporation's duty to make those shareholders as much money as possible.  That's a lot easier to do by broadcasting Led Zepplin, Carrie Underwood and the Black Eyed Peas than it is by playing a new Beach House single, obscure Echo and the Bunnymen B-sides or Flaming Lips live tracks.
From what I gathered, the Spy wasn't about maximizing profits.  If it was, Ferris wouldn't have had someone host a commercial'less Rockabilly Show on Friday nights.  Ferris didn't want (or need) to make a ton of money.  The Spy was about a guy who wanted to own a radio station and play his favorite music. 
Get real.  How can a business succeed with a business model (and programming) like that?
This deal has nothing to do with the Spy's very niche playlist or advertising dollars. From what I know, the Spy was doing fine.  It had strong and loyal listener base, independent and local advertisers, and even an Ogle Madness selection show.  How can you not succeed with something like that? 
In all seriousness, this deal is all about two parties not being able to come to an agreement on a sale price.  It has nothing to do with the programming, advertising or how awesome our radio show was.
Will Citadel continue to play the "Fake" Spy on 105.3?
I don't know, but I doubt it.  As I mentioned above, a format like the Spy won't work in this market if it's owned by a large corporation trying to make a lot of money through advertising.  I would bet it goes back to Top 40 Latin music or something.   In fact, that would be cool because it would piss of Randy Terrill.
What's next for the "Ferris" Spy?
Ferris is still operating and programming the Spy in online format.  It is live and streaming at TheSpyFM.com.  You can listen to it online now.
In all honesty, I think this may be a better fit for both the short and long-term.  Over the air radio is becoming irrelevant.  Also, Ferris and I have already had some preliminary discussions on what we can do to increase the independent media scope in this market, and what may seem like a bad thing with the sale agreement falling through, may actually be a positive thing for everyone in Oklahoma City.  Except for the corporate media conglomerates.  Screw them.
Stay in touch
Sign up for our free newsletter