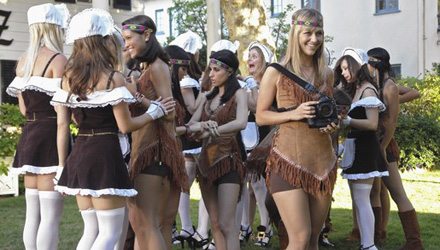 Since it's the day before Thanksgiving, Clark Matthews and I thought it would be nice to list a bunch of the stuff we are thankful for.  The first couple are below, the rest are after the jump.
"I haven't been forced to eat my beard." "" Patrick
That thought never crossed my mind until this poor guy from Kentucky had to do it.  That being said, it would probably taste good with gravy and pepper.
-
"Steve Hunt isn't our mayor." "" Clark Matthews
We may not agree with Mayor Cornett's decision on not allowing scantily clad ladies to play football in Oklahoma City, but we are thankful he's our mayor over the obnoxious and annoying Steve Hunt.
-
"Trivia Night at the Speakeasy." "" Patrick
In case you were not aware, I host (along with local comedian Spencer Hicks) "Team Trivia Night with The Lost Ogle" each Tuesday at 8:00pm at The 51st Street Speakeasy.  It's a blast and the questions we write are ridiculously awesome, even when we get the answer wrong.  You should get a team together and come out.  The cash prizes are $75, $50 and $25, plus the Speakeasy has beer specials and half-price appetizers.
-

"The Bedlam football game is actually going to mean something this year." "" Clark Matthews
This is probably the most important Bedlam football game since that time in the 1980s when each team was ranked in the Top 5.  Go Pokes!
-
"OSU Fans finally have something to be excited about." "" Patrick
It's kind of cute to watch OSU fans get excited about their football team.  It's even cuter to watch them cave to high expectations and play in the Alamo Bowl.
-
"I'm not going to be put in the position of explaining to my wife that covering the LFL is part of my duty for "The Ogle." "" Clark Matthews
Although, I probably could have figured out a nice way to explain it.
-
"The Spy is back on the air and Ferris let us have a radio show." "" Patrick
The email we got from Ferris about a year ago letting us know the Spy was coming back was one of the best emails we've ever received.  Also, it's been a blast hosting a radio show.  I now have a much greater appreciation for what it takes and know it's a lot harder than anyone would think.  That being said, Jack and Ron still suck.
-
"Mr. Winters took the double-jump bait, leaving the right flank available for a staggered king attack in the Oklahoma Checkers Association District II Championship match." "" Clark Matthews
This was the key move in our match.  Mr. Winters took the bait, forgetting that my staggered wall defense would effectively trap his king and force him to sacrifice an import position, leaving me with an impenetrable road to advance my pieces.
-
"That Marissa writes for us." "" Patrick
We are very thankful that we have Marisa to write for us each week and that she occasionally takes off her top.  We are also thankful for all of our other contributors (Jeffy, Tony, Royce).
-
"That Mary Fallin will probably give me eight solid years of Lost Ogle material." "" Clark Matthews
But keep in mind, we are not a political blog.
-
"That people broke up my bar fight at Edna's before I totally beat up that guy." "" Patrick
I eat law students for dinner.  Gray hair gives you hidden strength. Just saying.
-
"That we have kind, loyal and awesome advertisers." "" Patrick
As you may or may not know, Clark Matthews and I have real job outside The Lost Ogle.  So we really don't have time to pursue advertising, and for the most part, we let advertisers come to us.  That's why we would like to thank the following local business for being kind enough to advertise on our site this past year.  Here they are in alphabetical order.
The Blue Note: Deep Dish Pizza Night on Monday may be one of the best kept secrets in the Metro.  You have to check it out.
Deep Fork Grill: Some of the best food in OKC, especially the steaks.  When you visit, it's also fun to request one of the private booths with a curtain.  Clark Matthews and I do that because we are famous.
Evans and Davis Attorneys: They were our first ever advertiser and our now the actual attorneys for the Lost Ogle.  Granted, one hour of legal work equats to three months of advertising, but hey, it's worth it.
First Fidelity Bank:  These guys were our first ever "Holy Crap, that's money!" advertisers.  They sponsored some fun contests and even let their CEO do a QA with us.
Fowler Volkswagon: Without a doubt, this is the coolest car dealership in the metro.  It's the only place where you can listen to Arcade Fire and Yo La Tango while the salesman talks with the manager.  Also, their "Sex Sells" ad should be nominated for an Addy.  Actually, it should win an Addy.
The Gazette: The Gazette has always been great to us.  We appreciate their willingness to partner with and support a obscure local social blog that other media outlets try to ignore.
Lindsay Rubac at Bella Strada Salon:  She's a great stylist and the reason we look so handsome and dapper.  If you're a guy, she's also attractive and single.
Lynn Institute: These are the people who conduct those medical studies.  When they have one for people who are incredibly charming, I'm totally applying.
Nova: "The Douche Bag Free Lunch Guarantee" is a classic.  I'd like to thank the people at Nova for a having a great sense of humor and using that ad.
Traditions 8: These guys may have had the most clicked ad in TLO history, which shows how much people like Sooner football.  By the way, I love how Traditions 8 became a TLO sponsor.  Some girl and I were at Logan's on Campus Corner in Norman for a boring and rainy OU game last season.  Because it was so busy, we ended up sharing a table with some dude who was with a hot brunette and hot blonde.  That dude was the guy who owns Traditions 8.  We traded contact info and a year later his growing and successful t-shirt company advertises on TLO.  How sweet, huh?
The 51st Street Speakeasy: We've mentioned these guys already, but they have always been awesome to us.  They let us host trivia, support our site and also sponsor our radio show.  Now all we need is an honorary membership to their remodeled and ridiculously awesome upstairs.
-
"All of our readers, even the gentle ones." "" Patrick and Clark Matthews
As always, we'd like to thank everyone who finds the time to stop by our site.  We started this site for fun and you all help keep it fun.  Thanks for reading.
Stay in touch
Sign up for our free newsletter