Everything Else
The Lingerie Football League is coming to OKC. You're welcome.
2:10 PM EST on November 11, 2010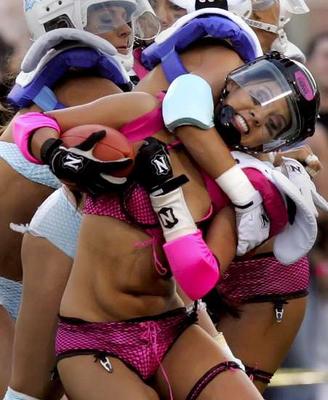 In December of 2009, we compiled a list of projects that should have been added to the controversial MAPS III ballot.  One of them had to do with America's hottest new sport, Lingerie Football:
2. Build a state-of-the-art domed football stadium for a Lingerie Football League franchise.
Yeah, I guess the Thunder made us a big league city and everything, but do you know what would make us really big league?  Get a lingerie football league franchise.  This league is totally real, and with only 10 franchises, you have to bet that they are going to expand pretty soon.  I'll even volunteer to be the assistant head coach or athletic trainer"¦for free.
Now, less than one year later, OKblitz is reporting that our MapsIII fantasy idea is (possibly) coming true.
The Lingerie Football League announced Tuesday that an expansion team would be created in Oklahoma City and would begin play in 2011.
Oklahoma City is one of four markets that will receive an expansion team for the 2011 season, after the league expanded to Baltimore and Orlando in 2010.
The LFL is in its second season and spawned from the Lingerie Bowl Super Bowl halftime special. It was expanded into a full 10-team league in 2009 based on the success of the event.
A venue has not been announced, but the league is in talks with several host buildings for the rights.
Okay, so our wish was kind off "" OKC is not building a state-of-the-art domed stadium for the team "" but who really cares?  We have plenty of other suitable venues.  Places like the old Myriad, Fairgrounds Arena, White Water or my backyard.  All of them would work fine.
Anyway, a couple of random off-the-bra strap thoughts are below.  The rest are after the jump:
• First of all, we better get free season tickets or be named honorary team captains for using our Ogle Influence to make this happen.  Ogle Influence is pretty powerful.  It's led to Taco Bueno getting a drive thru, the Spy coming back on the air, and attractive girls losing all inhibitions when found in presence of anonymous D-list celebrities.  Fortunately for us, we do not abuse our Ogle Influence power, and only use it for the benefit of Oklahoma City.
• Isn't it fitting that the story was first reported by Dean Blevins and the crew at OKblitz.com?  That would be like Mike Morgan reporting that the annual Dracula convention was moving to Oklahoma City, or Hinder reporting that the Shitty Music Hall of Fame is moving to Bricktown.
• Speaking of Dean Blevins, I think he should apply for the head coaching position.  The team may suck, but at least we know the players would be attractive.
• I wonder if Mayor Cornett pitched Oklahoma City to the lingerie football league commissioner on his most recent visit to West Hollywood.  Regardless of that answer, I can't wait to hear his remarks on opening night.
• For fun, the team should have Sally Kern lead the invocation at the first game.
• Oklahoma City actually has a strong tradition of excellence in women's professional football. I mean they did make a movie about the Oklahoma City Dolls.  Then there was the Oklahoma City Lightening experiment.  If I'm not mistaken, the lightening let Mark Rodgers suit up for them a couple of times.
• Screw you, Tulsa!  We have the NBA, AAA Hockey and Lingerie Football. You guys have the D-League, semi-pro hockey and the WBNA.  Basically, you got nothing on us.  I bet Tulsa's next big move is to organize a box car race through the streets of Downtown only to have the city council not approve it.
•  If I can't get a job in the team's marketing, advertising, operations, or locker room attendant departments, I think I'm going to get my football referee certification.  I'd be a good ref because I have integrity.
• We are going to have fun coming up with ideas for the team name.  Or not.  We could probably just recycle the ideas we came up with for the Thunder Girls and Tulsa Shock.
Anyway, hopefully more details on the team (and the probable effort by our city's conservative leaders to block its arrival) will be announced soon.  Obviously, we'll do our best to track down and report any developments.
Stay in touch
Sign up for our free newsletter