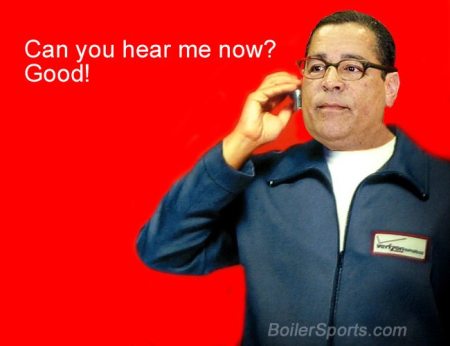 During my tenure at Oklahoma State University, the only sport that both Bedlam schools played at a high level during the same year was Men's basketball. Every Spring, my beloved Eddie Sutton-led Defense/Discipline/Determination teams would battle the Kelvin Sampson-led Heart/Hustle/Hardwood teams for bragging rights, and as a result, I intensly disliked the OU basketball coach.
I was reminded of this recently when Coach Sampson suddenly became one of the hottest names in NBA coaching circles. Three teams, all teams hoping to sign LeBron James this Summer, are supposedly targeting the former Sooner coach as the new head coach of their franchise.
Each time I read one of these rumors, I was baffled. Most of the Sooner fans who realize the school has a basketball program were excited when Sampson left his post to take the Indiana University job...even knowing it would ruin a recruiting class that featured Scottie Reynolds (who ended up leading Villanova to the Final 4), Damion James (who has starred for Texas), and fearing a new coach wouldn't be able to close the deal with Blake Griffin. Then, his tenure with the Hoosiers lasted only one season before he was fired in disgrace. Recruiting scandals in both locations put Sampson on a black list making it impossible for him to coach in the NCAA again.
Of course, lost in my hatred of the man and his inappropriate contact (by phone) with underage boys, I forgot that he is a really good basketball coach.
As much as I hate to admit it, Sampson went tit for tat with Eddie Sutton, who I place on my pantheon of college coaches. It wasn't because of superior talent, either. Both Oklahoma schools, despite their success, always struggled to woo the elite talent. While I was in college, only one Mickey D's all-american played for either school, and that was Glendon Alexander who left Arkansas after blowing out his knee (and probably alienating teammates with kleptomaniacal ways). Despite the middle of the road recruits, Sutton and Sampson each turned their teams into Big 12 contenders year-in and year-out.
Even though Sampson's stay at Indiana was short, he did turn that team around quickly. The feat was so impressive that when a mob of Hoosiers carrying torches and pitchforks ran him out of town, Sampson was hired by two different NBA franchises in the next month. First, the Spurs hired him as a scout, then Sampson resigned six days later when the Milwaukee Bucks offered him a spot as an assistant to Scott Skiles.
Now, two seasons later, Sampson and his lucky blue shirt are rumored to be coveted by the Cleveland Cavaliers, Chicago Bulls, and Los Angeles Clippers for their open head coaching positions. As I mentioned before, all three teams are in financial position to make a play for the biggest free agent to hit the NBA market in, well, perhaps history. Meanwhile, well respected assistants with championship experience and long NBA tenures, such as Boston's Tom Thibodeaux, are forced to leap at job offers from capped out teams with no near term hopes of improving.
Is he that good? I am skeptical. Technically, the main short term objective of all three Sampson suitors is to recruit James. Cleveland wants to convince him not to leave. Chicago wants to pair him with their star point guard Derrick Rose. And the Clippers hope to convince him to join a talented starting line-up (featuring a, hopefully, healthy Blake Griffin) that lacks a small forward (James' position) and live in a glitzy market. None of those situations will hold James' attention if they lack a venerable head coach who can make the team a championship contender.
Of course, Sampson's weakness has always been recruiting. He thrives convincing marginally gifted basketball players to flop wildly and play goon-y defense. Those players were buoyed by his (less than professional) tendency to throw tantrums at the referees and histrionically toss his tie after player mistakes. The downside was that unwatchable style of play and semi-abusive behavior deterred athletes who can play elegantly to sign with him. Now, all three of these franchises hope to pin their hopes of signing the reigning MVP, and most naturally gifted player in the league, on Sampson's ability to connect with the star.
On the other hand, Sampson does have a tendency to allow his star players to do whatever they want on offense, to the point that I question if he ever calls plays. In his NBA career, I'm not sure LeBron James has ever run an offensive play called by his coach, instead preferring to just freestyle with the ball.
If James wants to win, though, he should stay away from any team that would hire a former college coach as their head man. History says it will not end well. Only one person, Larry Brown, has succeeded on both levels, while countless great college coaches have flamed out dealing with players who are paid like sultans and expect to be treated as such. Should Sampson wind up with a head position for any of those three teams, he can expect to have a career similar to that of former Thunder head man P.J. Carlesimo. Carlesimo had a lot of success at Seton Hall and even did a great job as the lead assistant for Spurs' coach Gregg Popovich. However, his bristly approach was less effective when he actually had final authority. It got him choked by a player in his tenure with Golden State, and had zero success with the Thunder/SuperSonics organization before being unceremoniously let go.
So, unless Sampson can tailor his approach better than player-friendly coaches like Rick Pitino and John Calipari who both failed dramatically, this will end badly.
Finally, a silver lining for me.
Clark Matthews is a world-class checkers champion, co-founder, and basketball editor-emeritus of The Lost Ogle
Read More:
Stay in touch
Sign up for our free newsletter